Archived Arts & Entertainment
Appeasing the melodic sweet tooth: The Get Right Band unleashes 'Itchy Soul'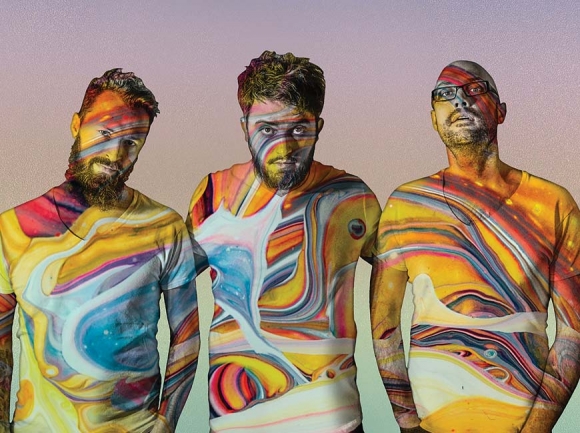 The Get Right Band.
For a group whose core mission is to promote positivity and compassion, The Get Right Band has found its ideals tested and pushed to the brink during the current Coronavirus Pandemic.
"I mean, I think our positivity is always being tested. Regardless of the band, the three of us as individuals really try to see the best in things and the best in situations — to stay positive," said lead singer/guitarist Silas Durocher. "And one of the many things I love about working with and playing with [bassist] Jesse Gentry and [drummer] JC Mears is that they help me to live by their example of positivity. Even the regular stuff in the music industry can beat you down — we've been tested, but we won't be broken."
An Asheville-based power rock and soul trio, The Get Right Band has been honing its signature live sound in bars, breweries and cafes for the better part of the last decade. And though it continues to be an uphill battle for notoriety and wider audiences, the group's latest release, "Itchy Soul," is a shot across the bow from an act that's quickly gaining well-earned attention around the Southeast.
Diving into "Itchy Soul," it's an album swirling with every angle of rock music fused with indie, reggae, funk and pop sensibilities. Throughout the 14-song record, it's a rollercoaster of sound, one which purposely pushes itself out of the stereo speakers. It demands to be heard and felt through soothing vibrations and poignant wordplay — wear headphones and wear this album out.
The irony of "Itchy Soul" is that it's a shiny, well-oiled studio release, but seamlessly has been able capture the collaborative fire and improvisational magic of three musicians who thrive in a live setting — a bright and intricate snapshot of a band ready and roaring to bust into the national scene.
Smoky Mountain News: A lot of bands decided to not release albums right now due to the pandemic and not being able to tour. But, I feel like this would the ideal time to put a record out — folks now have time to sit and actually listen…
Silas Durocher: Totally. We've seen a lot of bands delay their release because of the quarantine. But, we barely even discuss that. It's such a long process to make a record. I mean, we started actually recording in January 2019, and probably really started working on it a few months before that. Some of these songs we'd been playing for a couple years before that at shows. And regardless of the business perspective, we're too excited to sit on it any longer — we've got to get it out in the world.
We're definitely one of those bands that still holds onto some traditional sense of the full album, as opposed to just making songs that can be grabbed for singles or playlists, though we know that's the reality of the world we live in. But, we still put a lot of effort and creative focus into making a full album that can ideally be listened to front to back.
SMN: With the album title, "Itchy Soul," what is that supposed to symbolize?
SD: It's a reflection on the idea of that inexplicable sense of agitation we get sometimes, where it just feels like I'm on some sort of existential level. You've got an itch that you can't scratch, which plays out in terms of insecurity or wanting to be in a different place in your life, and you're [dealing with] the various forces in the world — politics, government, teachers, gatekeepers or whatever keeps you from fulfilling your full potential or whatever is controlling you.
SMN: The band always seems to roll with the punches and keep hustling into the next level. Where does that work ethic come from within the group?
SD: Honestly, I don't know where it comes from. It's just inherent. It's in my personality to want to hustle. And it's kind of a twofold thing with the band. This is what we love, it's our job and our business. But, we're also obsessed with music making music, recording albums, connecting with listeners and gaining new fans. So, the hustle is like, "Why are you eating all that candy?" Well, because it's delicious and I love candy. [Laughs].
SMN: It's one of those things where you must've had a conversation with yourself years ago that, hell or high water, this is what you're going to do, and that everything else is just details ….
SD: Right. And then that's the other half of it — the business end. We have a lot to be happy about and we've hit a lot of career milestones. There's a lot we're very grateful for, but we're also a long way from where we want to be in our careers. We'd like to be doing this at a bigger level for bigger crowds and a bigger fan base.
You know, it's an insane endeavor from a statistical standpoint. The number of people that want to hit a certain kind of level of success in [the music industry] versus the number of people who actually do is insane. You'd have to be insane to go after those kinds of odds.
So, we're that kind of insane already. But, then I just feel like we've got to do everything we can to at least increase those odds. Even if it's going from one-in-a-million to seven-in-a-million, I'm still going hustle my ass off to get those odds up a little bit — try to have the band be everywhere, try to find every fan that might be into us and connect with them.