Archived Arts & Entertainment
This must be the place: Time and time and time again, circles break and lines they bend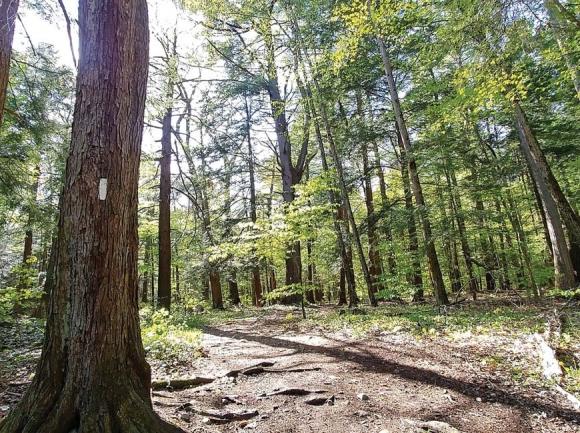 The Appalachian Trail in Dalton, Massachusetts. (photo: Garret K. Woodward)
I awoke to the sounds of tractor-trailers zooming by on the other side of the motel parking lot. It was a Super 8 right off Interstate 84, just outside the town of Maybrook, New York.
Last Thursday morning and about another seven hours of driving by the time I'd finally roll into the driveway of my parents' 1840 farmhouse up near the Canadian border. Normally, the drive would be about four hours or so. But, I had to make a detour, which was to pick up my new ukulele at a music store in Northampton, Massachusetts.
I-84 over the state line and into Connecticut. It dawned on me that I hadn't passed through The Constitution State in several years. During four years of my life, I lived and went college at Quinnipiac University in Hamden. And though Connecticut is a very small state on the map, it's actually quite splendid: aesthetically, culturally, historically, artistically.
Right around Newtown, my stomach growled, hungry for breakfast. Tracking down The Blue Colony diner, I ordered probably my most favorite meal, ever. Eggs. Bacon. Buttered toast. Homefries with onions.
I've eaten that meal in diners and breakfast joints all over America. Hell, I even won a first-place award from the Idaho Press Club in 2008 for a feature story on this exact dish. The article also sparked an ongoing controversy in the small Eastern Idaho ski town I lived and worked in at the time. But, that tale is for another time.
And it was at diners like The Blue Colony during college where I not only fell in love with books, but also learned how to write. I would sit in the Acropolis Diner near campus in Hamden for hours, simply reading Jack Kerouac or Hunter Thompson, all while scribbling wildly in my journal over endless cups of coffee. I would get lost in the written word, something that (happily) still occurs to this day.
Somewhere on I-91 near Hartford, I started having flashbacks about that same drive, whether it was heading home from college for the holidays or visiting friends in Western Massachusetts and Southern Vermont.
A sign soon appeared at the state line for Longmeadow, Massachusetts, and I thought of my friend Ali who grew up there, and those few weekends I spent with her family before we graduated and went our separate ways.
Ali went to the University of Massachusetts (Amherst) and I'd wander up there from Quinnipiac to party with her and my soul sister, Jackie, who transferred out of our school to "Zoo Mass" after my sophomore year. It was secret beers in the dorms before hitting up the college bars or some backwoods kegger and bonfire in the depths of the ancient Berkshire Mountains.
Those dusty memories of college continued to flow across my field of vision when I finally cruised into Northampton. This was home of the stunning Calvin Theater, where I'd seen several unforgettable concerts (most notably Martin Sexton) when I was a young music freak in search of the sound and the way.
This is also where the Iron Horse Music Hall is located, the site of my first real deal sit-down music interview, which was with bluegrass legend Peter Rowan. I was 21 years old, with the conversation published by (the now-defunct) State of Mind Music Magazine. When I held that physical issue in my hands and saw my by-line, I knew what I wanted to do with my life — write and wander.
Entering Mills River Music & Guitar Shop, I pulled my mask over my face and excitedly waited for my dream ukulele, a Kala Ziricote Baritone. Exchanging pleasantries with owner/luthier Jon behind the counter, he asked where I was from. When I said Western North Carolina, he mentioned that his best friend and former bandmate lived in Asheville. Turns out that guy is also a music industry friend of mine. Small world, eh?
Jumping onto Route 9, it was a rural backcountry trek to cross back over into New York and onto I-87 to Plattsburgh. With the Berkshire Mountains cradling my drive, I thought of nearby Williamstown, Massachusetts.
A serene New England community, I remember watching a Williams College football game in Williamstown with my dad when I was a teenager. And how on the drive home, we talked about me someday attending Williams (home to the "Purple Cows"), maybe running cross-country for the school, my parents cheering me on.
Before I reached I-87, I had planned on finding an Appalachian Trail crossing in Western Massachusetts to go for a late afternoon hike/run. That crossing was found in the small town of Dalton. A few streetlights, gas stations and restaurants, that was about it. But, most importantly, it's the current home to an old, dear friend: Niki.
After finishing a gloriously sweaty AT trot, I pulled into Niki's driveway as she left her porch to greet my arrival (at a safe distance). It has been almost exactly eight years since I'd last seen her. Hadn't aged a day. That signature smile and laugh still intact.
The last time we'd crossed paths (2012), I was at crossroads: do I go to graduate school in New York for creative writing or do I take the leap and accept this arts and entertainment gig at The Smoky Mountain News in Waynesville? And there we were, almost a decade later, catching up like I'd just seen her yesterday. It's those kinds of interactions and that kind of friendship that is a key ingredient to a life well lived.
Two hours of conversation passed by in what seemed like two minutes. Eventually, I bid her farewell. Until next time, my dear. Back into the pickup truck. Onward to Plattsburgh and the old farmhouse. The journey continues, as it always does for those with head held high, whose stride remains light.
Life is beautiful, grasp for it, y'all.