Archived Opinion
The oh-so-sweet sound of bat and baseball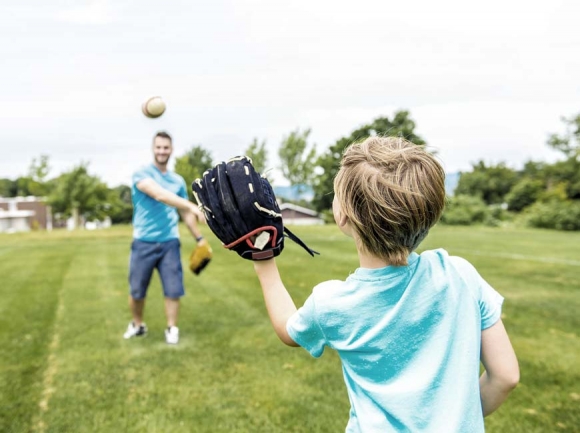 When our son, Jack, joined the high school marching band, he promptly announced his official retirement from baseball, unceremoniously closing the book on a 10-year career — from tee ball to senior league — that included at least a hundred games and untold thousands of practices, including those earliest ones in our back yard, where I taught him, among other things, how to turn his glove to catch the ball and how to shift his weight when swinging the bat.
Although I knew the end was probably near a couple of years ago, when the day finally came, it hit me harder than a Randy Johnson fastball. I had him pegged as a baseball all-star 20 minutes after he was born, his head cradled in my right hand, his entire body about the length of my forearm, his fingernails no bigger than paint specks.
"You see that grip?" I asked his mother when he wrapped his long, bluish-purple fingers around my index finger. "He's got the hands to be something special. He's got the look, I can just tell."
We had some great years playing ball, though like a lot of kids, his interest in the game waxed and waned. Some weeks, he'd pester us every day until we took him out to the ballfield. Other weeks, we had to lecture him on the importance of going to practice and being a good teammate when he'd rather stay home and play on his Xbox. You know, commitment to learning the fundamentals, the necessity of putting in his reps in the batting cage, that sort of thing. He'd groan, and then drag his gear out of the closet, clump out the door in his cleats, and heave his bag into the trunk of the car as if disposing of a dead body.
So many years, so many teams. The pictures, the trophies, the team cookouts and pizza parties. Of course, the games were the best, and we knew enough to savor them all. After big wins, we'd go celebrate at Shoney's with a hot fudge cake. Or if Jack had a game-winning hit or had an especially good game, we'd hit the Chinese buffet and discuss the game's highlights like ESPN analysts.
When he was invited to try out for the high school marching band drumline as an eighth-grader, Jack jumped at the chance. Suddenly, he was drumming on everything — countertops, dishes, the bathroom door, his bedroom window, the nearest dog.
He not only lost interest in playing baseball, he lost interest in sports altogether, even video games we'd been playing together for years. When he was 5 years old, I'd let him win in baseball or basketball. When he was 14, he'd let me win. Sometimes.
Last fall when I was cleaning out the basement, I found his enormous bag of baseball gear — two bats, his catching equipment, about a dozen weathered, grass-stained baseballs, a wadded-up batting glove — all of it long neglected, forgotten, just occupying space among the boxes, old toys, a princess lamp, and a long vacant hamster cage. Surely some kid would love the baseball stuff. I made a mental note to sell it all on Craigslist come spring. Then the coronavirus changed life as we knew it, so there was suddenly no more baseball, no more market for baseball gear.
We've done all kinds of things during quarantine to pass the time. I taught everyone to play Poker, Spades, Hearts, Gin Rummy and Blackjack over mugs of hot chocolate or tea, while regaling them with stories of my late father's card-playing prowess. We've worked on home improvement projects. Inspired by his artistic mother, Jack has even begun to draw, paint, and go out very early in the morning to take photographs with the Canon that I got his mom for Christmas 10 years ago. We believe he has a flair.
Then, one afternoon about a month ago, he popped in the bedroom while I was eating lunch and watching "The Andy Griffith Show" and said, "Hey, dad, we ought to go out to the field and hit some baseballs."
"Really?" I said, genuinely shocked. "I thought you were retired?"
"I just thought it would be fun."
"Better go downstairs and get your gear then," I said.
The Elks field — the field of dreams and of memories — was deserted when we got there, except for a couple of groundhogs scampering out of right field as we unloaded the car. It had been two or three years since we'd been on this field. It seemed a little smaller than we remembered, but was otherwise just as we left it.
Jack's bat looked tiny in his hands, almost weird, like a man brandishing a strange cooking utensil. He's a foot taller and 30 pounds heavier than the last time he swung it. But after two or three wild pitches and two or three more off-kilter swings, he suddenly locked into his stance and rhythm like pieces of a puzzle settling into place, and then he began launching my pitches deep into the outfield. Same familiar stance, same placid expression that he has worn to the plate since he was 7 years old.
I have no idea how long this will last. We've been going just about every day that the weather allows for the past several weeks. I ordered some new balls. He wants a bat that fits him. When band camp comes — if it comes — in August, this may well go 'poof.' Who can say?
I have always preferred the crack of a wooden bat, but the ping of an aluminum bat piercing a small breeze on a perfect May afternoon is its own kind of music. These days, that music is especially sweet.
(Chris Cox is a writer and teacher who lives in Haywood County. This email address is being protected from spambots. You need JavaScript enabled to view it.)