Archived News
Bigger graduations in store for Haywood Community College student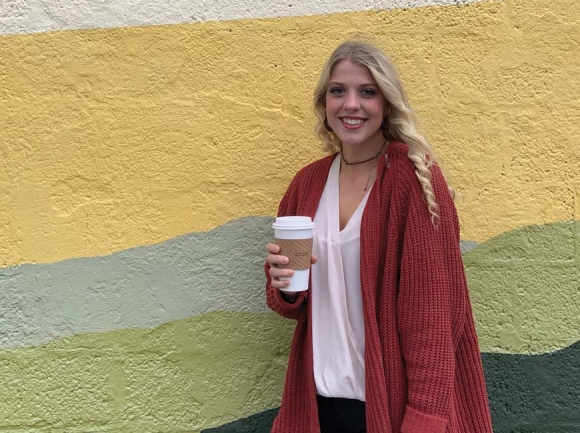 Haywood Community College grad Maggie Mehaffey. Donated photo
Maggie Mehaffey's taken a bit of a different academic path than many of her peers — a path that gives her a unique perspective on the Coronavirus Pandemic.
After attending Riverbend Elementary School and then Waynesville Middle School, she went to Tuscola High School for two years before entering dual enrollment at Haywood Community College. At the age of 19, Mehaffey's just graduated from HCC with an associate's degree in science, a 4.0 GPA and a huge head start on her undergraduate career.
"I know I'm going to Western Carolina University," Mehaffey said. "I think I'm going to do either biology or chemistry there and then I'm going to go to med school, but I haven't decided if I'm going to go the chiropractic route, because I work at a chiropractor right now, or be a dentist."
Mehaffey's also the president of HCC's Student Government Association, meaning that as a college student, as a science major and as an emerging civic leader, she's positioned at the intersection of three of the most important contributors to the coronavirus dialogue currently taking place – education, science and politics.
"Probably one of the biggest things that I have learned is, no offense to the media, but I think a lot of people are putting things out there that aren't necessarily true," Mehaffey said. "I think it's been publicized to the point where obviously I do think it's bad, but I also think that living in a constant state of fear and taking away our rights — there's always gonna be germs, like so many more people have died from the flu this year that have died from the coronavirus."
Despite her activity in student government, Mehaffey says she's not really very political, but as an extrovert values the relationships she's made and the community she's been a part of with SGA.
"I would meet people who have been working in our community for years, and I think that it's good to have mentors that are older than you. They know what's happening. I think it's good to get their perspective," Mehaffey said. "I think that was one really big thing that drove me to join SGA."
She's also been watching how federal, state and local leaders have been handling the pandemic.
"So personally, I think that a lot of people in our government cannot make their own decisions. From what I've seen, it's whatever the city person says, whatever the governor says, whatever the president says. Everybody is agreeing with somebody," she said. "Honestly, what we need in America is somebody that has a different idea, somebody that says, 'Hey, you know what? This isn't right. Why don't we try something else?'"
On a personal level, Mehaffey's missed out on perhaps more than many of her fellow students, due to both her accelerated academic achievement and its subsequent disruption.
She didn't get to go to prom, and didn't get to accept formally the several awards she'd racked up in her time at HCC.
"It's been kind of weird and I'm definitely a more face-to-face person," Mehaffey said. "I'm 100 percent extroverted. Everything just got cut off so quickly. I definitely would've thought I would've had more time with my friends."
She also didn't get to participate in a ceremony when she graduated from high school, which makes missing her HCC graduation sting all the more.
"I will say it was a little disappointing," said Mehaffey. "I was looking forward to this one."
Still, Mehaffey's got the right attitude as she prepares to resume her studies this fall. So far, no one knows exactly what that will look like, but she's got a good idea of the eventual outcome.
"There's definitely going to be bigger graduations in my life," she said. "It's just something I have to wait a little bit longer for."