Archived News
Haywood County sweetens economic development pot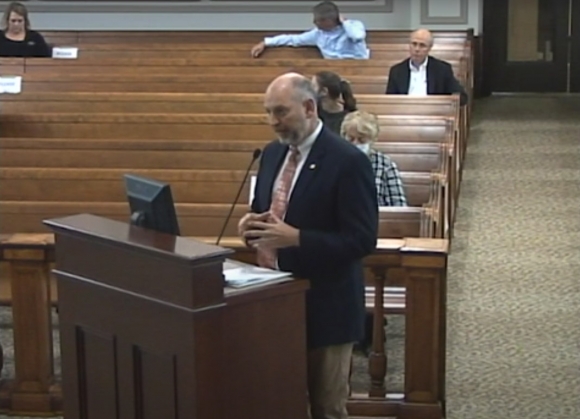 Haywood County Program Administrator David Francis explains the county's new economic development policy to commissioners May 18.
An economic development incentive plan first passed by the Haywood County Board of Commissioners in 2004 underwent a significant retooling in late 2017, but a string of disappointments has led commissioners to revise it once again in hopes of luring businesses to the county.
"We kept hitting a ceiling when we were talking to companies and recruiting," County Program Administrator David Francis told commissioners May 18. "The last three companies we've had in here, we've been fighting against South Carolina, who gives away the farm to get the business there. We're always starting a step behind."
Francis said he's currently in the second round of negotiations with another company considering a move to Haywood County, and that "being able to give the board more flexibility is what's very important about this program."
In North Carolina, economic development incentives are commonly given in the form of property tax breaks. While property taxes can't be waived or forgiven, they can be rebated once they're paid.
Haywood's policy is a sliding scale based upon the dollar value of the new or expanding business in conjunction with the amount of full time jobs created.
For example, a new business or an expanding business that spends between $200,000 and $299,000 and creates between five and nine jobs would be eligible for a 30 percent tax rebate for five years. If that business created more than 75 jobs, they'd be eligible for a 55 percent rebate for five years.
On the high end, businesses that spend $10 million or more and create between five and nine jobs would be in line for a 50 percent rebate, but if that same business created 75 or more jobs, that rebate bumps up to 80 percent.
All that remains the same under the new policy passed by commissioners May 18, but two sentences in the policy are intended to remove that "ceiling" Francis mentioned.
The first stipulates that businesses spending more than $20 million or creating more than 100 jobs "may be given special consideration for additional participation by Haywood County."
The second gives commissioners the power to adjust, at their discretion, any of the incentives that might be awarded by the county. Another measure included in the new plan will encourage commercial development by allowing speculative builders to qualify for incentives.
Buildings of at least 20,000 square feet constructed on the county's parcel at 1585 Jonathan Creek Road or on Canton's Great Oak Road may qualify for a maximum 75 percent rebate over five years, provided they are involved in manufacturing, warehousing or distribution.
That means developers have the option to construct a building before acquiring a tenant for the building. Any incentives awarded to the developer could then be transferred, with the consent of commissioners.
For more information on the new economic development incentive policy, visit the Haywood County government website.
https://www.haywoodcountync.gov/AgendaCenter/ViewFile/Item/1255?fileID=2840