Archived News
Open Door goes mobile with Salvation Army help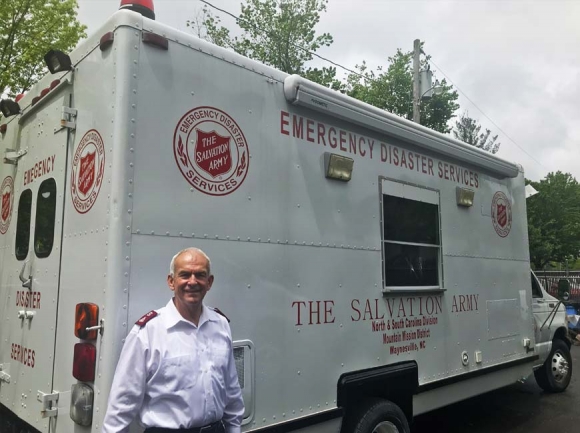 Maj. David Cope poses in front of a mobile canteen that will soon be put to use in Waynesville. Cory Vaillancourt photo
The Coronavirus Pandemic has made it that much more difficult for many low income and unsheltered individuals to feed themselves especially with Frog Level's Open Door being closed, but thanks to a partnership with the Salvation Army, volunteers will soon be able to take meals, mail and clothing to people who need it.
"The Salvation Army has a history of disaster services, and we actually have a mobile canteen located here in Waynesville that's part of a coalition of vehicles throughout the Salvation Army's North and South Carolina division," said Maj. David Cope, who's set to retire from the Salvation Army in about a month. "That canteen can be called upon to respond in the aftermath of tornadoes, hurricanes or any disaster."
The current disaster is much different than what Cope's dealt with in his 35-year career — he spent time at the Pentagon in the aftermath of the Sept. 11 attacks as well as in Houston after Hurricane Katrina — but the need for services is no less pressing.
"When COVID-19 sprang upon us and we started participating in the coalition conference calls and about what people were doing, I put out there that we had the canteen, it was over in Asheville, Buncombe County doing service for a number of weeks, but they finished up over there and we hooked up with Bill Guy over at Open Door through the telephone conference calls."
Pre-pandemic plans had the Open Door moving into a new space right about now, after landlords declined to offer the Christian ministry a new lease, but the pandemic and the difficulty in locating a new spot has left the group unable to provide meal services. That's where the mobile canteen, similar to a food truck, comes into play.
"This whole process of getting set up with them, it's been less than a week that we met with them and everything's set up," said Guy, executive director at the Open Door.
The Salvation Army will supply the driver, the fuel and volunteers to cook and distribute meals. The truck will pick up meals prepared at the Open Door and begin visiting a series of regular locations in the area June 1.
"We're all about taking care of our needy citizens in an emergency, people who have found themselves in difficult times because of COVID-19," Cope said.
The Open Door will remain in its current Commerce Street location "indefinitely" according to Guy, who cited amenable discussions with landlords, but is now hoping to be in a new location by Jan. 1.