Archived Opinion
A powerful need to help those in need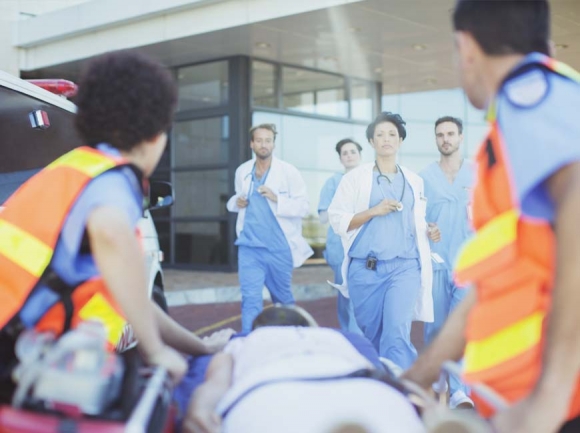 National Emergency Medical Services Week is May 17-23, and in the midst of a global pandemic the timing resonates more this year than at any other moment in recent memory. What these men and women do — whether it be EMTs, those in the medical field, firemen and the police — has never been more essential to helping our society maintain some semblance of normalcy and order.
And the stress sometimes becomes too much to bear. Stories abound right now of EMS workers and others on the frontline coping with mental health disorders and just unimaginable stress. Even if they aren't working in locations where the pandemic is killing hundreds, these workers are still facing dangers the rest of us don't. Suicides and breakdowns are very, very real.
Those on the front lines go into unknown situations, taking whatever precautions are available given the moment. They put themselves in danger to care for others without seeking glory or a medal. For many it's their calling, a powerful need to help those in need.
And it almost always goes on in the background.
Just last week, we experienced a tragedy among this special group of people. Eldon Jamison, a longtime EMT who then began volunteering after he retired, died in a high-ropes rescue search at Whitewater Falls in Jackson County. A hiker, Chandler Manuel, was reported to have fallen over the waterfall. The Glenville-Cashiers Rescue Squad and others responded. After suspending the night search due to storms, Jamison died the next morning as efforts continued to find Manuel, which was eventually successful.
At 71, Jamison was reportedly a mentor and leader to the next generation of rescuers. "He was a very loving and compassionate man," Glenville-Cashiers Rescue Squad EMS Director Jeremy Stewart told the Sylva Herald. "He loved what he was doing. I just can't explain it in words."
On call, in a moment, no thought to self. You do what you've been trained to do, which sometimes is inherently dangerous. That's the job, the calling.
I had my own encounter with EMTs a few years back. I stepped in a hole while hiking and ruptured my quadricep tendon, totally severed it from the kneecap, unable to walk, a few miles into the backcountry. It was a gorgeous Sunday in the fall, dusk approaching, and there was no way I would get out of the woods by nightfall even with the help of my wife and friends.
And they showed up. A dozen or more, among them Cruso Backcountry Rescue volunteers and Haywood County EMT. On a stretcher they carried me down a narrow, rutted path. Haywood County Emergency Services Director Greg Shuping was among them. I wasn't in any kind of mortal danger, but rather an unlucky hiker in extreme discomfort. It didn't matter.
Our daily lives go on, while those on the front lines yet in the background often do heroic work that goes unnoticed. Not today. Thanks to all of you. We appreciate what you do, and offer a prayer for those we've lost.
•••
North Carolina's stay-at-home order hit the books Monday, March 30. Seven weeks later, resolve is breaking down.
Protests by those "re-open now" groups aren't necessarily growing, but all you have to do is look around. Small groups, small crowds, people itching to get out and even get together.
Most expect the governor to announce as early as today (Wednesday) or Thursday phase 2 of North Carolina's reopening. Such businesses as bars, fitness centers and personal-care services could reopen if they can follow safety protocols, potentially including a reduced number of patrons. Indoor gatherings at reduced capacity would be allowed at entertainment venues.
As this happens, we'll be trying to cover more business stories, particularly from those who don't reopen. We can only hope that the number of businesses who don't make it out of this is few, and that continued aid from the federal, state and local governments can help those struggling.
Gov. Cooper has vowed to make his decision based on the data available. Let's hope the arrows are going in the right direction. If so, I think we'll all be breathing a sigh of relief.
(Scott McLeod is publisher and editor of The Smoky Mountain News. This email address is being protected from spambots. You need JavaScript enabled to view it.)