Archived Reading Room
Soldiers who shaped our nation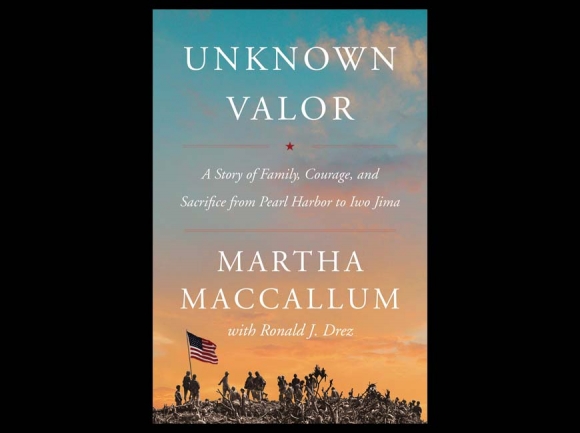 May the memory of these men sustain us all and remind us of their sacrifice to secure our freedom. May we never forget their bravery and all they gave up so that we might live free. We are forever indebted to these heroes, whose unknown valor we are obligated to know.
Those words conclude Unknown Valor: A Story of Family, Courage, and Sacrifice from Pearl Harbor to Iwo Jima (HarperCollins Publishers, 2020, 315 pages). Here Martha McCallum, assisted by co-author, military historian, and ex-Marine Ronald J. Drez, tells the story of the Marines in the Pacific during World War II, with a particular focus on the Battle of Iwo Jima, where the uncle she never met, Harry Gray, was killed during a mortar barrage.
We've had many other memoirs and histories of the Marines and the islands they assaulted in the Pacific. In Goodbye, Darkness: A Memoir of the Pacific War, William Manchester, biographer of John F. Kennedy, Douglas MacArthur, and best known for his trilogy on Winston Churchill, writes of the Marines storming various islands, including his own combat at Okinawa. Many rate Eugene Sledge's With The Old Breed: At Peleliu and Okinawa as one of the best war memoirs ever written by an American. Robert Leckie, who recounted his time in the Marines in Helmet For My Pillow: From Parris Island to the Pacific, is yet another highly regarded chronicler of that war, and both his book and Sledge's heavily influenced HBO's The Pacific.
Martha McCallum and Ronald Drez take a different approach to the war in the Pacific and the Marines who helped win that war.
First, though McCallum and Drez visited Pacific battlefields, interviewed survivors of these battles and their descendants, and as evidenced by the 28 pages of "Notes" at the back of the book, McCallum also puts herself into many of the characters she describes, recreating their emotions and thoughts. Her Aunt Anne, Harry Gray's mother, and her Aunt Nancy, Harry's sister, undoubtedly conveyed their emotions and those of Gray to the McCallum, but she nonetheless takes liberties when recreating those times. This approach to history — some might describe it as fiction, others as psychological biography — might bother the more fastidious, but I found McCallum's inventions brought these people to life on the page.
When the Japanese attack Pearl Harbor, Harry is still a boy in high school. Like many of that time, he is eager to enlist and do his part to fight back against the aggressors. His Uncle Frank, Anne's brother-in-law and McCallum's grandfather, and the man who became a surrogate father for Harry after his own father's death, prays the war will end before Harry can come of age to join the Marines. Through McCallum's reminiscences gleaned from her relatives, we follow Harry as he finishes high school, falls in love with Dorothy, who is two years younger, and achieves his dream of become a Marine.
Here is a description of Harry sitting in a movie theater with Dorothy:
"He couldn't care less what is on the screen once the newsreels are over. He has it all planned out. He will enlist as soon as he turns seventeen. He will likely be a part of the attack on Tokyo, and then he will come home a hero. He and Dorothy will get married … and then he will spend the rest of his days smelling Dorothy's skin and feeling her curls brush his cheek. She makes him happy, and he is 100 percent sure that he makes her happy, too. It's nice when life looks clear ahead: he can see it all perfectly."
Is this strictly history? No, but the portrayal of Harry, like millions of others who have gone off to fight our country's wars, is real and true.
Unknown Valor also explores the home front during the war. We cut back and forth between the agonies of the Marines in battle and those who with fascination and dread follow the news of the fighting and beg through prayer that their sons be spared. When a messenger boy delivers the telegram announcing Harry's death on Iwo Jima, we feel the grief and shock of his grandmother, mother, and kid sister.
"Anne is at work, and Harry's Grandma Bowes answers the door. She reluctantly takes the envelope. The delivery boy bows his head and turns down the steps. As she opens it, her eyes scan and fall on the only three words that matter. DEEPLY. REGRET. KILLED. She slides down into the hall chair and weeps."
Finally, McCallum and Drez recreate the hell that greeted the Marines on Iwo Jima, a volcanic island of coral and rock, a twisted landscape beneath which the Japanese had built tunnels and bunkers. As one Marine later described the battle, "The Japs weren't on Iwo Jima; they were in Iwo Jima." Before this horrible ordeal ended, 6,800 Marines had died and nearly 20,000 were wounded.
Today many Americans likely have little knowledge of the major battles of the Pacific, engagements such as Guadalcanal, Midway, Saipan, and the Philippines. Perhaps many too are unfamiliar with other places in which men gave their lives for one cause or another: Breed's Hill, Antietam, Belleau Wood, Anzio, the Chosin Reservoir, the Ia Drang Valley, and places like Kamdesh in Afghanistan.
As McCallum points out, we are obligated to know the uncommon valor of those who died for freedom and for us.
When we know them, when we remember them, we know and remember who we are as well.
(Jeff Minick is a writer and teacher. This email address is being protected from spambots. You need JavaScript enabled to view it.)