Archived Arts & Entertainment
In search of the song: Jon Stickley Trio releases latest album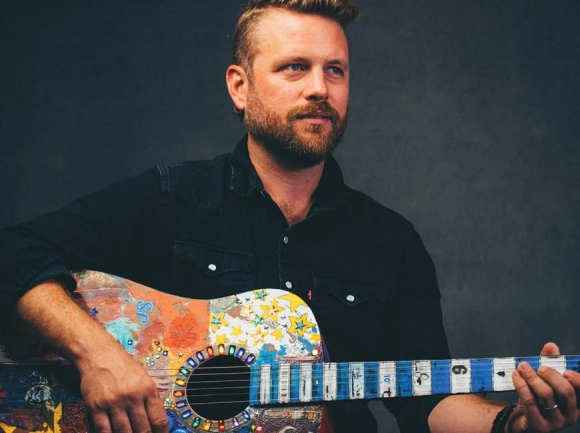 Jon Stickley. (photo: Sandlin Gaither)
Sitting on his side porch in West Asheville last Thursday morning, guitarist Jon Stickley strums his 1958 Martin acoustic. Sunshine cascades onto his large backyard filled with the sounds of birds and wind chimes hanging nearby.
And though the scene is serene and relaxing, Stickley would rather be on the road and onstage in the midst of the organized chaos that is the annual festival circuit.
"[Being off the road] has been a big adjustment — it's been a rollercoaster of emotions," Stickley said. "There have been a lot of positives that have come along with all of this, time to sit back and relax. But, I wish I was out touring and hitting the festivals right now — that's what I'm really missing."
Within musical circles across the country (and beyond), the Jon Stickley Trio is a whirlwind of sound and purpose. Once regarded as the best kept secret in the bluegrass and jam scenes, the group is now heralded as one of the most intricate and innovative string acts today.
In terms of genre, it's a tone hard to pinpoint by the mere fact the trio pulls influences from seemingly every direction: bluegrass, indie rock, Americana, jazz, classical, metal, etc. And it's that melting pot of musicality that is at the heart of why the act is quickly becoming a marquee name.
Coming into 2020, the Jon Stickley Trio was gearing up for a breakthrough year. Alongside the immensely talented Lyndsay Pruett (fiddle) and Hunter Deacon (drums), Stickley signed with Organic Records (Arden) in March 2019. And the band's highly-anticipated debut album for the label, "Scripting the Flip," was released in early April, right as society shutdown due to the Coronavirus Pandemic.
But, even with the hand the group has been dealt, Stickley remains an eternal optimist. The trio has come this far, and the only way to go from here is forward — instruments in hand, ready to fully embrace the bountiful fruits of their labor.
Smoky Mountain News: What's surprised you the most being a creative entity amid this isolation period?
Jon Stickley: Well, one thing that changed for me is that over the past couple of years, I got in the mode of really trying to buckle down and write as much material as possible. And that was done in between tours. Now, that we're not touring at all, the music is getting written in between home improvement projects.
The kind of the music I'm drawn to is a little different. When we were touring a lot, I was listening to a lot of like death techno, where I would drive into that really complex arrangements and production. I was obsessed with that [music] and also really dark, true crime podcasts.
And since I've been home it's completely shifted. I've been wanting to get into a little bit more of the folk-roots stuff — kind of lay back and just try to try to really stay as positive as possible. It's a totally new head space that I haven't been in probably since 2004.
SMN: You're one of those people that really bridges the gap between the traditional and progressive camps in bluegrass. Is that just what you like about bluegrass or is that how you evolved as a performer? Because a lot of times they can be very distinct camps…
JS: Yeah, they can be. And I've been a part of various camps in the past — going all in on traditional bluegrass or all in on hard driving, modern bluegrass in "B" or "Dawg" music (David Grisman). And eventually I just realized — and it happened when I started writing more music — that I have to dig deep to try to find the song, you know?
And that's when I started thinking about crossing the genres a little bit more, taking things I liked from all of the different music that I've been obsessed with over the years and trying to kind of fit them together in a way that works.
SMN: Though there's an obvious foundation in bluegrass, I look at your music as almost like water, where if you spill it, it just goes where it goes. And when I listen to the trio, there's a lot of things going on in there…
JS: It wasn't a conscious thing, but it really just came from a place of wanting each band member to be able to express themselves exactly like they want to.
When Lyndsay and I worked out that process together — which we're still kind of working out — it's fitting what she hears and her style and what I hear and what I want to do. It doesn't usually match perfectly, it's much more of a meeting of the minds thing.
And now that Hunter's involved on drums, he's kind of the same way. He's got a lot of distinct feelings about how things should sound. And the point of it all was just to get everyone to a [place] where we like the music as it is. The music that we do is really a product of the three people more than a design.
SMN: You've been a professional touring musician for 15 years. What has the culmination of those experiences taught you about what it means to be a human being?
JS: It's taught me that art and music are as important as I think they are. I mean, I've been drawn to it because I love it so much. But, the way people react to it, the way fans come up and say it's changed their life — it's kind of hard to see and understand that from the stage.
Going to these festivals and watching people perform, it's like a religion for some people. It touches them in such a deep way that they can go back and live their life and just wait for the next [festival or show] for that recharge of spiritual energy.
And that's when I started realizing I've felt that a lot, too, especially [during] festival season. There's just unexplainable amounts of love that you feel when you come away from these events. And I think it really does spread out into the world. So, being a part of that, and being able to make music that has an impact on that whole vibe, I feel like it is pretty important.
Want to listen?
The latest album from the Jon Stickley Trio, "Scripting the Flip" (Organic Records), is now available for purchase and on all streaming services. www.jonstickley.com.