Archived News
'Hair-iffic' discovery at Waynesville sewer plant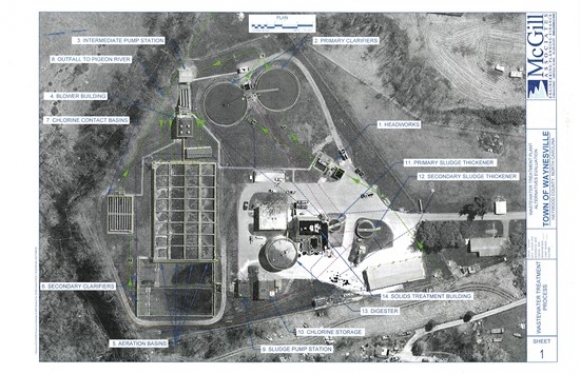 Waynesville's wastewater treatment plant is scheduled for reconstruction in the coming years.
Town of Waynesville photo
Contractors performing work at Waynesville's wastewater treatment plant last week were surprised to make a revolting discovery that highlights the importance of personal responsibility in terms of what should and should not go into one's toilet.
While pumping down a 20-foot tall, 20-foot wide digester tank so that piping could be changed out, workers expected to find a layer of sludge, which is usually treated with lime and then given away as fertilizer. Instead, according to Town Manager Rob Hites, they found something else.
"They encountered 12 feet of hair, plastic and flushable baby wipes," Hites told aldermen during a meeting May 12. "I've never in my career seen 12 feet of hair. I guess it started in 1964. It's pretty gross."
That's saying a lot for a man like Hites, who's worked in municipal government for almost 40 years. This is the third sewer plant he's had to rehab or replace during that time.
"Flushable baby wipes don't flush," he said. "Sewer plants can't handle plastics, and one of the most typical plastics you find is the plastic tampon wrappers. People put them in the toilet, when they can just as easily put them in the trash can."
For many, what goes into the toilet is, thankfully, quickly out of sight and therefore out of mind. In a case like this, however, there are some very real consequences. The contractors servicing the digester tank had to rent a huge knuckle boom to pull the hairy mass out of the tank and send it to the landfill — at an additional cost of $20,000.
The fuzzy pile of muck isn't solely the fault of the general public, nor is it the fault of current town employees; instead, it's a situation the town inherited.
"Bars in the bar screen were corroded or broken, and stuff slipped through," Hites said. "Deferred maintenance always costs you more in the long run."