Archived News
Smokies reopens: DOI Secretary makes visit; Tribe, Parkway also increase public access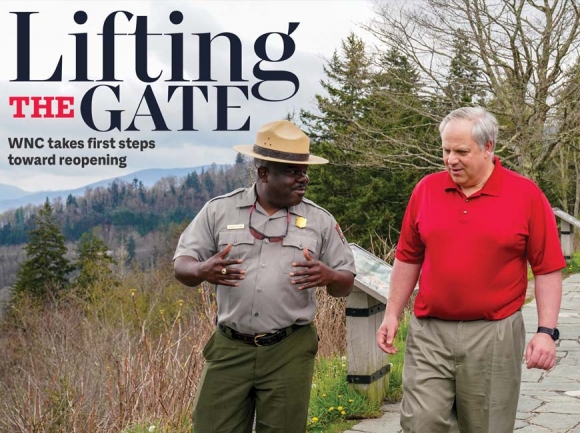 Secretary of the Interior David Bernhardt walks with Smokies Superintendent Cassius Cash at Newfound Gap.
Visitors from 26 different states and Washington, D.C., traveled to the Great Smoky Mountains National Park last weekend after it opened for the first time since coronavirus concerns prompted a complete closure March 24.
(Re)opening weekend
Overall the weekend went well, according to Smokies Spokesperson Dana Soehn, though not all visitors complied with park guidelines asking visitors to avoid crowded areas and practice social distancing.
"The Smokies was a busy place this weekend, but conditions never became overwhelming for staff or visitor congestion," said Soehn. "Core park roads were open, providing access to iconic locations like Cades Cove and Newfound Gap, with direct access to over 50 trailheads where people could go for a short hike or access the vast network of backcountry trails. Aside from a few hotspots, visitor use was dispersed across open areas in the park."
The Smokies was just one of many parks across the nation to close down as U.S. coronavirus cases picked up. The park had initially tried to reduce risk by closing specific facilities, like visitor centers and campgrounds, but visitation only increased as other traditional spring break destinations like beaches closed and people who may have otherwise sought out these locations turned to the Smokies instead. On Tuesday, March 24, the park announced that it would close all of its roads and trails after a weekend in which about 30,000 people entered the park each day, making safe social distancing difficult to come by in many areas.
Though no specific visitation figures are currently available for the weekend of May 9, visitor use was generally dispersed and people generally respectful, Soehn said. People were good about remaining 6 feet away when speaking to employees, and for the most part visitors were able to find ample, non-congested places to hike. That said, despite several of the park's most popular hikes being closed, there were still too many people at well-known places like Rainbow Falls Trail, where parking lots overflowed. At Rainbow Falls, people parked along the roadside for about a mile to access the trailhead.
Visitors park along the road for a mile past Rainbow Falls Trail after the trailhead parking lot fills up. Dana Soehn/NPS photo
"At these places, there seemed to be little regard for following social distancing guidance in the parking lots, destinations and restroom areas," said Soehn. "People should keep this in mind as they make hiking choices."
The weekend did include one search and rescue operation in which the crew carried out a hiker located about 1.5 miles from the trailhead. All emergency response team members wore masks and gloves and were able to safely complete the operation, Soehn said.
Visit from Interior Secretary
The park was still closed on Tuesday, May 5, when U.S. Secretary of the Interior David Bernhardt traveled from Washington, D.C., for his first visit to the Great Smoky Mountains National Park. He spent time in parkside communities and met with park employees to hear firsthand how the closure was affecting them.
"It was an honor to have the Secretary here to express his concern for the health and safety of our employees," said Smokies Superintendent Cassius Cash. "The Smokies is one of the busiest parks in the system, and it is important for us to provide opportunities for our leadership to hear from the men and women on the front lines. No one can articulate the challenges of providing visitor services during this pandemic better than our employees."
Bernhardt began his day in Cherokee, visiting the tribe's drive-thru testing facility and then working with Principal Chief Richard Sneed to pack and hand out meals at Cherokee Central Schools, along with reusable face masks that he had brought along for the purpose. The masks are an initiative of the U.S. Department of Health and Human Services, which is working with partners to distribute them to critical infrastructure workers who don't need medical grade masks, vulnerable populations and other communities nationwide.
From Cherokee, Bernhardt went to Oconaluftee Visitor Center for a 30-minute chat with park employees before driving up to Newfound Gap and back down to Sugarlands Visitor Center to meet with a separate group of employees on the Tennessee side of the park.
Secretary of the Interior David Bernhardt speaks with a maintenance crew at Great Smoky Mountains National Park. Tami Heilemann/DOI photo
"It was my privilege to meet with maintenance crews, law enforcement officers and National Park employees at the Great Smoky Mountains National Park, who have continued their work," Bernhardt said. "As the majority of our park units have remained accessible during this challenging time, it's great that the Great Smoky Mountains National Park has joined the list of National Parks that are safely expanding access to the public."
The National Park Service includes 419 different units, and reopening will look different for each one, said Bernhardt, depending on the park's particular resources and the local community's particular approach to coronavirus prevention.
"We really are trying to line up exactly with the governors," he said in an interview May 5. "I think it's much easier for local land managers if they know that they're lining up to a set of standards that are consistent with what the community's doing, and not something that's disparate."
That said, there will be some common themes across Park Service lands when it comes to post-pandemic operations.
Generally speaking, parks will open up trails and roads first and from there move to specific facilities, Bernhardt said. Parks are following a national protocol in which they look at each service and facility provided prior to the pandemic and then decide which services they can and cannot continue to provide within the confines of CDC, state and local health guidelines.
"It will be driven by where are the governors, what are our staffing capabilities and can folks maintain social distance," Bernhardt said.
A phased reopening
The park announced its initial reopening plan April 30 after N.C. Gov Roy Cooper indicated that he would not extend the state's Stay At Home order past its May 8 expiration date. The park plans to reopen in a series of four phases, with an assessment period of at least two weeks between each.
On May 9, most of the Smokies' roads and trails were available for public use, but many other facilities remained closed.
"As long as the virus infection rates remain low in the region and there is a general downward trend, the park will gradually increase access and services," said Soehn.
Generally speaking, the second phase of reopening will include more roads and restrooms, as well as some campgrounds. By the third phase, all park roads, restrooms, campgrounds and picnic areas will open. The fourth and final phase will include resumption of all public programs, school programs and special events.
The post-pandemic status quo will look different than that which existed prior to the closure. Plexiglas shields will be installed in the visitor centers, maintenance workers will wear personal protective equipment when cleaning restrooms and new procedures will be in place for disinfecting buildings and responding to emergencies.
Regional coordination
On the North Carolina side, the primary roads for accessing the Smokies are U.S. 441 through the Qualla Boundary and the Blue Ridge Parkway. However, by late March coronavirus concerns had prompted closure of both accesses.
Regional coordination resulted in those closures being lifted just in time for the Smokies' first phase of reopening. On Friday, May 8, the Blue Ridge Parkway announced that it would reopen its southernmost 14 miles — the Parkway's terminus is at the Smokies' entrance — on May 9, even as much of the Parkway's remaining route through Western North Carolina remained closed through May 15.
"We know the park's recreation opportunities and scenic beauty provide important ways to connect with our natural environment during this time, and for many a leisurely drive on the Parkway provides solace," said Parkway Superintendent J.D. Lee. "Our phased approach to the 2020 visitor season is focused on balancing the enjoyment and protection of this park with the enjoyment and protection of our visitors."
Lee's decision followed Principal Chief Richard Sneed's May 5 announcement that checkpoints limiting access to the Qualla Boundary and a curfew that had been in effect from 10 p.m. to 5 p.m. would end effective 10 p.m. May 8.
The tribe has set up a new checkpoint to ensure that only locals use its single shopping plaza, and many businesses will remain closed for the time being in an effort to discourage tourists from stopping in Cherokee on their way to the park. Still, Sneed said, it's important for the park, the tribe and the region as a whole to find a way to exist sustainably in this new normal.
"We're going to have to adapt, because we can't stay closed indefinitely," he said. "We just can't."
Stay safe
While the park has entered its first phase of reopening, visitor cooperation is needed to ensure that the Smokies can remain open in face of the COVID-19 pandemic. Observe these rules while visiting.
• If you're not feeling well or have had contact with somebody who tested positive for COVID-19, stay home.
• Start early to avoid crowds. If you come across a full parking lot, don't park along the road shoulder. Find a new destination.
• Maintain at least 6 feet between yourself and others, including park employees.
• Pack in and out everything you may need for the day, including water, snacks and hand sanitizer. Many of the restrooms may be closed in the early stages of reopening.