Archived News
Haywood businesses, leaders react to reopening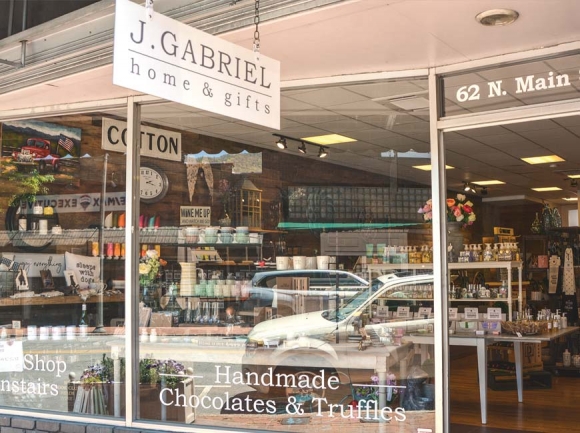 The doors are now open at many retail businesses across Western North Carolina, including J Gabriel on Main Street in downtown Waynesville. Cory Vaillancourt photo
The debate across the state still simmers — too soon, too late, or, like Goldilocks' porridge, just right?
At 5p.m. Friday, May 8, North Carolina transitioned into phase one of Gov. Roy Cooper's three-phase plan to lift restrictions on commercial activity deemed non-essential in his March 27 "stay home" order.
If all goes well, phase two will commence in two or three weeks, further loosening restrictions. Phase three could come four to six weeks after that.
Despite the rigid, one-size-fits-all nature of Cooper's North Carolina plan, the story of reopening Western North Carolina is actually the story of three very different businesses, in three very different Haywood County towns, all very different from the rest of the state and the nation.
Waynesville
A quick 30-minutes on the interstate west from Asheville, Waynesville is the epitome of the small mountain tourist town — a quaint but bustling Main Street lined with retail establishments selling everything from coffee tables to clothing to cookware, with breweries and restaurants filling in the gaps.
Mike Coble owns two Main street businesses, a gift shop called J Gabriel and an upscale boutique, Moonlight and Garbo. He also plans to open a baby store in the near future.
"We kind of took a different approach than some of the vendors out there," Coble said of his multi-level J Gabriel location. "Since we do have a back door, we were able to bring in shipments, let them quarantine down here and spray them down. We could work restocking as well as doing curbside sales and online shipping but businesswise, it knocked us down to about a fourth of our normal sales on a daily basis."
His boutique wasn't so lucky, owing to the more personal nature of the retail clothing business, but when Coble did reopen his businesses on Saturday, May 9 — the day after Cooper's phase one implementation — he said he had a great day, businesswise. He also said that the reopening couldn't have come at a better time.
"A lot of the landlords and a lot of our vendors gave us reprieve in April and even some in May, but they're coming to the point where they're running out of cash as well," he said. "There was not going to be a reprieve coming for June, so for our town and for a lot of small businesses, we had to open now."
Still, Coble thinks that the March 27 order closing most businesses was "a pretty smart decision" and that the timing of the reopening was appropriate as well.
"I think we're spot on, right where we needed to be," he said. "If we waited any longer, talking with other people downtown and with other small businesses around, we wouldn't have made it if we had to wait another month."
Waynesville Mayor Gary Caldwell concurred with Coble's sentiments on reopening, even suggesting it could have occurred sooner.
"Especially for our businesses downtown," Caldwell said. "I know they're not essential businesses, but I do feel like at that time they had enough time for safety protocols to be in place."
Caldwell still supports Cooper's actions in the initial days of the "stay home" order.
"At the time that all this was occurring, it was all new to all of us," he said. "It was scary, but I can understand him doing that until we got things worked out to see how it was going to go."
Now that Waynesville is moving forward with limited reopenings, Caldwell said he's glad to see his hometown rebound.
"It's exciting," said Caldwell. "I know the first morning I drove downtown after the governor declared all non-essential businesses closed, it just broke my heart. I'm excited that they're now able to be up and running."
Maggie Valley
Maggie Valley couldn't be more different from Waynesville. With no true downtown, Maggie is almost a purely corporate entity first incorporated 46 years ago to service commercial customers along a thin strip of Soco Road.
Since the 1960s those mostly mom-and-pop businesses have largely followed the fortunes of the long-shuttered Ghost Town in the Sky amusement park. Although businesses of late have started to craft an identity of their own, the town's economy is almost completely dependent on tourist-related lodging and retail businesses.
One of them, Chris & Friends Antiques and More, took a big hit when it closed in March.
"I had probably $6,000 worth of stuff being held for customers down here that's been canceled," said owner Chris Smith.
Smith doesn't think closing businesses like this was the right move.
"I do not," he said. "I do not think it was the right move because so far all it's impacted is small businesses. People come in my business one or two at a time. They don't come in 30 deep like Walmart. They come in one or two at a time and we sanitize and we put the arrows down and I've even got a plexiglass thing that sits on the counter."
Smith reopened on May 8 in accordance with Gov. Cooper's phase one proclamation, but said he's not optimistic that his customers will come rushing back, owing to the realities of his tourist-driven business.
"It's probably going to be slow. People are scared. They looked at this big media bashing everything under the sun, scaring people to death and people are still scared," Smith said. "I've got Florida customers that I talk to every day, and they're like, 'Sorry, we're just afraid to come up there because we don't know.' I mean, that scares me because if they don't, we won't be in business for another month."
Smith does, however, commend local political leadership for their role in pushing for a reopening.
"I'm lucky we have a great mayor that wants us to reopen and a great, great set of people — not everybody, but most people in our town," he said. "The higher ups are really good people. Our mayor's looking out for us."
That mayor, Mike Eveland, said he was excited to see some local businesses open in the valley again and thinks that at the time, Gov. Cooper's "stay home" order seemed like the right thing to do.
Eveland did say he wishes that the phase one designation would have come a week or two earlier, based on the specific situation in Haywood County, which has largely been spared from the brunt of the pandemic. Likewise, he hopes phase two, which would allow the limited opening of bars and restaurants, comes quickly.
"I would prefer to see phase two come in two weeks instead of three," he said. "I would like us to be a week or two ahead of where we are now."
Canton
Although Canton is the closest Haywood County town to the region's largest, most metropolitan city — Asheville — it's possessed of a completely different character just as distinct as that of Maggie Valley and Waynesville.
Canton is a blue-collar mountain mill town that historically struggled to attract retail tenants to its charming Main Street district but had been making progress until the pandemic emerged.
"Friday at five I went downtown and the first store to open was [gift shop] Maddie's on Main, and I was just blown away," said Canton Mayor Zeb Smathers. "There were people lined up outside waiting to go in. People were driving by, honking their horn."
Celena Messer, owner of Messer's Milltown Furniture said that her business was allowed to remain open during the "stay home" order because she sells lift chairs for people with limited mobility, but she still took a 50 percent hit.
As neighboring businesses like Maddie's were allowed to reopen, Messer said that the general uptick in commercial activity resulted in a good weekend for her.
"We were just busy," she said. "It's like they let out a pack of wild dogs."
Messer said she doesn't think it's too early to begin Cooper's phased reopening because the closures hurt small businesses badly; she only just purchased the shop around the beginning of what she couldn't then know would be a terrible year, financially.
"It's just rotten," she said. "I'm over 2020."
Smathers, however, thinks Cooper took a balanced approach to the situation.
"I fully support reopening with what the governor and the CDC and the Trump administration have laid out. You can agree or disagree, but this is the position we're in," he said. "There's things people can say they would have done differently, but where we were as a nation at that time, if [Cooper] had not acted, we'd be in completely different shape."
Neighboring states, notably Georgia, were at the forefront of reopening, which inadvertently gave North Carolina, and Western North Carolina, a peek at its own future.
"It was interesting that we waited a week past Tennessee and Georgia, and I know some people took issue with that, but I think that extra week allowed us to see how other states are performing," Smathers said. "I think it gave us confidence to go into this phase with a lot more optimism."
Smathers admitted that after evaluating the effects of Cooper's three-phase plan taking a step backward still isn't out of the question, but like many business owners in the rest of Haywood County, he's grateful to see progress.
"It really did my soul well to see these small businesses survive," he said. "In Canton we fought so long to attract businesses, but to see the grit and perseverance, it's truly uplifting and gives me hope we'll make it through this."