Archived News
Body recovered from Whitewater Falls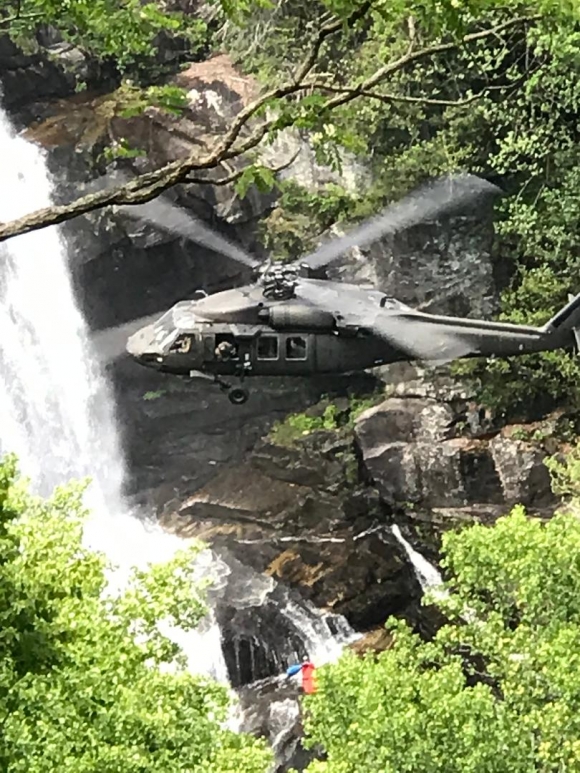 A National Guard N.C. Helicopter Aquatic Rescue Team unit drops down supplies during the search for Chandler Manuel Wednesday, May 6. Kelly Donaldson photo
Two people are dead following an emergency situation at Whitewater Falls in Jackson County this week — a 24-year-old man who fell into the water at the base of the falls and a 71-year-old rescue crew member who was helping to search for him.
The body of Rowan County resident Chandler Manuel was located on Wednesday, May 6, after two days of searching following his fall on Monday, May 4. A National Guard N.C. Helicopter Aquatic Rescue Team unit extracted his body at 3:45 p.m. May 6. Manuel was hiking the Foothills Trail with an undisclosed number of other hikers, one of which has been confirmed to be his brother, at the time of his fall. The Whitewater Falls area was closed to the public at the time, including a closed gate, parking lot and facilities. However, the hiking trail to below the falls was open. Jackson County Emergency Management received the call from Transylvania County, with the initial call routed through Pickens County, South Carolina.
"We want to send a huge thank you out to all of the many emergency services agencies that responded to this search over the last three days. We couldn't have done it without their support," said Jackson County Emergency Services Director Todd Dillard and Jackson County Sheriff Chip Hall in a joint statement. "Emergency service people are like family, and we lost one of ours this week. We are humbled by the response of our extended emergency services family from S.C., and all counties surrounding us here in Western N.C. Thank you."
The search for Manuel was plagued by adverse weather and difficult terrain. During search operations on Tuesday, May 5, longtime Glenville-Cashiers Rescue Squad member Eldon Jamison fell from a rope during a search operation in which a rugged remote high line operations repelling team from the rescue squad was searching for the victim. Jamison did not survive the fall, and a National Guard N.C. Heart helicopter team retrieved his body from the bottom at 4:15 p.m. that day. Ten other rescue squad members were below the falls and eight others were on their way down when Jamison fell. All 18 survived safely.
Jamison, 71, had been a member of the Glenville-Cashiers Rescue Squad for more than 40 years. He was a widower and father of three children — Amanda, Scottie and Richard. He held multiple offices within the Glenville-Cashiers Rescue Squad including Captain and Assistant Captain. He was a former employee with the Glenville-Cashiers EMS and was one of six original employees of the Glenville-Cashiers EMS in 1984. Jamison was a member of Yellow Mountain Baptist Church.
During a meeting of the Jackson County Commissioners May 5, Chairman Brian McMahan requested that a moment of silence be observed in Jamison's honor.
"That's a strong family there in that community, and that department means a lot to this county," McMahan said. "It's like family, and I know they're all grieving tonight with the loss of that member."