Archived News
Keeping the wheels in motion: Waynesville Tire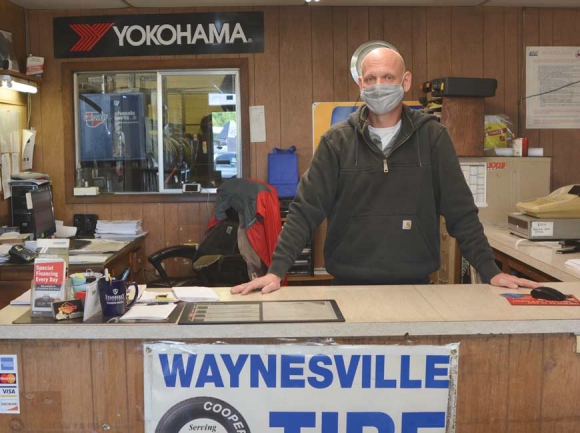 Jeff McCall, owner of Waynesville Tire. (photo: Garret K. Woodward)
Though the front door is locked, the large garage and repair bays of Waynesville Tire are wide open and ready for business.
"The biggest thing we've had to do is not let anybody into the office and having people wait outside for their vehicle to be ready — we're doing everything curbside," said Jeff McCall, owner of Waynesville Tire. "And, at the end of the day, I still go through and wipe down everything in the office just because the guys are in and out of here throughout the day."
A locally owned and operated small business since 1966, Waynesville Tire remains busy and bustling, even in uncertain economic times and shelter-in-place orders. In the earliest weeks of the Coronavirus Pandemic, McCall estimated the company lost about 40 percent of its normal business.
"Over the last six weeks, it's been slower. But, things have picked up lately," McCall said. "And we've also been very blessed to not have to let any of our employees go."
With eight staff members, Waynesville Tire has been able to keep the lights on and retain its workforce due to being deemed an "essential business" by the state and federal governments.
"As a small business owner, this whole thing has been really distressing, but at least I can keep working and keep the guys working, too," McCall said. "And I'm thinking about what the 'new normal' is going to look like after the restrictions are lifted. Are we just going to keep it this way and just not let anybody in the office anymore? 'Hey, you can drop off your car or wait outside.'"
With lost revenue and the daily financial unknowns facing small businesses, Waynesville Tire is currently in the midst of the application process for the Payment Protection Program (PPP), a Small Business Administration loan now offered to keep workforces employed during the COVID-19 crisis.
"The process has been a nightmare, really. My bank told me that I was a small fish and they would be glad to help me, but to not expect much [financial help]," McCall noted. "It's tough, where I'm responsible for eight people and eight families as a business owner. Every week I'm doing payroll, looking at the numbers and thinking — did we make enough? Did we break even?"
And yet, even amid his own financial struggles and challenges, McCall is grateful to be able to go to work each day. He often thinks about other local businesses and the nearby downtown Waynesville corridor.
"I'm worried about all of the restaurants and other people that have been closed for the last six weeks — what's going to happen to them?" McCall said. "And right now, everybody is starting to get tired of staying home. People are ready to get back out and get back to doing things again."
Where before McCall would have a much clearer vision for the long-term future of the Waynesville Tire, he's now just focused on getting through today, with hopes for a better tomorrow and the same for the day after that.
"It's day-to-day at this point — either tomorrow we'll be busy or we'll be standing around. But, we'll do what we have to do to survive," McCall said. "We have such a great group of guys and a lot of loyal customers, people that choose to spend their money here. That means a lot to me as a business owner — it's humbling."