Archived News
Haywood commissioners push to reopen after terminating 'stay home' order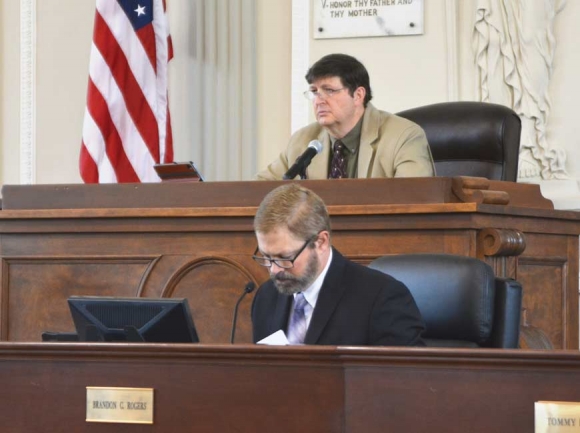 Haywood County commissioners Kevin Ensley (top) and Brandon Rogers wait for a May 4 meeting to begin. Cory Vaillancourt photo
Less than five weeks after issuing a "stay home" order and barely three weeks after extending it, Haywood County commissioners approved a resolution May 4 to terminate their countywide order and told Gov. Roy Cooper they hope he'll do the same with his statewide order when it comes up for possible renewal May 8.
"What this resolution does is put us under the governor's order," said Haywood County Board of Commissioners Chairman Kevin Ensley.
During their regular monthly meeting, commissioners opted to terminate several COVID-related proclamations enacted beginning March 26, all of which were set to expire on May 4 anyway.
The restrictions in Haywood's proclamations were slightly more limiting than the state's, in that individuals coming to or who had been out of the county for more than three days would be required to self-isolate for 14 days.
The termination resolution states that the proclamations "are no longer needed in Haywood County."
"We did right at the time, but as we go further down the road this thing is more predictable," Commissioner Tommy Long said. "Any good ball coach at half time goes in at halftime to make suggestions to win the game."
Although small, the case count in Haywood County has more than doubled in the last week from seven confirmed cases on April 28 to 18 on May 4, indicating community spread. However, a drive-up test of 283 front-line workers — from grocery stores, hardware stores and the like — conducted on April 28 by the Haywood County Department of Health and Human Services showed all 283 of them to be virus-free.
Residents of Haywood County and all four of its municipalities are still subject to the state's superseding "stay home" order, although some counties like Gaston have now vowed to defy the state's order, just as some towns like Weaverville have vowed to defy their county's order.
Haywood Commissioners didn't go quite that far, but did pass a subsequent resolution urging "the State to allow all current North Carolina Executive Orders restricting the operation of businesses to expire, and to permit Haywood County Government to begin a cautious plan to reopen for business in three measured phases beginning May 8, 2020, in compliance with federal recommendations and in close consultation with Public Health recommendations."
"Unfortunately, we're killing our small businesses," said Commissioner Brandon Rogers. "If we can allow our big box stores, why can't we do it in our smaller businesses as well?"
The resolution carries no force of law but much like the Second Amendment Sanctuary measures passed across the state this past winter, it does send a clear message to state government about the values in particular communities.
The message, enunciated by a number of speakers during the meeting's public comment session, was overwhelmingly to reopen earlier, rather than later.
"We're not saying throw caution to the wind," Rogers said. "If you don't feel comfortable going out, stay home."
The resolution cited guidelines announced by President Donald Trump on April 16 that define the circumstances under which areas of the United States should begin reopening businesses.
Those circumstances include downward trends in both coronavirus symptoms and cases as well as effective testing and contact tracing. The ability to "surge" health care capacity and to communicate effectively with citizenry are also necessary.
North Carolina was still on an upward trajectory in terms of total cases, but on a downward trajectory of new cases. That means either the "stay home" measures work, or they were never necessary in the first place — depending on one's point of view.
As of May 4, there were 11,771 North Carolinians who had contracted the coronavirus, with 9,529 of those cases still active. More than 430 people have died across the state, but Western North Carolina isn't exactly the rest of the state.
Figures from the North Carolina Department of Health and Human Services show 66 total confirmed cases in Cherokee, Clay, Graham, Haywood, Jackson, Macon and Swain counties as of May 4 and three deaths.
That translates to 358 cases per million people in the seven-county region, far below the lowest U.S. state, Montana, which has 436 cases per million people. By comparison, the U.S. as a whole has 3,589 cases per million, and North Carolina has 1,156.
"I kinda feel like [Gov. Cooper] is treating us like Mecklenberg and Wake counties. I'd like counties to have flexibility," Ensley said. "We on the coast and on the mountains have different economies and businesses than Charlotte and Raleigh."
The county's original State of Emergency, declared March 15, is unaffected by the termination resolution.