Archived Arts & Entertainment
For whatever ales you: Blue Ridge Beer Hub navigates beverage market during pandemic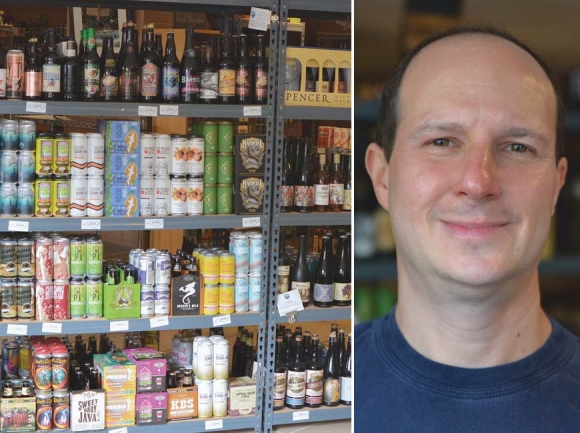 Blue Ridge Beer Hub in Waynesville has hundreds of different kinds of craft beer, wine and other artisan beverages. Right: Marlowe Mager. (photos: Garret K. Woodward)
While society continues to adapt to ongoing shelter-in-place orders, many folks would jump at the chance to be in the presence of endless shelves and coolers filled with craft beer. But, for Marlowe Mager, all he can think about is how to get rid of all the bottles and cans that currently surround him.
"Obviously due to the pandemic, we can't open the taproom and serve beer," Mager said. "But, we've been able to sell our products online and by phone for curbside pickup. And now that people know we're doing that, there's been an increase in orders for craft beer, and for homebrew supplies, too."
Opening its doors in October 2017 on the street corner of East and Main in downtown Waynesville, the BRBH has become a social haven of sorts for craft beer enthusiasts, locals and visitors alike. With its over 700 selections of craft beer, wine and artisan beverage products, there's also taproom and homebrew supply shop.
"We called it the Blue Ridge Beer Hub because we wanted to build a sense of community in here, a hub for people who are interested in craft beer," Mager said. "And it's been neat to watch people who might have never become friends connecting with each other while sitting at the bar counter or gathering outside at the picnic tables and talking."
Amid its cozy taproom, there are 16 taps pouring an array of styles and brands, with patrons packing in for a pint or two alongside hearty, jovial conversation.
"This place really does have that European pub feel to it, where it's almost like a speakeasy with how were tucked into the basement of this old building," Mager said.
For most of his adult life, Mager has held a sincere passion for craft beer and homebrewing. In his mid-20s, as a birthday gift, Mager was given a small homebrew kit. At the time, Mager and his wife, BRBH co-owner Meagan Karvonen, were living in Charlotte.
"Charlotte has this very large and knowledgeable homebrew store. So, when my first batch of craft beer turned out okay, I went to the store, talked to their homebrew experts, got more equipment and learned how to design my own recipes," Mager said.
Mager and Karvonen moved to Waynesville some 15 years ago, with Mager taking on a position teaching psychology at Haywood Community College in Clyde. And all the while, the couple continued to explore their passion for craft beer, whether it was experimenting with new flavors or taking excursions to Belgium and Germany with historic breweries as anchor points of the trips.
"I've always enjoyed beer with flavor and I've always enjoyed cooking, so homebrewing brings those two things together," Mager said. "And my wife loves dark beer, which we couldn't find at the store back then, so I've spent a lot of batches experimenting with different styles of dark ales."
A few years ago, when the owner of Anastasia's Ales in Hazelwood decided to move out of the area, Mager began wondering if he should step in and take over the business. The more he thought about it, the more something within him felt an overwhelming urge to pursue this new career path.
"I mentioned to my wife about Anastasia's closing one day and she said, 'I'm surprised you don't want to try and buy the place,' and I replied, 'I'm surprised that you would let me,'" Mager chuckled. "So, when we realized this was something we really could take a stab at, we scrambled and found this spot on East Street. And through some renovations and moving things around, we're made this place into something special for our customers."
Aside from its massive selection and taproom, the BRBH is also the headquarters for the Blue Ridge Brewers Guild, a group of around 50 homebrewers and craft beer lovers that meet once a month to try and compare beers constructed and perfected by the members, and also taste what's newly offered at the store.
"Brewing is both an art and a science. There's this huge amount of creativity and experimentation that goes into constructing a beer," Mager said. "And there's something so great about tasting and enjoying what you've created or to simply try and share a new craft ale you found with others — that's what makes this industry and this hobby so much fun."
Want to know more?
Located at 21 East Street in downtown Waynesville, The Blue Ridge Beer Hub is open for curbside service until further notice.
For more information, you can click on www.blueridgebeerhub.com, email This email address is being protected from spambots. You need JavaScript enabled to view it. or text 828.593.9586.
On the website, there's also an online store where you can browse the product inventory and make an order.
As well, the Blue Ridge Beer Hub will be donating 20 percent of its sales to a different local agency or organization each week that's helping with the response to COVID-19.