Archived News
Grocery workers step up to meet high demand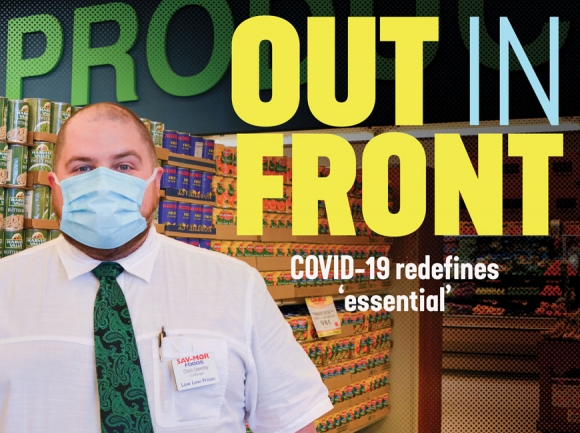 Isaiah Haney, assistant manager at the Shell gas station on Russ Avenue. Donated photo
People stocking shelves and working behind a register never thought they'd find themselves on the frontlines of a global pandemic to ensure the public can continue to access food and other essentials.
Two months ago, most people working at grocery and convenience stores were just trying to earn a paycheck, but now they are considered essential and are putting their lives on the line every day while most of the community is practicing social distancing. Many of these workers are teenagers, single moms and retirees. Some of them have compromised immune systems or other health conditions that make them particularly vulnerable to complications if they did contract the virus. But, at the end of the day, despite the risks, many of them are just happy to still have a secure job and a steady paycheck during these uncertain times.
One of those lucky people is Isaiah Haney, a 19-year-old Waynesville resident who is the assistant manager at the Shell station on Russ Avenue. While his job has been more stressful since the pandemic, he says being considered an essential worker isn't something that has crossed his mind.
"It really doesn't bother me. I mean, I do have the worry of bringing something home to my family or giving something to myself, which I have an immune system problem," he said. "However, I'm more than happy to be working. I'm thankful and blessed to have a job during this pandemic."
Even though he was given the option to not work during the stay home order from Gov. Roy Cooper and collect unemployment, Haney chose to continue to stay on the job and is working 50-55 hours a week instead of his normal 40-hour work week. For him, the important thing is he feels safe and he still has a job. The number of customers allowed in the store at one time is limited, he wears a mask and gloves and has protective glass separating him from the customers on the other side of the counter.
"Well, I would say the whole pandemic has made my job more stressful. With the extra work I have to do just to keep the customers safe is a lot from cleaning the door handles, counters, bathrooms, drink machines, and the protection glass, which is no issue but I'd say it's impacted my job by being more busy than usual."
Isaiah Haney, assistant manager at the Shell gas station on Russ Avenue. Donated photo
As for dealing with the public when everyone seems to be stressed out and frustrated by the entire situation, Haney said he's found most people to be kind and understanding.
"It's about the same. I feel like most people have become nicer and this pandemic has taught them how to treat 'low end' workers," he said.
Chris Owenby, co-manager at Sav-Mor Foods in Canton, said the store has also received much more praise and appreciation from customers than complaints thanks to a strong team of employees. So far, he said his 20 full-time employees are healthy and keeping a good attitude despite the challenges.
"We've all coped with it very well. We've got some wonderful employees here and they just roll with the punches and are doing their part to take care of customers," he said.
Owenby said there are still some items in short supply and high demand — cleaning supplies, toilet paper and paper towels. Sav-Mor might be the best kept secret for many in Canton when it comes to finding toilet paper, which many stores have been sold out of for weeks.
"We are starting to get a few items back in like paper towels and toilet paper — we still get toilet paper about three times a week, but it's gone pretty quick," he said.
To make life easier on everyone, grocery shoppers should remember to adhere to one-way traffic on the aisles and maintain six feet from other customers and employees on the aisles and when waiting in line at the register. It might be frustrating if the store is out of your favorite ice cream flavor, but remember to be courteous, knowing everyone is doing their best right now with what they have.
"Stress isn't the word I would pick, but you know, everybody keeps saying it's not the norm. I think nobody's seen this in their lifetime, so I'm sure a lot of people don't know how to feel about it," Owenby said.
Cory Vaillancourt contributed to this report.