Archived News
Pandemic changes little for local law enforcement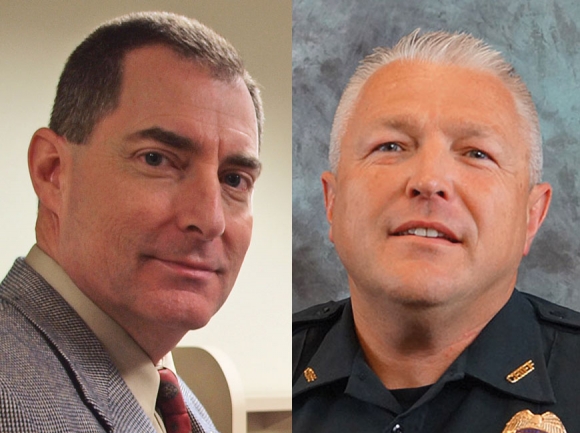 Haywood County Sheriff Greg Christopher (left) and Waynesville Chief of Police David Adams (right).
While the Coronavirus Pandemic has affected the way many people perform their jobs, for the nation's consummate front-line workers — sworn law enforcement officers — not much has changed at all.
"Not a whole lot," said Waynesville Police Chief David Adams. "Not a whole lot, other than possibly catching the virus."
The job of maintaining law and order involves by necessity plenty of contact with the general public, and plenty of risks. The Coronavirus Pandemic is neither the first nor the last communicable illness first responders have had to contend with, but it is among the most dangerous.
Sometimes officers come into close physical contact with suspects and witnesses, and occasionally they have to subdue violent criminals — not exactly in line with social distancing protocols. Adams said his department has fared well, thus far, from a personal health perspective.
As of April 23, no one from the Waynesville Police Department has turned up sick or even been tested for COVID-19. Waynesville's law enforcement personnel have been monitoring themselves for symptoms, and those feeling under the weather have stayed home as much as possible.
"It hasn't caused any issues with overtime," said Adams, who was hired this past January.
Adams doesn't think there will be any budget issues from his department in the current budget year, which ends June 30, but a general downturn in sales tax, property tax payment rates and general business activity could affect funding during the next budget year.
Haywood County Sheriff Greg Christopher reported similar circumstances in his department — overall health is good, and budgeting appears in line with what's been projected. Christopher does, however, have one concern.
"When I first became sheriff back in 2013, coming out of the Great Recession, our civil division was extremely busy with foreclosures and evictions," he said. "As the economy then improved, we saw that fall off dramatically. But I am concerned about the economy going forward."
Bolstering Christopher's assessment of the situation are numbers from the county showing that overall, crime is flat or down in many different categories.
In March 2019, Haywood County's 911 center received 10,761 calls. In March of this year, that number decreased slightly to 10,296.
The number of dispatched calls was also down from 2,835 in March 2019 to 2,410 in March 2020. Calls for emergency medical services were down slightly, from 988 in March 2019 to 962 in March 2020.
Fire departments have stopped responding to some of the calls they'd normally take — usually, to back up law enforcement — so that number's dropped from 849 in March 2019 to 652 in March 2020.
Similar trends are apparent in the types of crimes officers are responding to as well.
Christopher said that after analyzing a period consisting of February, March and April through the 24th day of the month, there were 79 calls for breaking and entering this year, compared to 76 last year.
Larceny calls were up slightly to 104 this year, after 100 during the same period last year.
Trespassing calls saw almost no change — 60 this year versus 61 last year.
Civil disturbances were down slightly as well, from 154 during the February, March and April period last year to 145 this year.
The one outlier, according to Christopher, is domestic disturbances; conventional wisdom and social media speculation suggests that domestic disturbances should have gone through the roof during this period of enforced social distancing, with more people being stuck at home with relatives or close acquaintances. But that's not the case.
In fact, the number this year compared to last year has declined somewhat, from 264 to 241.
One completely new crime — violation of state and local "stay home" orders — has emerged from the pandemic, but Waynesville's Chief Adams said they've probably made less than 20 arrests, and only in conjunction with other crimes.
"We had a rash of breaking and enterings a week or so ago, and the detectives solved pretty much all of those and arrested some suspects," Adams said, adding that there were also some shoplifting arrests.
Suspects charged with those crimes were also slapped with stay-home violations, a misdemeanor that can result in 60 days in jail and a $1,000 fine.
"Stealing is not an essential activity," Adams said. "Unless you're really in need of food I don't think there's officer here who would arrest someone who was truly in need of food or something, but we seem to have a good handle on the food situation with the food bank and I know that state benefits are still flowing, so it seems to be going pretty smoothly here."
All in all, Adams said, Western North Carolina's law enforcement community seems to be faring about as well as it has been in previous years, all things considered.
"We appreciate the public support and the business owners. We've had a lot of people call in to convey their best wishes and express that they enjoy working with us. They appreciate the extra work we're doing," he said. "Our officers are risking their safety too, and they appreciate that, and we appreciate the public support on that."
One of the biggest ways the public can support local law enforcement and first responders is to heed the advice of Adams, who said he's not seen anything quite like this pandemic in his 24 years of law enforcement.
"Basically, if you don't need to be out, try to stay home as much as possible," he said. "Try to prevent the virus from spreading. Of course you've got to go to the grocery store and do your essential shopping and you can get out and exercise and things like that, but stay at home as much as possible until this is over and keep being a good neighbor — look out for your neighbor's house, or business."