Archived News
BearWaters joins Elevated Mountain in sanitizer production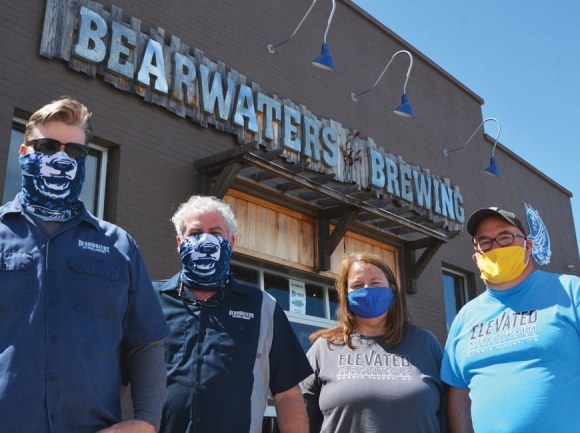 BearWaters Brewing's Kevin Sandefur (left to right) and Art O'Neil have partnered with Elevated Mountain's Dave and Sue Angel to produce sanitizer. Cory Vaillancourt photo
Last weekend may have been a little bitter for BearWaters Brewing's owners Art O'Neil and Kevin Sandefur, but it was also a little sweet.
Instead of pouring their award-winning beers during the grand opening of BearWaters' new location at the west end of Maggie Valley, Sandefur and O'Neil sat in their darkened Canton brewery, surrounded by dozens and dozens of plastic bottles filled with hand sanitizer.
"It's kind of crazy," Sandefur said.
BearWaters, Elevated Mountain and every other bar, restaurant, brewery and distillery in North Carolina were thrown for a loop on March 17 when Gov. Roy Cooper ordered an end to sit-down service due to the then-emerging Coronavirus Pandemic.
Around that same time, restrictions on the production of ethanol-based liquid hand sanitizer were lifted, and the World Health Organization published a recipe in hopes of ameliorating shortages.
Dave and Sue Angel, proprietors of Maggie Valley's Elevated Mountain Distilling Company, quickly announced they'd pivot their business model from production of an award-winning line of spirits to a far more precious commodity — hand sanitizer.
With some help from the Haywood Advancement Foundation and a large order by Haywood County government, Elevated Mountain was off and running, but quickly learned that they couldn't make near enough sanitizer to satisfy market demand.
"The demand is so much higher than we thought it would be two weeks ago," said Dave Angel. "Between my cell phone and my office phone I get between 150 and 200 calls a day right now."
The Angels' distillery has been cranking out roughly 1,000 to 2,000 gallons a week. BearWaters has the appropriate equipment to blend the ingredients used in making sanitizer but didn't have access to the most important one — ethanol, which can't be purchased by anyone without a distiller's license.
Using Elevated Mountain's license, BearWaters began acquiring ethanol and made their first run of co-branded sanitizer last Saturday. Major clients already include Webb Chemical and Western Carolina University. Retail service is also available at both BearWaters and Elevated Mountain.
"Most of our orders are coming from people in Haywood County, Jackson County, Swain County, Cherokee, Asheville," Sue Angel said. "We're trying to stay local, to help our local people first."
Angel and Sandefur said that now that they're in the sanitizer business, both businesses have been able to bring 50 percent of their full-time workforces back to full-time employment.
Sanitizer available to the public in Maggie, Canton
Elevated Mountain Distilling Company and BearWaters Brewing are now offering retail sales of their co-branded hand sanitizer in a variety of sizes to the general public. Curbside pickup is available from 10 a.m. to 5 p.m. Monday through Friday and pre-orders are strongly encouraged. Beverage alcohol including BearWaters beers and Elevated Mountain spirits are also available at their respective locations.
To pre-order sanitizer or beverages for pickup
• BearWaters: 828.237.4200 or www.bearwatersbrewing.com
• Elevated Mountain: 828.944.0825 or www.elevatedmountain.com
• Shared email account: This email address is being protected from spambots. You need JavaScript enabled to view it.
To pick up pre-ordered sanitizer or beverages
• BearWaters: 101 Park Street, Canton, NC 28716
• Elevated Mountain: 3732 Soco Road, Maggie Valley, NC 28751
Buy your friends a round
(of sanitizer)

In the long history of American tavern culture, there are few more vaunted or sacred phrases than, "I'll get the next round."

It's a gesture of camaraderie and companionship shared amongst everyone from close friends to complete strangers that inspires reciprocation and by doing so leaves all richer in spirit, and in spirits.

Just because the state's breweries and distilleries are temporarily unable to provide that environment of American tavern culture doesn't mean you can't still buy your close friends or complete strangers a round (of sanitizer). Haywood County surgeon Dr. Bill Miller and his wife Maureen bought the first round (of sanitizer), and you're up next.

The Millers first approached Dave Angel, who with his wife Sue owns Elevated Mountain Distilling Company in Maggie Valley. Elevated Mountain recently partnered with BearWaters to produce hand sanitizer, and the Millers wanted to know if they could pay for the raw materials to produce a batch that would be given away.

"Our first reaction was, 'Yes, of course,'" said Art O'Neil, co-owner of BearWaters. "Upon further conversation it was, 'Let's have this first batch go to those who really can't get the product,' so we decided to reach out to battered women's shelters, homeless shelters — even animal shelters, so we could get product in their hands."

O'Neil said that buying a round (of sanitizer) was a good way to show support for at-risk or front-line institutions and organizations like nursing homes or first responders.

If you'd like to send your close friends or complete strangers a coronavirus-era gesture of camaraderie and companionship, contact BearWaters Brewing or Elevated Mountain Distilling and tell them, "I'll get the next round (of sanitizer)."