Archived Arts & Entertainment
Top 5 distractions with Susanna Shetley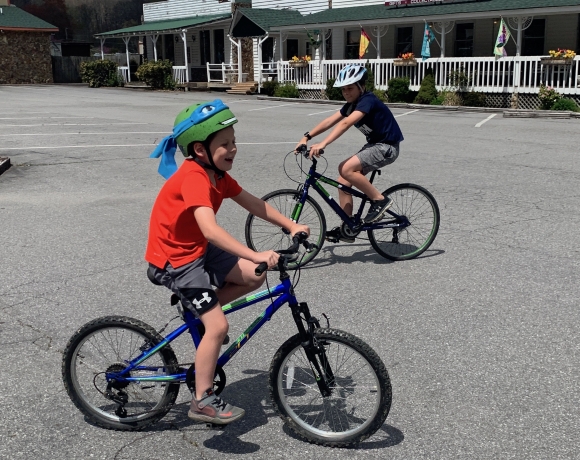 This week Susanna Shetley, sales rep, digital marketing guru, mom blogger extraordinaire, Smoky Mountain Living contributor, shares her top 5 distractions during the COVID-19 Pandemic.
1). 80s movie marathon: I decided it was time to introduce my young sons to 1980s cinema. So far we've watched E.T., Splash, Overboard, Back to the Future and Teen Wolf. Despite the cheesy plot lines and opening graphics akin to PowerPoint slides, the boys love it. Further, the nostalgia has been good for my soul, and the experience is providing great pop culture history lessons as part of our schooling-at-home curriculum.
2). Ramps: As a kid growing up in Western North Carolina, I saw the cardboard promotional signs all over the place, but ramps never made it on my plate. My dad recently brought me a bunch of ramps from a roadside stand. Since quarantine is an excellent time to get creative in the kitchen, I've used ramps in everything from fried potatoes and scrambled eggs to salads and a pork marinade.
3). Wine dabbling: Before the days of COVID-19, my boyfriend and I often visited restaurants or wine bars to try a new cabernet sauvignon or malbec. Lately, we've brought the wine exploration home with bottles from Sentelle's, The Classic Wineseller, Blue Ridge Beer Hub and other local merchants. We make our own appetizers and let the tasting commence.
4). Parking lot bike riding: Two little boys can get antsy when forced to stay home. With no P.E. and with parks and trails currently closed, we've started riding bikes in vacant parking lots. Granted, we look forward to the day when the parking lots are full again, but for now, we're making good use of the empty space. The physical activity has been paramount in keeping our bodies healthy and spirits lifted.
5). Gardening: We've wanted to plant a garden for several years, but the normal daily grind never offered the time. Like a lot of folks, we've gotten well acquainted with our yard while in quarantine. In March we planted four types of lettuce. This week we're planting tomatoes, cucumbers, squash and zucchini. We also made a homemade insecticide with essential oils to keep the insects and bunnies from eating our vegetables.