Archived Outdoors
Grow your groceries: Use quarantine time to start gardening
Wednesday, April 22, 2020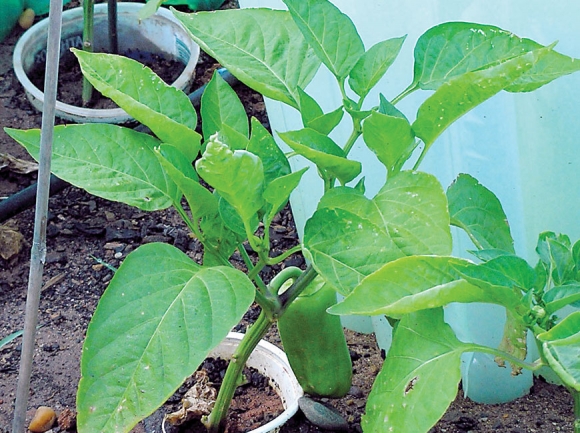 When planting a garden, the best advice is to plant what you like to eat. Jim Janke photos
Spring is in the air these days, but so is uncertainty as the COVID-19 crisis continues and millions of Americans are unemployed, working reduced hours or simply adjusting to life under a quarantine with no clear end in sight.
It's a cocktail that even has folks who have always considered themselves to be brown thumbs thinking about starting a vegetable garden. A lot of people have a lot of extra time on their hands these days, and given that every trip to the grocery store now feels like a journey to the last frontier, the idea of being able to walk outside and pick as many tomatoes as you want is certainly attractive.
To be clear, there are currently no production issues related to COVID-19 on America's farms, said Haywood County Agricultural Extension Agent Sam Marshall. Crops are getting planted and spring veggies are getting harvested. Americans who don't plant a garden this spring aren't likely to find themselves bereft of fresh fruits and veggies in the summer, but homegrown produce is about more than putting food on the table.
"Just the mental and physical health benefits of being able to get outside and having something to do — I would say that's the number one thing above all else," said Marshall.
That said, the future is uncertain in a number of ways, and agriculture is no exception. Impacts to the industry will depend largely on how long the crisis continues. Many crops such as strawberries and tomatoes must be harvested by hand, and issues with immigration and worker health in the midst of the pandemic could make labor — already a challenge for farmers in pre-coronavirus days — a limiting factor in getting produce from the fields to family dinner tables. Additionally, interruptions to trade could make it harder for produce grown elsewhere to make it into the local supermarket.
However, Marshall is hopeful.
"As far as projections for what it's going to look like, it's hard to tell," he said. "But I think we'll at least be a little more prepared. It may be slow, but I don't think it's going to stop altogether."
As the saying goes, predicting the future is a fool's errand — but growing a garden is not. While the region, nation and world wait to see what the coming months may bring, take some time out of quarantine to grow something delicious.
1. Build your bed. Check out the options and choose the best type of garden for your home. Beginner gardeners are often served well by a raised bed garden in the backyard, and those living in an apartment or otherwise constrained living situation may find they can grow a surprising amount of food using containers placed on a patio or balcony.
For raised beds, Marshall recommends starting out with a 4-by-8-foot size. Using the square-foot gardening method, in which gardeners plan their beds in square-foot blocks rather than rows, a container that size can actually produce a lot of food.
"It works," he said. "You don't have to have a huge, massive garden to be successful and get enjoyment out of it."
2. Mix your soil. Good soil is essential for growing good vegetables. The clay soil that covers much of the region is easily compacted and waterlogged, something that garden plants don't like. Marshall recommends mixing one-third each of potting mix, compost and gardening soil to make garden plants happy. One caveat, though — if using animal manure for compost, don't put it on fresh. Fresh manure has too many nitrates and can burn plants. Check the packaging to make sure it's been aged first.
3. Decide what to plant. When planning your crops, said Marshall, the most important thing to consider is what would you like to eat.
"If you like cucumbers and peppers and tomatoes, then grow those things," he said. "If you don't like to eat those things, it's less likely you're going to take care of the plants, and you'll be discouraged by it."
If you're not really a vegetable eater, he said, then fine — grow some flowers instead.
"It doesn't have to be a vegetable garden necessarily," he said. "Just having something to keep you occupied, especially now, is very important. Grow what you like and you're more likely to have success with it."
4. Buy seeds or starts. By the end of April, it's too late to start growing long-maturing plants like tomatoes and peppers from seed, so for those crops you'll have to go buy some starts.
However, there's still plenty of time to grow faster-maturing crops like squash, zucchini and cucumbers from seed. When deciding whether to use seeds or starts, look at the package to see how many days the plant takes to mature — if it's a smaller number, like 50 or 60 days, go ahead and stick that seed in the soil.
5. Plant the garden. Figuring out when to pop your precious plants in the ground can seem like a gamble. Wait too long, and you'll be staring down a bush full of green tomatoes while your neighbors are heavy into salsa-making season. Pull the trigger too soon, and your carefully cultivated starts could turn into mush with a single late freeze.
The ironclad safe date in the mountains is typically the weekend after Mother's Day, and higher elevations especially should wait till then to get started, said Marshall.
"Lower elevations could probably get by going a little bit earlier, but I always recommend having something standing by to protect the plants if we have one of those really cold nights," he said.
If a freeze is in the forecast, throw a tarp over those tomatoes.
5. Tend and harvest. Check on your plants regularly as the season unfolds. Pull weeds, and trellis or stake vines like tomatoes and beans as needed. Most importantly, keep everything watered.
"Most definitely, watering on a regular basis is a big deal," Marshall said.
For a raised bed, give everything between half an inch and an inch of water every couple of days, he said. In-ground gardens require less, because if heavy clay soils are good at anything, it's moisture retention.
6. Keep learning. As with most hobbies, there's always more to learn about gardening. Check out Marshall's YouTube page at bit.ly/haywoodgardens this summer for more information about gardening in Western North Carolina. Resources are also available at haywood.ces.ncsu.edu/categories/lawn-garden.