Archived News
The cost of COVID: Sheltering the unsheltered is controversial, expensive
Wednesday, April 22, 2020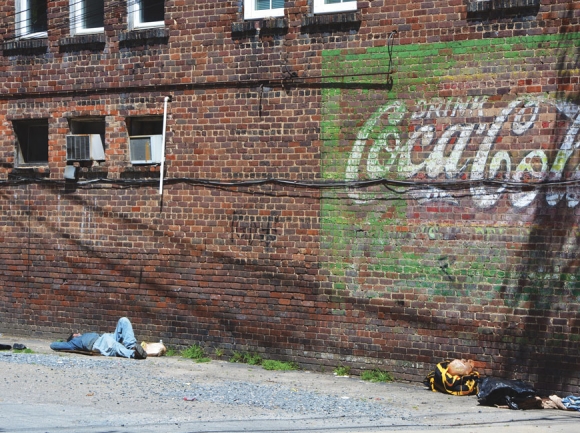 A man takes a nap in an alley in Frog Level on the afternoon of April 18. Cory Vaillancourt photo
Globally, more than 2.5 million people have contracted the coronavirus since its identification earlier this year. The hardest-hit country, the United States, has reported 802,159 cases as of April 21. Of those, 685,679 cases are still active.
Of those that are no longer active, there are only two classifications: recovered and dead. The U.S. now counts more than 43,000 dead, good for a 37 percent mortality rate among those who no longer have an active case of COVID-19.
As communities across the country and across the state of North Carolina await the disposition of the other 685,679 active cases, so-called "stay home" orders designed to stem the spread of the coronavirus offer some degree of protection, especially for vulnerable populations — the elderly, the immuno-compromised and those with underlying conditions.
The unsheltered — those without homes or reliable places to sleep — are among the most vulnerable populations but carry the additional complication of being a much greater danger not only to themselves, but also to the general population, because how do you "stay home" when you have no home in which to stay?
Awareness of the Coronavirus Pandemic among the unsheltered in Haywood County isn't as low as one might think — they see the television, they read the news, they hear the radio, but without the basic sanitation and shelter that most others enjoy, they're nervous.
"I know it's a bad disease," said Alice Marie Scott, who's been on the street for more than a year. "It's fixin' to take everybody off the earth if we don't stay clean."
Standing near the pocket park in Frog Level on a recent sunny Saturday morning, Scott and her companion Lonnie Shelton said they've been doing everything they can to avoid contracting the virus.
"You gotta keep your hands clean," Shelton said. "Your hygiene is most important, more important than anything."
With most businesses and government facilities shut down, it's a challenge to keep hands clean; Scott said she uses feminine wipes or baby wipes when she can — neither kills the coronavirus — but Shelton revealed another method.
"In the creek," he said. "I wash mine in the creek."
The lack of bathrooms available to unsheltered individuals makes the sanitation problem worse. Although the CDC says COVID-19 has been detected in the feces of some patients, it's still not known if it's transmissible in that fashion. Regardless, the fecal-oral route is a well-known method of transmission for many devastating diseases.
"It's terrible using the bathroom on the street and cleaning up after yourself after that," Scott said. "Tell you the truth, I went in a bag, cleaned myself up, done it just like you would a puppy dog, put it in the trash. It's like you're a little dog, a puppy dog."
The bathroom issue has been addressed, but it's far from resolved. Last week — more than five weeks after Gov. Roy Cooper placed North Carolina under a state of emergency and more than three weeks after he issued a statewide "stay home" order — the Town of Waynesville decided to spring for two porta-johns and a hand-washing station in Frog Level, to the tune of $170 a week.
What has yet to be addressed is why people like Scott and Shelton are still on the streets at all. Shelton said he sleeps "wherever I can lay my head," and Scott was just as cryptic about where they bed down for the night.
"Here and there, secret spots that we can't tell," she said. "You can't reveal them because everybody else will be trashing your place. But, you know, you gotta do what you gotta do and try to stay away from everybody else but the ones that you're close to."
Government response to those who've been affected by the Coronavirus Pandemic has varied from swift and effective to lethargic and futile.
The effort to remove people like Scott and Shelton from the streets lies somewhere in the middle despite the fact that poor sanitation practices and the unrestricted movement of unsheltered individuals poses a greater-than-average risk of virus transmission to those who are otherwise abiding by state and local stay home orders.
Guidance on how to deal with unsheltered individuals has been issued by the U.S. Integrated Council on Homelessness, an interagency assembly that includes input from the Centers for Disease Control and Prevention, the U.S. Department of Housing and Urban Development and the Federal Emergency Management Agency.
That guidance, however, doesn't call for the wholesale housing of all unsheltered individuals — only those suspected or proven to be infected.
A joint statement emailed by Haywood County Emergency Services PIO Allison Richmond April 20 explains how the county is following USICH guidance.
"As within the general population, there are individuals in the unsheltered population who need to have a place to shelter for isolation (if suspected of being COVID-19 positive) and quarantine (if tested as positive). Haywood County is committed to providing that place for isolation or quarantine."
As suggested by the CDC, the county's plan also addresses transportation, communication and nutrition needs of the unsheltered who've subsequently been isolated or quarantined per what's known as the "Person Under Investigation" protocol.
But as it turns out, the county has also refused to pursue public monies that would provide temporary shelter for all unsheltered individuals.
"The county made two grant applications from foundations, but none for public monies," reads the joint statement.
Those public funds include a 75 percent FEMA reimbursement and 25 percent state reimbursement for costs related to the non-congregate sheltering of vulnerable populations in hotels.
Eligible populations include vulnerable individuals who have tested positive for COVID-19 or are suspected of exposure to COVID-19, individuals that should isolate as a precautionary measure due to underlying health conditions and, according to an April 8 press release by Cooper's office, may also include "those whose living situation makes them unable to adhere to social distancing guidance."
Haywood County's joint statement correctly points out that the FEMA/state funding is not a grant given ahead of time in anticipation of disaster-related expenses — "they are reimbursements for county expenditures for disaster relief" requiring immediate outlay by the county to vendors or service providers.
Those FEMA reimbursements have, historically, been slow in coming and there's always a chance that they never materialize, but those red flags didn't stop Haywood County from passing a $100,000 budget amendment on April 6 to pay for various coronavirus-related costs like new part-time workers, overtime, personal protection equipment and cell phone service.
In bringing the budget amendment to commissioners, County Finance Director Julie Davis said that some of the expenses "could possibly" be reimbursed by FEMA.
"But at this point, we're just not sure," she said. "So we're just going to go ahead and move this and take it from contingency, and if we get reimbursed it probably will be in the next year anyway."
In the county's joint statement, an estimate of $120 per person per day was given as the approximate cost to shelter people like Alice Marie Scott and Lonnie Shelton; a February 2019 point-in-time count estimated the number of unsheltered individuals in Haywood County at 95 people. The math adds up to about $11,400 a day, or about $342,000 a month to shelter the county's entire homeless population.
Both Scott and Shelton said they'd heard of the movement to get them sheltered, but neither were surprised it hadn't come to pass.
"The people out here, in this county anyway, they look down on us homeless, the people that ain't got nowhere to stay," Shelton said. "They said the town or the government had turned down a place for the homeless to get in a motel. I don't know what the outcome of that is. Most of us try to just lay our heads wherever we can, you know?"
According to two separate sources with specific knowledge of the situation who spoke to The Smoky Mountain News on condition of anonymity due to fears of professional retaliation, a number of small "mom-and-pop" lodging establishments are both willing and eager to participate in the effort to minimize COVID-19 transmission risk by sheltering the unsheltered, and are especially eager for the income it would provide them — Western North Carolina's hospitality industry has been devastated by travel bans, and the vast majority of their beds are empty.
Shelton said he recognized that serving the unsheltered population isn't a high priority even during the best of times, so he's used to doing what he has to do to survive, even amidst a deadly global pandemic.
"Us homeless people out here, we're just survivors," he said. "We'll try to survive and beat this, beat this virus by ourselves."