Archived News
Crawford named 2020 Macon Matriarch
Wednesday, April 22, 2020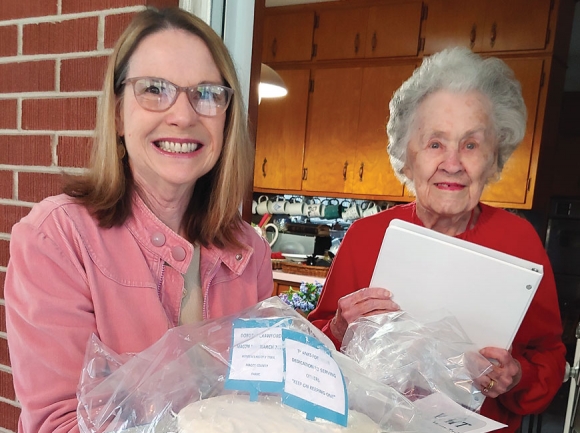 Mary Polanski, one of the chairs of the Macon County Women's History Trail project, honors Dot Crawford with the Macon Matriarch Award for 2020. Donated photo
Dorothy Rose "Dot" Crawford was recently honored with the title of "Macon Matriarch" by the Women's History Trail, a project of the Folk Heritage Association of Macon County.
In celebration of Women's History Month in March, this annual honor has been bestowed on women who have truly left their mark on Macon County. Since its creation in 2018, two very deserving women have previously been distinguished as Macon Matriarchs — Margaret Ramsey in 2018 and Sally Kesler in 2019.
There was a plan in place to hold a reception for Crawford with a few guests and family members in attendance, but with the need for social distancing, Mary Polanski, one of the chairs of the WHT project, devised an alternate approach.
"On March 24, Dot and her son Tom met me briefly and safely at her carport back door. She looked beautiful in a red sweater with lipstick to match, and her smile was warmer than spring sunshine. She accepted her award with grace and expressed much gratitude for the honor," Polanski said. "She received a plaque, a chocolate cake with cream cheese icing (one of her favorites), a vase of Virginia Bluebells, a presale copy of the Suminski Family's new book Special Delivery — which she is in — and an updated map/brochure of the Women's History Trail. All of these items seemed to delight her."
Born in 1918 in a small rural community in northwest Alabama, Crawford was the daughter of a mail carrier and a former school teacher. After two years of junior college in Nashville, she received a bachelor's degree in accounting and psychology from Pepperdine University in California. Wanting to return to the South as a social worker, she received a certificate in 1941 after one year at UNC-Chapel Hill, where she met her future husband, John Crawford, who was studying accounting.
After World War II, the couple moved to Franklin, John Crawford's hometown, where he got a job as a postal carrier and Dot got a job as a social worker for the county. She was named director of the county Department of Social Services in 1959 and retired June 30, 1984, six months after her husband retired.
She has been instrumental in the creation of dozens of organizations and agencies that serve the most vulnerable citizens. From being a founding board member for the Southwestern Child Development Commission, a board on which she continues to serve today, to leading the charge for mental health reform in North Carolina, to serving as the Department of Social Services Director for Macon County DSS to serving on boards and committees for aging adults across North Carolina, if there was a group of people in need of help in North Carolina, Dot was the first one to step up and ignite change.
"For those of you who might not know Dot, she worked for the Department of Social Services starting in 1952 and was named director of that Department in 1959. Dot retired in 1984 but has continued to serve this community and our state through multiple committees and projects," said Anne Hyder, chair of the Folk Heritage Association of Macon County. "Dot is considered a trailblazer in that she was a woman who publicly advocated for others in a society that, in her younger years, was overwhelmingly male-dominated. She dedicated herself to helping local residents improve their lives, particularly the most vulnerable individuals who needed the most assistance."
Crawford's real work didn't begin until retirement. Formed in 1992, the Macon County Community Foundation has awarded a nearly $1 million in grants and scholarships to the local area. One of the foundation's first funds was a scholarship endowment Crawford created at Franklin Church of Christ-McCollum Drive with funds from her father's estate. She also created the Macon County Unit 108 American Legion Auxiliary Scholarship.
She has also served as Franklin's representative to the Affordable Housing Group in Charlotte and as a delegate to the North Carolina Senior Tar Heel Legislature, which she previously served as speaker. Crawford was one of the founding members of the Smoky Mountain LME/MCO, now Vaya Health, which provides aid for mental health patients, substance abuse services and intellectual/developmental disability services to the 23 western counties in the state.
Crawford pushed for better services for the aging. She helped establish the county's first adult daycare center, in-home service program, nursing home and a senior aide program. One of her most innovative accomplishments was introducing a behavioral health component to Macon County's Meals on Wheels program. Under her guidance, program volunteers were trained to look for signs of mental health or substance use issues among these older adults and to report any concerns.
The following words summarized on the Macon Matriarch plaque gives a glimpse into Crawford's many outstanding attributes:
"In recognition for your lifelong dedication to the people of Macon County, Western North Carolina and across the entire state of North Carolina. We honor you for your skills in advocating for programs, policies and legislation that benefit some of the most vulnerable people in our society, including older adults, children and people who battle poverty and hunger. Your name is recognized and respected throughout North Carolina. Therefore Dot, thanks for your Keep on Keepin' on attitude!"
For those who would like to help recognize Crawford for this honor or for her upcoming birthday — she will be 102 on April 24 — send a card to: Dot Crawford, P.O. Box 149, Franklin NC, 28744.