Archived Arts & Entertainment
Chatham County Line channels creative bliss on new album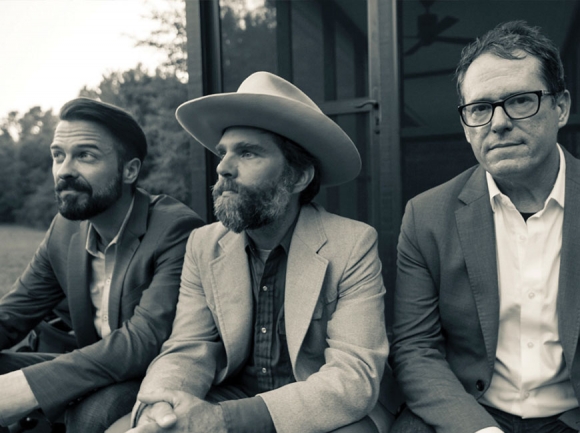 Chatham County Line.
In its 20 years together, Chatham County Line has organically grown and blossomed into one of the most distinct and progressive acts in the realms of modern traditional string and acoustic music.
And with its latest release, "Strange Fascination" (Yep Roc Records), the Raleigh-based act once again shakes things up, taking an eraser to its chalkboard, eager to rewrite, edit and rewrite itself — this constantly evolving melodic entity that remains a source of endless creativity and inspiration for its band members and fans alike.
The Smoky Mountain News recently caught up with Chatham County Line lead singer and guitarist Dave Wilson, who spoke about the group's evolution, the importance of making albums in the digital age of singles, and the beauty of chasing your artistic intents.
Smoky Mountain News: With the new album, it really shows how distinct of a sound you guys have. It rides the lines between Americana, bluegrass and folk music. Was that unique blend how you initially wanted the band or is that just how things evolved?
Dave Wilson: That's really how it evolved. When we were starting out, we thought, "Let's be the Del McCoury Band — they're the coolest thing we've ever seen." And then you kind of realize that's one way to approach music, but you have to respect the individual that's involved in it.
You know, you can't make bread with corn meal. You have to adapt and change to your own ingredients. And so, we started to appreciate ourselves as musicians — the influences we had, the influences that were on the radio presently, and new albums being made.
It's still growing. And I think all of that kind of comes out in our music. I'm really interested to see where we let the band go at this point — there's no rules.
SMN: But, there's got to be something with letting go that has a real intrinsic value to it…
DW: Yeah. I mean, it's what we needed to do. All of my favorite bands, none of them made the same record over and over. You have to grow and change. We might have another transition in our future and hang a big stinker out there, but that's how you discover who you are as an artist.
SMN: Nowadays, you see a lot of bands and labels just putting out singles. But, with "Strange Fascination," it's an album that's a complete statement. It's all seamless, the flow of it…
DW: I'm an album guy. I've got an extensive record collection. It's kind of how I listen to music. I don't really love to listen to just single tracks. I want to know more about the musicians and the artists that are making it. And I feel like I get it out of a whole album versus just a single.
We've always tried to make albums over just tracks, and it's especially hard in this day and age — who in the world is going to listen to an entire album? And it's that knowledge that albums are in print, and with vinyl now where people are actually buying it again. Those headstrong music fans — that's who I'm making music for.
SMN: That's got to be such a great space that you're in right now, because when you start out as a musician or in any kind of creative field, you're influenced by your heroes. And then, you work from that point to find your voice. Then, you go further along and realize that anything can be anything…
DW: Yeah, it's extremely liberating. And the funny thing about Chatham County Line were all the limitations we put on ourselves. We wanted to rock out and we wanted to play loud, but we didn't. We took all that energy and focused it through these traditional instruments.
And now, with the governor off, you have to find new kind of limitations to put on certain things. If you like the music that you're making, good. Don't feel shy about it. Don't feel bad — just do it and the people will follow. Be true to yourself and the rest will follow up to that point.
SMN: Chatham County Line just crossed over the 20-year mark. What do you think about that number when you look at the journey from that starting point to where y'all stand today?
DW: Man, it's kind of amazing. During this shelter-in-place, I've been going through our archives and digitize some early bootlegs, just going back and listening to that young guy figuring it out. It's really scary and cringe inducing, but it's interesting.
I've just been trying to funnel the essence of performing a song to an audience, whether recorded or live. And it took a long time to figure it out. I feel like, even after 20 years of this band, we're still are trying to figure out what it is exactly that all our individual pieces create. And there are those moments onstage where it is created, where it feels right and you know it for that instant.
SMN: Well, the fact that you're still trying to figure it out, that tells me that you still care…
DW: Yeah. It keeps you interested and young. I've got an old car and I still go out and fix the same stuff that I've fixed before. You look at the way you fixed [the car] the last time, and it was a good repair that worked, but it wasn't perfect.
And so, I'll do it [better] now and I'm sure 10 years from now, I'll go back [to the car] and look at it again and be like, "Well, you could have done this a little better." It's the same with the music — that young person wanting to be better is always there and alive [within you].