Archived News
WNC group joins National Earth Day Live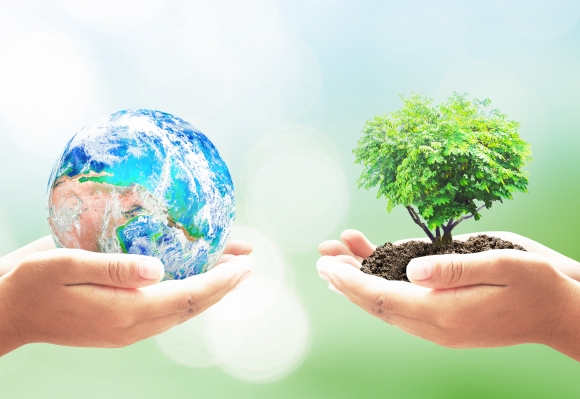 WNC Climate Action Coalition, based in Haywood County, is bringing Earth Day Live 2020 home with an online broadcast at 5 p.m. on Wednesday, April 22, the 50th anniversary of the first Earth Day.
The local event is also sponsored by Climate Reality, founded in 2006 by former Vice President Al Gore. Watch the Haywood County program from the link on WNCClimateAction.com.
The national and global theme of Earth Day 2020 is healing nature and our relationship with Earth, with Native American teachings and actions having special recognition. For the WNC program a Native American Hoop Dance, performed as a ceremony of healing, will open and close the program. Eastern Band of the Cherokee Indians (EBCI) leader Elvia Walkingstick shares her documentary on Cherokee activists' experiences at Standing Rock, North Dakota, in 2019. It is key to her work, alongside other EBCI leaders, with the Indigenous Environmental Network.
Haywood County musicians Darren Nicholson of Balsam Range, guitarist-songwriters Martin Vee and Scottish "Blaxcotsman" Mike Ogletree, and Bona Fide Band will inspire with songs about mountain heritage, nature, and people's relationship to them. A nine-minute video will teach Appalachian "square" dancing — really, it's done in one big circle, a symbol of connectedness and community.
Presenters will show some of the positive steps taken and planned, such as continuing stream and groundwater cleanup led by Haywood Waterways Association; county native Christopher Lile on the current status of the critically endangered Red Wolf group in eastern North Carolina; and the work of thriving small farmers.
Haywood County native Steve Winchester and wife Judy Richter Winchester will show and tell why they raise pygmy goats. Smoky Mountain News and Public Radio reporter Cory Vaillancourt will tell about collecting ramps, a wild onion, as a Smokies tradition. Brannen Basham of Spriggley's Beescaping will explain how protecting pollinators is protecting our own food supply and quality of life. A six-minute documentary on the Collective Sustainable Agriculture (CSA) farmers shows the beauty of small farms along with the incomparable quality of the food. Steve and Betsy Wall explain having solar panels installed by one of several WNC installers. Solar industries are bringing well-paying jobs to North Carolina.
To address key roles of government, Rep. Joe Sam Queen, D-Waynesville, will give a status update on cleanup of industrial poisons and a ban on fracking. Democratic nominee for the U.S. House of Representatives Col. Moe Davis will explain why the U.S. Defense Department has, for decades, been mitigating effects of climate change to ensure continuing national security.
Over one billion people are expected to participate worldwide. Dozens of climate scientists and activists including celebrities, will speak and perform. See https://www.earthdaylive2020.org/
More information about the local streaming broadcast: WNCClimateAction.com/About or This email address is being protected from spambots. You need JavaScript enabled to view it.