Archived News
Multi-vehicle caravan demands government reopen Haywood businesses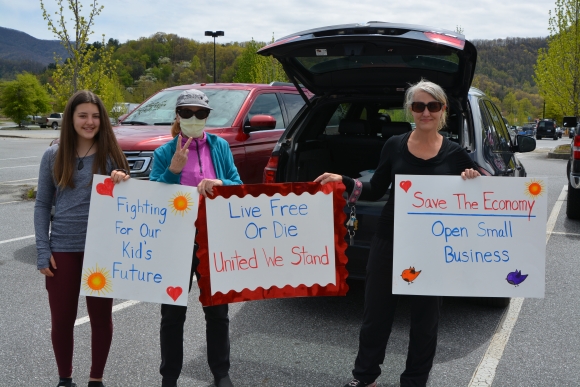 A group of protestors prepare to drive across Haywood County on April 19.
Cory Vaillancourt photo
After more than a month of COVID-related social distancing, self-isolation, business and school closures, travel bans and enforced quarantines for non-residents, some Western North Carolina residents are saying they've had enough.
"I think they should reopen," said David Almquist, a Haywood County man who led a procession of more than 30 vehicles across the county's streets in protest of the state and local "stay home" orders.
"There's a lot of good people that have small businesses, in this county especially, that have been forced to close," Almquist said from the cab of his truck in the parking lot of the Haywood County Health Department. "If they keep it closed any longer, well I'm just afraid that they won't be able to come back."
The "Car rally to reopen Haywood County" organized itself in the parking lot of Belk, in Hazelwood, around 2 p.m. April 19 before departing en masse in vehicles with slogans written on their windows and signs taped to their doors.
Some cars had tinsel and glitter attached, while others displayed American flags. Honking and waving, the group proceeded through the Walmart parking lot before heading up Waynesville's South Main Street, then turning north on Russ Avenue to visit the Publix and Ingles grocery stores.
From there, the group drove through the parking lot at Lowe's, and then to the headquarters of Haywood County's Health and Human Services Department, on Paragon Parkway.
Cheryl Hillis, owner of Buffalo Creek Vacations in Clyde, was part of the procession and said the effect on her business — which includes several guest cabins and two retired train cabooses in a scenic, isolated party of Haywood County — had been "horrible."
"We've been shut down since March 15, and we had to cancel all our reservations and everything, and we'd just like to get people coming back out to North Carolina," said Hillis from her van as she idled through the DHHS lot several cars behind Almquist.
Hillis said she felt it would be an appropriate time for her business to reopen, despite the more than 630,000 active coronavirus cases in the United States.
"For us, we're on a 65-acre ranch, where people want to just stay secluded in the mountains, but if they go out and use a mask and stuff like that — all the people at Walnart, they're not social distancing, so I think all the smaller businesses should be open too," she said.
The group completed its route by driving through the adjacent parking lot of Food Lion, but planned to re-trace the entire route several more times.
North Carolina's stay home order is valid through April 30, while Haywood's is valid through May 5. Both can be lengthened, shortened or abolished altogether at any time.