Archived Outdoors
Planting for a pandemic: Agricultural community navigates through COVID-19 crisis
Wednesday, April 15, 2020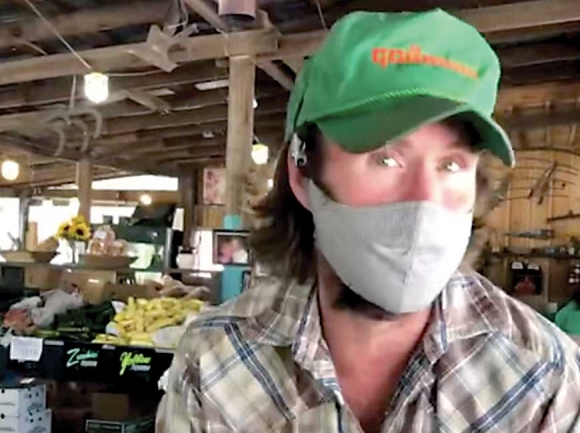 Nate Darnell of Darnell Farms gives a behind-the-scenes video tour of the fruit stand, which is currently operating as a drive-through. Darnell Farms video
For farmers and agriculture businesses across Western North Carolina, spring is the time to plan and plant for the green season ahead, but uncertainty cultivated by the COVID-19 crisis is complicating that process, often in devastating ways.
"They're all having to scurry and figure it out," said Charlie Jackson, executive director of the Asheville-based Appalachian Sustainable Agriculture Project. "It's a disruption across just about every farmer out there, and there's still a lot to figure out about how long this will last and how much to shake your whole model."
When the crisis first hit, ASAP sent out a survey to 935 farmers within 100 miles of Asheville, which received a response rate of 9 percent within four days. Of those respondents, 80 percent reported an immediate decrease in customers and sales, and two-thirds said that if the disruptions persist for several months, the long-term financial hardship could result in bankruptcy, business closure or an exit from the industry.
ASAP is trying to address some of those issues with its newly launched Appalachian Grown Farmer Relief Fund. The fund offers grants to help farmers markets with costs such as face masks, cones and signage related to COVID-19 prevention; subsidize the increased packaging costs farmers will likely incur due to changes in sanitation protocol and delivery service; and purchase unsold food for donation to hunger programs.
"We're trying to be real strategic in targeting how to spend this money," said Jackson.
When all the restaurants close
Perhaps the biggest bullet to the heart of the local farming economy has been the overnight closure of the dine-in restaurant business.
"It effectively shut down 75 percent of our income in a day," said Anna Eason, marketing director for Sunburst Trout Farms in Haywood County.
While Sunburst makes some sales at grocery stores and small markets, restaurants made up 85 percent of its customer base prior to Gov. Roy Cooper's March 17 executive order closing dine-in operations at restaurants and bars statewide. Some grocery stores have upped their orders to account for increased demand in that sector, and Sunburst is also filling direct orders nationwide through its website www.sunbursttrout.com. However, that hasn't come close to replacing the income the business, which employs 20 people, expected to receive from restaurant sales this season.
"We haven't laid anybody off because we need everyone," said Eason. "Even if we're only putting out 25 percent we still need all of our employees. Because we run such a lean operation we have to have all of them. So it's great not to have to lay anyone off, but this happened a month ago. It's been very difficult."
Even if everything opened back up tomorrow, the business would continue to struggle for a while because at the time the shutdown occurred Sunburst had many open invoices at restaurants that will have no way to pay them until the economy recovers. Eason's calling for the state to come out with a plan for how and when the economy might ease back into action.
"The first of May there needs to be some kind of plan announced for how we start to reopen things," she said. "And I'm not saying everything goes back 100 percent to the way it was, but we need a plan. We need to know what's going to happen, because it's not just us."
Shoppers and vendors observe social distancing and hygiene rules during a new COVID-19 conscious market ASAP started at AB-Tech in Asheville. ASAP photo
Rethinking everything
Restaurant-dependent businesses like Sunburst have been the hardest hit by the COVID-19 pandemic, but other types of agriculture businesses have had to adjust as well.
"We've kind of restructured our whole business," said Afton Roberts, operations manager at Darnell Farms.
Darnell sells most of its produce through its fruit stand and grocery stores, so while those revenue streams weren't shuttered like the restaurant business, they've still been affected. The fruit stand is now a drive-through rather than a walk-in business — with a host of new coronavirus-induced protocol like sanitizing cash used in transactions — and Darnell Farms is now offering delivery services as well. Roberts has also been working to expand the farm's online store and to increase the fruit stand's offerings. She's been buying products such as bread and milk from local producers who would normally sell out at farmers markets and restaurants but now have extra product to sell.
Those changes have not come easily, and Darnell Farms has hired an additional five people to help with the extra workload. So, while sales are up, so is overhead. Meanwhile, Mother Nature hasn't stopped throwing her own curveballs — Darnell Farms is also contending with flooding due to heavy rains April 12.
"We're not going to get rich, and in some ways we're kind of losing money on having to deliver house-to-house," said Roberts. "But at this point it's not about money. It's just trying to keep people alive, trying to keep people eating fresh produce, because really our immune systems rely on having good food."
William Shelton of Shelton Family Farm said that while his restaurant sales have gone down to "next to nothing," the 90 percent of his business that relies on grocery store sales has held mostly steady. However, even that business has seen some changes. Due to heightened demand, grocery stores are having difficulty keeping products on the shelves and are running short on manpower. As a result, some of them are streamlining their supply lines by focusing on staples and going easy on specialty items.
"My business is surviving, and I would say I'm very fortunate to be in the position I'm in," he said. "It has taken a hit, but it's not taken a hit like farms that are only selling to farmers markets and restaurants."
At the farmers market
Mid-April is just the beginning of the season for produce sales, with most farmers markets in their first weeks of operation. So far, things seem to be going well at the Jackson County Farmers Market in Sylva, said market manager Lisa McBride.
"For what they have at the market right now, the numbers have been really good," she said. "We'll have to see as the season progresses what happens, but right now it's actually a stronger start, and I think there's a number of factors that go into that."
One is the fact that, for the first time, the farmers market has operated year-round in the same location at Bridge Park. In previous years the market went indoors over the winter months, meaning that there was a period of adjustment each spring as customers got used to finding the market outside once more. However, McBride attributes some of the increase to the pandemic itself.
"We're looking at it potentially being a strong year, because people are looking for alternatives to a grocery store, because you go in and everything is jumbled — and we're outdoors," she said. "The food touches less hands from being grown to the consumer, so people are looking at it as being safer."
There have been some changes as a result of the crisis, most notably the absence of crafters, which are not considered to be essential businesses. Vendors are spaced out 6 feet apart rather than being crammed right next to each other, and customers are asked to stay 6 feet away from the vendors — that distance is marked out. A physician is present at most market days to help with prevention info, and the town of Sylva paid for a hand-washing station at the market.
However, said Jackson, farmers markets will likely face challenges if social distancing requirements continue as the growing season blossoms.
"By June or July, you could easily have just in Buncombe County alone 5,000 to 10,000 people a week that would have been shopping at the farmers market," he said. "The markets just aren't going to be able to handle that kind of volume."
Depending how long the season continues, farmers could face additional challenges related to labor. Most farm work is done by migrants who come primarily from Mexico or who work seasonally at different locations in the United States. Social distancing requirements could complicate typical housing arrangements for these workers, and securing approval for international workers could be difficult too.
"I'm sure there's going to be a crackdown on agricultural processing, things that we can't grow in the United States that come from oversees," said Roberts. "I'm glad for that in a way because it helps us focus on the U.S.-grown, locally grown."
The future is uncertain, but farmers are used to overcoming obstacles. Jackson said that he's optimistic about the agricultural community's ability to survive this — if their communities continue to support them.
"They're scrappy and innovative," he said. "If we can help them and provide some assistance, they're going to do what it takes to continue on."
Support farming
Small actions add up — do your part to give the local agriculture community a boost.
Donate to the Appalachian Grown Farmer Relief Fund at www.asapconnections.org, and browse the site for other ways to support local agriculture.
When possible, buy directly from the farmer. Check out one of the farmers markets listed at bit.ly/wncmarkets. When shopping at the grocery store, look for locally grown produce when filling your cart.
The farmers quoted in this story have online stores at www.darnellfarms.com and www.sunbursttrout.com.