Archived Reading Room
Poetry and pandemic: Let's celebrate National Poetry Month?
Wednesday, April 15, 2020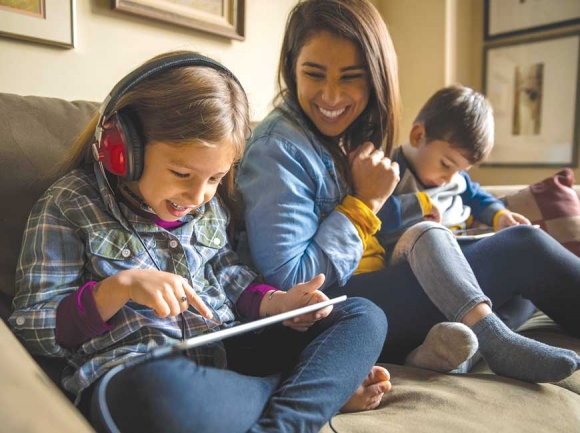 "Whan that Aprille with his shoures soote," The Canterbury Tales begins, "the droghte of Marche hath perced to the roote…."
Robert Browning kicks off "Home Thoughts, From Abroad" with "Oh, to be in England/Now that April's there…."
Perhaps most apropos to our current circumstances is the first line of T.S. Eliot's "The Waste Land:" "April is the cruelest month…."
Many poets have celebrated April in their poetry, and we Americans celebrate poetry in April during our National Poetry Month.
In all our present commotion, I'd nearly forgotten to devote a column, as I usually do, to honoring Poetry Month. For this negligence I apologize to my readers, for poetry, like laughter and music, can be a balm to the soul and an antidote to poisonous times. It can remind us of others who have suffered hardship, inspire us when the black dog barks at our door, point the way to better times, and even bring a smile to a gloomy face.
And though our libraries may still be on lockdown as a result of COVID-19, and our bookstores closed, the Internet offers a festival of verse. Simply Google "poetry," and up leap websites featuring thousands of poets and their work.
Here are some suggestions for firing up your Parnassian engines and getting the most out of your reading.
If you're looking for inspiration, let me point you to just a few of the many poets who can hand us a Red Bull can of words to rouse our pandemic-dampened spirits. Beloved by readers and denigrated by academics and literary critics, Ella Wheeler Wilcox is now little read and is remembered mostly for the lines from "Solitude," "Laugh and the world laughs with you/Weep, and you weep alone." This neglect is unfortunate, for like so many poets of her time, Wilcox sought in her work to comfort and give strength to readers. Here in the second stanza of "Solitude" she reminds us that a glad heart and cheerful friends, even in horrible times, is preferable to the company of whiners and doomsayers:
Rejoice, and men will seek you;
Grieve, and they turn and go;
They want full measure of all your pleasure,
But they do not need your woe.
Be glad, and your friends are many;
Be sad, and you lose them all,—
There are none to decline your nectared wine,
But alone you must drink life's gall.
Emily Dickinson's "Hope Is the Thing With Feathers," Maya Angelou's "Still I Rise," Rudyard Kipling's "If," and so many more poets have forged their words into shields and bucklers to help us fight the good fight. In "Invictus," William Ernest Henley pushes us into that battle with words like these:
In the fell clutch of circumstance
I have not winced nor cried aloud.
Under the bludgeonings of chance
My head is bloodied, but unbowed.
Too grim? Need a smile instead? Google "humorous poems," and you can rub elbows with the likes of Roald Dahl, Shel Silverstein, Robert Service, Phyllis McGinley, and scores of other versifiers. Alan Balter explores our euphemisms regarding death in "Dead Is Dead." Here's one stanza:
There are "fallen off the porch" and "given up the ghost."
"Taking a dirt nap" is one I like most.
"Kicked the oxygen habit" and "gone offline"
Are a couple of favorites of mine."
Like Wilcox, once famed poet Phyllis McGinley — she won the Pulitzer in 1961 — has few readers today. Too bad. Her wit, sophistication, and sparkling words bring us many gifts, including quiet smiles. This is the second verse of "A Garland of Precepts:"
Pressed for rules and verities,
All I recollect are these:
Feed a cold to starve a fever.
Argue with no true believer.
Think-too-long is never-act.
Scratch a myth and find a fact.
Stitch in time saves twenty stitches.
Give the rich, to please them, riches.
Give to love your hearth and hall.
But do not give advice at all.
The Society of Classical Poets even features some comical verse about the coronavirus, including spoofs like "How do I glove thee? Let me count the ways" and this longer one:
Listen my children and you shall hear
Of the midnight ride of Paul Revere.
Or maybe it's better to tell you the caper
Of how I discovered some toilet paper
At a Safeway only three miles from here.
Now some tips for getting the most out of your excursion.
Read the poetry aloud. If you are at home with the kids, now's the time to hit the stage and be as dramatic or as cornball as you like. Throw yourself into the reading and burn the air with your words. If like me you are living alone, read the poem aloud. Come on — you know you're talking to yourself anyway.
And if you tire of reading, it's just as much fun have another read to you. At YouTube you'll find hundreds of people, some professional, some very much amateurs, reciting poems. One of my favorite of these sites is RedFrost Motivation, particularly their rendition of these three poems: Dale Wimbrow's "The Man in the Glass," Dylan Thomas's "Do Not Go Gentle Into That Good Night," and Kipling's "If." I've listened to "The Man in the Glass" so many times that I practically have it memorized.
"The poet," Wallace Stevens wrote, "is the priest of the invisible."
We are enduring a grim time. Even in better days, we all too often dwell in a world of pronounced materialism, wrapped up in our senses, believing what we see, taste, touch, and hear, and forgetting that beyond this veil there is a place of beauty, marvel, and mystery.
Poetry can help remove that veil.
(Jeff Minick is a teacher and writer. This email address is being protected from spambots. You need JavaScript enabled to view it.)