Archived News
Seamers make masks during pandemic
Wednesday, April 15, 2020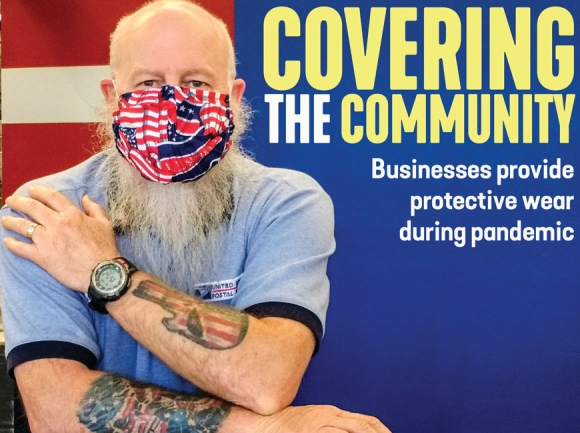 Cory Edwards, a U.S. Postal Service employee at the Waynesville Post Office, wears a mask made by a local seamstress. Mandy Wildman photo
When Mandy Wildman opened up her own bridal shop on Hazelwood Avenue in February, she had no idea her new business venture would take an immediate hit when COVID-19 brought the wedding industry to a standstill.
Not even a month after opening, UpLove Bridal & More closed its doors on March 15.
"We plan on reopening the shop whenever Disney World reopens," Wildman said. "We figure that they of all people know how best to protect the world's most beloved princesses. We cherish our brides, so we will follow their lead."
SEE ALSO: Webster Enterprises produces for front lines of COVID-19
But closing up the shop for a while didn't stop Wildman and others from keeping busy and finding purpose during the Coronavirus Pandemic. As soon as it became clear that there was — or would soon be — a shortage of medical supplies like facial masks, Wildman got busy.
Mandy Wildman, owner of UpLove Bridal Shop in Hazelwood, has been making facial masks for people in the community. Donated photo
"We started making personal face masks as soon as we realized that they wouldn't be available to our community. As a women's clothing brand — we don't just do bridal — we have a huge stash of fabrics and materials. We focus on being eco-friendly, so we were uniquely positioned to make pretty masks using the scrap stash we were keeping for a rainy day. And boy, did it rain," she said.
Not only is she providing a much-needed product right now for community members, but she's also keeping people working as much as she can during this uncertain economic time. Currently, Wildman said she had seven part-time local seamstresses making a total of 200 to 300 masks per week.
"Most of them were laid off from their regular jobs. Many of their spouses were laid off too, including my own husband," she said. "The bills keep streaming in, so this was a way for me to help them earn a little money while doing something important to help the community."
Among these local seamstresses is a young woman who is a black belt in taekwondo, a great grandmother who was laid off from her teacher's aide job, and a local barista with two young children whose hours were drastically cut. They are all working from their own homes while strictly observing social distancing when doing pickups and dropoffs. And of course, they are always wearing masks.
"Some of UpLove Bridal's customers have kindly given us some 100 percent cotton fabrics from their quilting stash. One local doctor's office gave us a huge bag of old scrubs, which were wonderfully soft and comfortable on the skin," Wildman said. "I had bought several industrial-sized reels of panty elastic at a sale some years ago. It's very soft and stretchy so it doesn't hurt the ears. At the time I purchased it, my husband wondered aloud what I would do with it all, but I knew it would come in handy someday. He now wears his mask proudly with a grin on his face."
Wildman and the other seamstresses started making the masks before the Centers for Disease Control and Prevention changed its recommendations for protecting yourself from COVID-19, but once the CDC began advising the general public to wear masks, the demand increased dramatically.
"We got over 400 requests for face masks within a grueling non-stop 48-hour period. People called, texted, Facebooked and emailed me begging for masks," Wildman said. "I quickly put the word out and doubled my sewing team overnight. I'm happy to say that we are now caught up with our waiting list, and if someone needs a mask we can have it to them within a few days."
UpLove Bridal's masks cost $10 each including tax. They come in women's, men's and children's sizes. To order masks, you can email This email address is being protected from spambots. You need JavaScript enabled to view it. or order online at www.UpLoveBridal.com.
"All we ask is that you don't order more than 10 masks without talking to us ahead of time," Wildman added. "We have provided masks for people from many walks of life — nurses, caregivers, cancer patients, KFC employees, Bojangles employees, a lady who recently had a heart transplant, immune-compromised folks and senior citizens, and even the sheriff's department. Everybody is important to us. Everybody needs to be wearing a mask right now."