Archived News
Now hiring: opportunities available for those seeking employment
Wednesday, April 15, 2020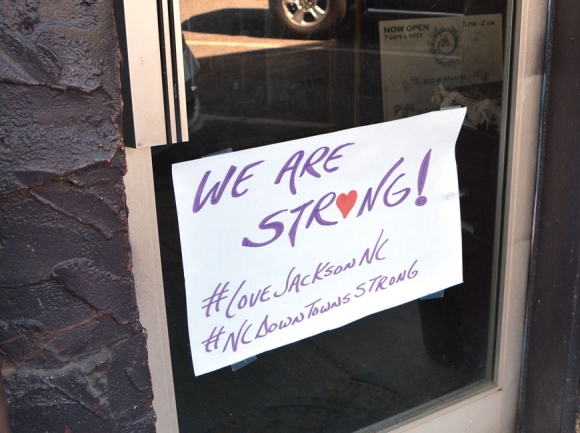 Businesses in downtown Sylva are showing unity with the #LoveJacksonNC hashtag. Cory Vaillancourt photo
While not yet a humanitarian tragedy in terms of lives lost, the Coronavirus Pandemic has quickly become an economic tragedy in terms of livelihoods lost. Intuitively, local and statewide "stay home" orders have resulted in large-scale unemployment, but counterintuitively, there are still plenty of places putting out the proverbial "now hiring" signs all across Western North Carolina.
Much of Western North Carolina's economy is tourism-based and as such was hit hard in the days immediately following Gov. Roy Cooper's March 17 order closing bars and restaurants to sit-down customers. That's especially so in Jackson County.
"Roughly one in 10 workers are in a hospitality-related field in Jackson County," said Nick Breedlove, executive director of the Jackson County Tourism and Development Authority.
The Jackson TDA is the entity charged with collecting the county's 4 percent room occupancy tax, and then spending that money marketing the county as a destination. The problem is, right now there's not much to collect.
"We're actually projecting zero revenue through June," said Breedlove. "I see weekly reports and the report as of yesterday, which would be the 8th of April, showed that we had about 28 percent occupancy in our hotels, which is better than zero, but most of those people are construction workers and essential workers."
Normally, at this time of year Jackson County's lodging industry would see occupancy rates in the mid-60 percent range. July's average is closer to 90 percent, and October's is even higher.
Breedlove's been at the TDA since late in 2015 and has a unique insight into the current state of the WNC economic situation — he's a former journalist, and former mayor of the town of Webster.
"It also has ripple effects to every other industry because when people stop visiting, the services that they utilize, they have to shut down or alter staff hours and reduce their hours as a result of lack of visitation," he said.
Ultimately, in many WNC communities, that ripple effect is having an impact on other businesses that rely on spending by service industry workers; while Breedlove said it's hard to estimate what the unemployment numbers are in Jackson County, he estimated that statewide, 75 percent of the hospitality workforce is out of work, or approximately 300,000 workers.
"I think we're seeing the true impact of tourism and visitation," he said. "We knew that it was a large industry here and now we're actually seeing the effect of removing it completely from our economy, and that effect has been devastating."
With little money and even less marketing to do, Jackson's TDA quickly found other ways in which to be helpful on a local level during the pandemic.
"We've shifted our entire role at the tourism office from visitation and encouraging visitors to focusing on our local community and jobs and putting people to work and connecting them with resources that can help them during this difficult time," he said.
Almost as soon as Cooper's March 17 order came down, the Jackson TDA created a website, www.lovejacksonnc.com, oriented not toward visitors, but toward locals instead.
"It's very similar to 'Love Hendo' or 'Asheville Strong,' those campaigns," he said. "But what we really wanted to do was cut through the noise and help people find the resources that they need to connect with the most."
Initially, those resources were limited to restaurants still engaging in take-out business, but it wasn't long until focus shifted to providing information for job seekers.
"There wasn't really an exhaustive list, so we compiled a list of all the major employers and job banks and listed it on that site for a central repository," Breedlove said. "We've had a great response from people who appreciate that. Right now, we really hope more than anything to keep those in the industry employed and put people back to work."
One of the biggest employers on that list is an instantly recognizable regional grocery store chain with locations in almost every county and town in Western North Carolina.
"As of the end of last year, we had approximately 27,000 employees company-wide," said Ron Freeman, chief financial officer of Ingles Markets. "We have more employees in North Carolina than any of the other five states where we have stores."
Freeman said they're currently looking to add another 5,000 workers to that total to help with increasing numbers of customers and turnover.
"It's a great opportunity for people who might be otherwise displaced due to the virus," Freeman said.
Indeed, signs posted on doors at both Waynesville Ingles locations advertise openings in the bakery and meat departments as well as the Starbucks franchises inside, but Ingles isn't the only major employer looking for workers.
Waynesville's Sonoco Plastics has several signs outside its Howell Mill Road location and even took the extra step of mailing out postcards encouraging people to apply for jobs that pay from $13.39 an hour to $21.74 an hour. Walmart has also been advertising its willingness to hire with signs outside many of its regional locations, similar to Ingles.
"I can't say enough about our store and warehouse associates who have been putting forth a marvelous effort for over a month now," said Freeman. "We all realize the great responsibility we have right now to keep people fed and to provide other needed items like fuel and medicines. Our vendors have likewise done a great job of getting products to us so we can get them to the stores. There are so many more things to take care of right now, even compared with the start of the crisis over a month ago. Our community support has been outstanding and I'm personally optimistic we'll get through this as a community, even though we don't know precisely what the next few weeks will look like."
Breedlove isn't exactly sure what that looks like either, but he remains optimistic that recovery will be quick, once it eventually comes.
"From an industry standpoint, I think we're looking to see people come back to a rural destination that is unspoiled in beauty," he said. "We have strong belief in the tourism industry that the mountain region will recover much quicker than your Charlottes, Raleighs and Atlantas because people want a tried and true experience. It used to be they wanted to try something novel and new, but now people are going to stay close to home. Gas prices are cheap and we're known as the 'great American road trip,' so we expect people to come explore and enjoy our mountains and we expect businesses to reopen and see a large influx of visitors as a result."
And while he may not know when that will happen, Breedlove's already planning for the day that it does.
"Personally," he said, "I can tell you I'm looking forward to hearing the words, 'Can I start you off with an appetizer?' or 'Would you like to start a tab?'"
Support your favorite Jackson service employees with a
virtual tip

While there are plenty of employment opportunities out there for unemployed service industry workers, those opportunities aren't for everyone — transportation, childcare and lifestyle considerations make seeking work difficult for some who have few other options other than to wait it out and hope for the best.

But that doesn't mean you can't pitch in and help, according to Jackson County Tourism Development Authority Executive Director Nick Breedlove.

"Yesterday we launched the virtual tip jar," Breedlove said April 9. "Several cities throughout the U.S. are employing the same model."

Here's how it works — service industry employees that have been impacted by the Coronavirus Pandemic through job loss or a reduction in hours can sign up and list their information at www.lovejacksonnc.com.

That list is public, and currently includes employees from a number of Jackson County's better-known establishments like City Lights Café, Cork and Barrel, The Cut, Guadalupe Café, Haywood Smokehouse, Innovation Brewing, Lazy Hiker, Lulu's on Main, Nantahala Brewing, The Orchard restaurant, Papermill Lounge, Pie Times Pizza, Whiteside Brewing and more.

As of April 14, more than 70 people had added their names to the list. Those wishing to make a contribution to their favorite bartender, chef or server can find their PayPal or Venmo account on the list, and then use their own PayPal or Venmo accounts to contribute directly and confidentially.

"I recognize most of them who have served me meals in the past," said Breedlove. "We're getting a lot of support from the community on the virtual tip jar, and I know that while it may be just a dollar, that dollar may make the difference in them paying rent or being able to put food on the table right now."