Archived Opinion
Finding Easter in the COVID-19 era
Wednesday, April 08, 2020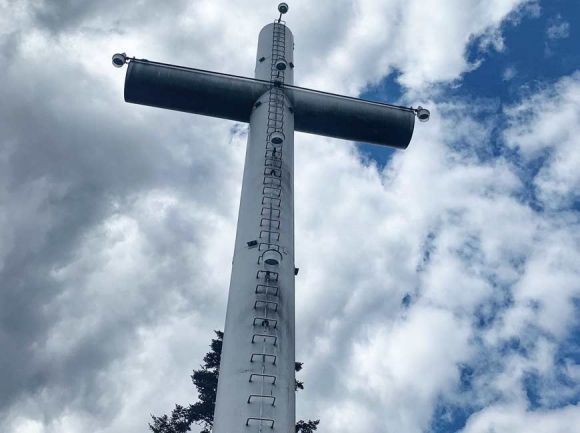 Growing up, my family spent the week of Easter at Ocean Lakes Campground in Myrtle Beach, South Carolina. We had a little blue and white camper on Sharks Tooth Trail a few streets back from the ocean. Easter typically fell around our county's spring break, so once that final school bell rang, we packed up our van and headed south.
Our week consisted of playing in the ocean, eating deli sandwiches for lunch, splashing at the pool, playing cards, grilling out, riding bikes, reading books, cutting watermelon, swatting mosquitos, laughing, talking and falling into bed spent and happy.
Ocean Lakes hosted an Easter egg hunt the Saturday of Easter weekend. All the campground kids would gather at the community center and race off to find plastic eggs full of candy and toys. On Sunday, we'd often attend the sunrise service but other times, our worship consisted of being together as a family and enjoying the quiet reprieve.
As the years ticked on and my sister and I entered college then adulthood, Easters changed and evolved. Once I had kids of my own, the holiday focused fully on them. My late mother loved Easter. She and I would plan the day and make sure everyone's outfits coordinated for our annual group photo at Lake Junaluska. Even after she passed, I loved picking out the boys' outfits and envisioning how cute they would look in their photos.
Each year after Easter service, my closest friends and I host a yearly Easter egg hunt and brunch. The other moms and I get together a few weeks before Easter to plan the menu and stuff eggs, all while sharing some laughter and good red wine. This has been our tradition for many years.
But, not this Easter.
Like most people, I feel in a constant state of limbo, waiting for something but unsure of what that is. Am I waiting for the curve to flatten? Am I waiting for a miracle treatment or vaccine? Am I waiting on school, businesses and restaurants to re-open? Am I waiting to solidify summer plans? I guess we're all just waiting on some glimpses of hope and normalcy.
With life capsized by COVID-19, I've known for some time this Easter will feel much different. There will be no group Easter egg hunts or packed service at Stuart Auditorium. There will be no egg stuffing party with friends or Sunday brunch in our Easter best.
Upon this realization, I allowed my expectations for this week to do an about-face. This past Sunday was Palm Sunday. My boyfriend, Matthew, and I spent it in the woods searching for the cross at Mt. Lyn Lowry. It felt like a fitting hike for such a day. We didn't take the easy route. We started at the bottom of Waterrock Knob, hiked up and down, over and under until we met the clearing that led to the cross. It looks much different up close than from downtown Waynesville.
If you don't know the story, Lyn Lowry, the daughter of Army Lt. Gen. Sumpter Lowry and Ivilyn Lowry, died of leukemia at age 15.
They were natives of Tampa. With the Smoky Mountains being Lyn's favorite vacation spot, her grief-stricken parents built a cross in her memory. It's meant to be a place of meditation and prayer.
When we reached the cross on Sunday, the serenity was real. It was calm and peaceful and we spent a while in the quiet with our thoughts and the spirits of these beautiful mountains we call home.
This Easter Sunday will be altered for everyone. Instead of packed cathedrals and churches or droves of kids running to find eggs, people will be at home watching a live stream or enjoying the day in some other way entirely.
I'm not sure what Easter will feel like for my family. I still plan to welcome the Easter Bunny on Sunday morning. Even in the midst of a pandemic, kids deserve Easter baskets. We'll watch Long's Chapel's service online, dye Easter eggs and grill out, if the weather is nice.
Like many things during the COVID-19 era, we'll navigate Easter the best we can to further find our way through this unfamiliar corridor. I keep reminding myself that it's often in the midst of darkness when we find the most light. For me, if there's ever a time to remember this, it's on Easter Sunday.
(Susanna Barbee is a writer, editor and marketing specialist for SMN, SML and Mountain South Media.)