Archived News
Funeral industry adapts to COVID-19
Wednesday, April 08, 2020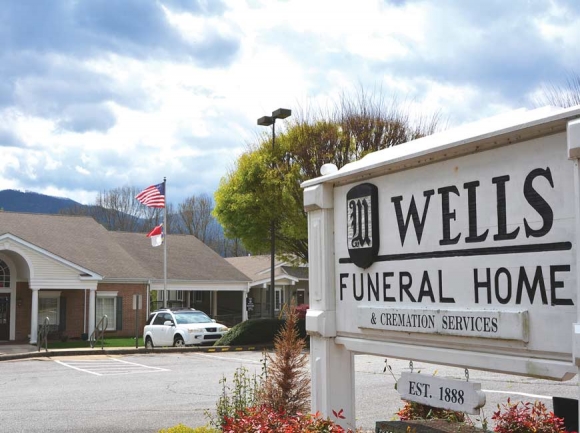 Funeral homes across the nation haven't been spared the effects of the coronavirus. Cory Vaillancourt photo
The irony's not lost on many that one of the most essential businesses affecting the lives of people around the world is the business of death.
But like almost every other business — essential or not — the nation's funeral industry is also being forced to deal with the COVID-19 outbreak and has had to make changes to the way the deceased are handled, and how people mourn them.
"I've never seen anything like this with the degree of uncertainty that we're dealing with," said J. Wells Greeley, proprietor of Wells Funeral Homes & Cremation Services in Waynesville and Canton.
Greeley, along with his family, has been in the business for quite some time; he's the fourth generation to lead the company, founded by his great-grandfather in 1888. His son-in-law Ryan Jacobson represents the fifth generation.
Guidance from the National Funeral Directors Association says that there's not much risk for funeral home employees in preparing the body of a person who died from COVID-19 as long as they're properly protected.
"In today's world with the coronavirus, much like it was with AIDS before the transmission factors were known, we are having to be more vigilant in our procedures and really make sure that we're wearing gloves, masks, other things that just help us carry out the services that we are called upon to perform," Greeley said.
There's also little known risk associated with being at a funeral or visitation for someone who died of COVID-19.
"Through the procedures that we do when we take an individual into our care, we're going to make recommendations to the family as to the options that we may want to stay within to protect, number one, our staff, number two, the family and the public in general," said Greeley. One of those recommendations is to avoid touching the body of the decedent.
Where the risk does become apparent, however, is at the large gatherings that are often associated with memorializing the death of a friend or loved one.
A week ago, The New York Times reported on the death of a retired janitor in Albany, Georgia. Around 200 mourners showed up, but one of them brought more than the customary casserole, card or condolence — they brought the coronavirus.
Now, in a county with just 90,000 people — about 1.5 times that of Haywood — there have been at least 24 deaths in Albany associated with COVID-19 and nearly 600 cases attributable to what's called a "super-spreading" event.
By comparison, Haywood County hasn't yet recorded a death and has less than five confirmed cases as of April 7.
In North Carolina, even gatherings at essential businesses are limited to no more than 10 people, so it's unlikely that such an occurrence would take place here, however, funeral homes aren't taking any chances.
"I think most families are very understanding of what the landscape is out there right now," Greeley said.
Some families have opted for private services, others have postponed commemorations and still others are opting to use the same tool that helps businesses continue to hold meetings and school kids continue to learn.
"We have done, through Skype, we've transmitted funerals all over the world, so that is an option," said Greeley. "I'm not sure exactly how many firms are equipped to do that but given the technology today, it can be accomplished pretty quickly."
Greeley also said that since practically all funeral homes have websites that feature a mechanism whereby mourners can offer online condolences, that's probably the best way to pay one's respects without endangering others, but in the end, there remains another tried-and-true, time-tested way to share thoughts of love in the time of COVID-19.
"There's nothing wrong with the old telephone cell phone method," Greeley said. "Give the family a call, and let them know that you're thinking about them."