Archived News
N.C. did nothing to prepare for onslaught of unemployment claims
Wednesday, April 08, 2020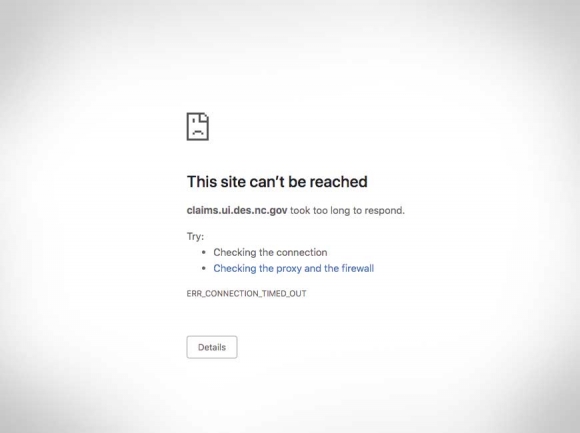 This screen has been a common sight for those applying for unemployment in North Carolina. Cory Vaillancourt photo
Workers affected by layoffs associated with the Coronavirus Pandemic are still reporting major problems with North Carolina's unemployment benefit system almost four weeks after North Carolina's hospitality industry was effectively shuttered by executive order.
Issued by Democratic Gov. Roy Cooper, that order — as well as subsequent "stay home" orders both locally and statewide — greatly increased the number of new claimants, but in the lead up to it all, Cooper did nothing to prepare for the onslaught of claims that he should have known would come as the result of his orders, The Smoky Mountain News has learned.
On Tuesday, March 17, around 10 a.m., Cooper issued a press release giving notice that he would sign an executive order prohibiting sit-down service in the state's bars and restaurants, effective in less than eight hours.
Cooper's 2 p.m. press conference later that day was the first many hospitality industry workers heard of the news that they'd be unexpectedly unemployed in less than three hours.
During that same press conference, Cooper also announced an expansion of the state's unemployment insurance system intended to help workers impacted by COVID-19; those measures would come to include waving the waiting week and work search requirement for claimants as well as the charges employers incur when workers who have left their companies qualify for unemployment benefits.
Unemployment claims are processed through the N.C. Division of Employment Security and are submitted in two main ways — via the DES website, and by phone.
The week of Cooper's order, more than 100,000 North Carolinians filed for unemployment, as reported by The News & Observer's Will Doran.
Waynesville bartender Crystal Gandolfo told SMN on March 18 that heavy website traffic prompted her to set an alarm for 3:30 a.m. so she could finally get through the filing process without service interruptions.
The ensuing statewide "stay home" order announced by Cooper March 27 closed all non-essential businesses in counties that hadn't already done so and resulted in another huge glut of unemployment claimants.
"In a typical week, we would process 3,000 claims, so we are staffed for 3,000 claims a week," said Larry Parker, public information officer with the DES. "We've now done over 400,000 claims since the week of March 16, so we have far exceeded our weekly average."
Parker told SMN that DES had seen 16,164 claims on Sunday, April 5, alone.
Reporting by CNN on April 4 said that Asheville resident Camilla Christiansen Poole waited eight hours and 48 minutes for her call to DES to be answered, after being disconnected "dozens of times."
"We're adding as much staff as possible, because we know there are a lot of calls coming in. We know that some folks are having difficulty getting through on the website or through the telephone line," Parker said. "We are working as quickly as possible to answer emails that are coming through our customer contact form online. It's all hands on deck here. We've got staff working weekends and overtime during the week to assist claimants as quickly as possible."
The CNN story also reported that the DES said it was "' … moving aggressively' to better address the unprecedented spike in filings by hiring 50 more staffers, contracting with an additional 200-person call center, adding computer servers and purchasing new equipment."
Parker confirmed those details to SMN, but when asked if he'd seen any improvement in DES ability to process claims prior to the influx of new claimants that would surely be created by Cooper's March 17 order, Parker said no.
Waynesville Democratic Rep. Joe Sam Queen chalks up most of the problems with the state's unemployment system to actions taken by Republicans under the administration of former Gov. Pat McCrory, who lost to Cooper in 2016.
"What they did was cut the period that you could receive benefits from 26 weeks — which it had been since 1935 — to 12 weeks," said Queen. "They cut the payments to a maximum of $350 [per week], and they cut the staff."
Queen said that Cooper wouldn't have the authority to do anything until a declaration of emergency was issued.
"Then you could commandeer your budget, you could commandeer your other agencies and you could move people," he said.
Cooper issued a State of Emergency declaration on March 10, a full week before issuing the order to close bars and restaurants, but apparently still waited several more weeks before doing anything to beef up the DES system.
Through April 6, DES had handled 445,101 initial claims. Parker said it remains to be seen if the initial claims have peaked, or if this is only the beginning.
"It's tough to tell," he said. "Obviously, we continue to see a high amount of claims come into our system each day. We're doing a lot of things on our end to try to ease up the process."