Archived News
Swain County implements curfew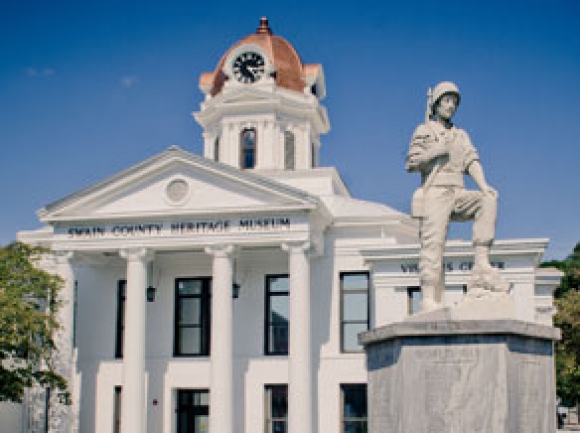 Swain County commissioners amended the county's State of Emergency again Tuesday morning to include a curfew for all residents.
In a 4-1 vote with Commissioner Kenneth Parton opposed, the board approved a 10 p.m. to 6 a.m. curfew for all Swain County residents effective at 10 p.m. Wednesday, April 8. The declaration does include exemptions for essential workers coming to and from work and residents experiencing homelessness.
County Manager Kevin King said the curfew recommendation came from the county's COVID-19 committee, which includes the county health director, sheriff, emergency management director and other key county staff. Like the rest of the declaration, violations can result in a class 2 misdemeanor, which can result in up to 60 days of jail time and $1,000 fine.
As the virus is anticipated to peak in Western North Carolina sometime between April 20 and May 1, Sheriff Curtis Cochran said it was more important than ever to keep movement in the county to a minimum.
"This recommendation is also sparked by the number of calls we've received lately," he said. "Just this past weekend, we had two assaults on officers from people who should have been home already. One kicked an EMS worker — he's in jail right now — and the other was someone at Ela campground. Keeping a curfew in place gives officers another layer of protection."
EMS Director David Breedlove said based on movements tracked via cell towers, Swain County residents are moving at a much lower rate than they were a week or two ago, which shows the declaration is being taken seriously.
"What we're doing is working," he said.
While he understands the importance of the State of Emergency, Parton said he didn't think adding more restrictions like a curfew would keep people from breaking the law. He said he also worried about how the curfew would impact residents wanting to get up early to go fishing or turkey hunting.
"I don't see how this is going to change a whole lot of anything. I think some people won't follow it," he said.
Commissioners also heard an update from Steve Heatherly, CEO of Harris Regional and Swain Community hospitals. With the guidelines from the Centers for Disease Control and Prevention changing almost daily, he said the hospital system was working diligently to mitigate the spread of COVID-19 while also preparing for a possible surge.
Visitors are restricted from the hospitals right now and all patients, visitors and employees undergo the same screening process when entering the hospital.
As for testing, Heatherly said the hospital does have the capacity to perform high numbers of testing if needed, but right now whether to test is being left at the discretion of treating physicians based on CDC recommendations.
"That said, we've chosen not to do mass testing at this point — we're following CDC guidelines, which relies on individual physicians to make those decisions," he said. "There have been reports about rapid testing coming online and we anticipate we'll have the ability to do rapid testing in the next few weeks, depending on when the material is made available to us."
The turnaround time on getting test results has improved somewhat — Heatherly said at first it was taking seven days to two weeks to get results and now it's taking four to seven days.
"That is still variable as companies are still ramping up capacity to do more testing," he said.
As of right now, Heatherly said Swain Community Hospital will not be admitting COVID-19 patients. If any positive cases arise in Swain and require hospitalization, they will be transported to Harris in Sylva. Because Swain operates a swing bed unit for long-term rehab patients who are often immune compromised, Heatherly said he'd like to keep that vulnerable population separated from potential COVID-19 cases. However, that policy can be changed if a surge requires more hospital bed space.
Lastly, Harris has nine ICU beds, but Heatherly said the hospital has the capacity to double beds if needed to meet increased demand.