Archived News
Lake Junaluska adjusts Easter events schedule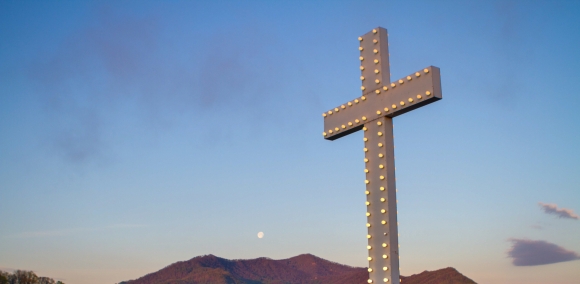 Easter sunrise at the Lake Junaluska Cross will be streamed live from Lake Junaluska on Sunday, April 12, followed by video of a special pre-recorded Lake Junaluska Easter service.
With group gatherings currently restricted under CDC guidelines and local and state mandates to curb the coronavirus pandemic, the online-only Easter service will take the place of the Easter sunrise service held annually at the amphitheater below the Lake Junaluska Cross.
"The message of Easter is one of hope, and even though we cannot gather in person as a community this Easter at Lake Junaluska, we are committed to doing what we can to share hope and the love of Christ in these uncertain times," said Ken Howle, executive director of Lake Junaluska.
The livestream of dawn rising from the darkness on Easter morning at the Lake Junaluska Cross will begin online at 6:45 a.m. April 12 on Lake Junaluska's Facebook page at www.facebook.com/lakejunaluska.
"The lighted Cross will guide us from darkness to light this Easter morning. The sounds of birds, wind or rain will remind us of our oneness with nature and all creation," said Mike Huber, vice president of programming and group sales. "We hope that you will join us online sharing your comments of hope, words of prayer and memories of time at Lake Junaluska."
Following the sunrise, Lake Junaluska will share a special pre-recorded Easter service that offers scenic moments from the lake, special music and an Easter message by Bishop J. Lawrence McClesky, a retired bishop of The United Methodist Church. The video will be available on www.lakejunaluska.com/easter and www.facebook.com/lakejunaluska.
Other Easter weekend schedule changes at Lake Junaluska include rescheduling the Friends of the Lake 5K Road Race, Walk and Kids Fun Run, from Saturday, April 11, to Monday, September 7, which is Labor Day. Registration for currently registered participants will automatically transfer to the rescheduled date.
The annual Easter egg hunts set for April 11 also will not be held. Instead, Lake Junaluska has donated Easter eggs to organizations that serve children and seniors.
Additionally, Easter breakfast and lunch buffet meals will not take place on April 12. An Easter-themed menu will be offered for the curbside to-go meal available Friday, April 10, from The Terrace at Lake Junaluska. Orders for the Friday meal will be accepted through noon on Thursday, April 9. For more information, call 828.454.6661.
"We will miss being able to come together in person as a community during the Easter weekend this year," said Howle. "We will, however, still celebrate the love of Jesus Christ and join in lifting prayers for our community and our world."
Lake Junaluska is a place of Christian hospitality where lives are transformed through renewal of soul, mind and body. For more information, visit www.lakejunaluska.com.