Archived News
Waynesville suspends water disconnections
Wednesday, April 01, 2020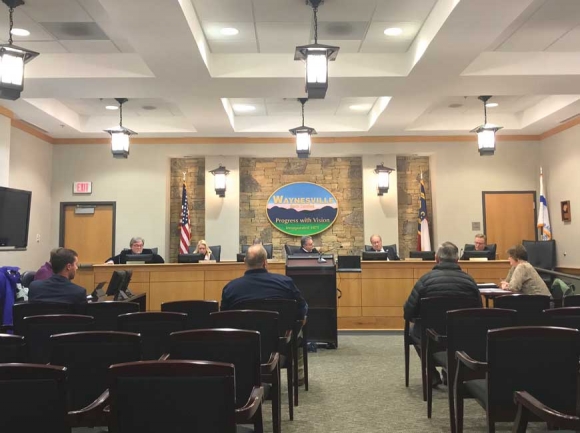 Waynesville aldermen addressed a mostly-empty room on March 24. Cory Vaillancourt photo
Following the lead of several other municipalities, corporations and co-ops, the Town of Waynesville has temporarily suspended billing-related water and electric shutoffs for its residential customers in response to the Coronavirus Pandemic.
"As everybody knows, we're up against it," said Alderman Jon Feichter during a town board meeting March 24. "One of the things I've seen that companies are doing, for example Duke Energy, my natural gas provider PSNC energy — and I'm sure that there are others — until the economic dust settles on this pandemic, these companies have decided that they are not going to disconnect any of their customers for non-payment."
Feichter said he'd explored available options with Town Manager Rob Hites and Finance Director Ben Turnmire and came up with a proposal for Waynesville to follow suit.
"If there is one thing that worries me more than the thought of catching the coronavirus it's the damage this is doing to the pocketbooks of our citizens," Feichter said.
The concerns voiced by Feichter go hand-in-hand with recommendations by the Centers for Disease Control and Prevention that people wash their hands thoroughly and frequently to help limit the spread of coronavirus.
Turnmire said that offering such assistance could have a 3 to 5 percent negative impact on the town's water fund every month the policy remained in effect. He also cautioned that his analysis doesn't account for the loss of revenue from commercial accounts that aren't currently using water — like restaurants.
The town's water fund is an enterprise fund and thus is separate from the general fund. Revenue flows in and expenditures flow out, and the water fund has its own fund balance to cover shortfalls or unexpected expenses. Currently, it's at more than $2.2 million.
If the water fund incurs a 4 percent loss of revenue each month because of the suspension of disconnections, that would be about $91,200 in lost revenue the fund balance would have to cover each month.
The town's electric fund is similar in that it's an enterprise fund separate from the general fund and operates much the same way as the water fund. A March 20 memo from Turnmire to aldermen estimated the electric fund's monthly revenue loss at 2 to 4 percent.
The electric fund's fund balance at the time of the 2019 audit was $3.2 million. If the electric fund incurs a 3 percent loss of revenue each month, that would amount to roughly $24,800 in lost revenue that would need to be covered by the electric fund's fund balance each month.
But, it's not really lost revenue — state law prohibits waiving fees or bills, so customers who can't or won't pay their bills during the grace period would still have to pay them eventually. Essentially, the water and electric funds are each borrowing from their respective "rainy day" funds with expectations of paying themselves back once the crisis is over.
"If we can take it on the chin a little bit now, I think that is going to help everybody later," Feichter said.
Alderman Anthony Sutton — who'd phoned in to the meeting from quarantine due to a recent trip to Spain — said he agreed with offering relief for individuals and stressed the importance of asking residential customers to make payment arrangements in the interim.
"It needs to be very clear that they're not going to get it for free," Sutton said. "They do have to pay it eventually."
Unanimously, aldermen agreed that utility customers who weren't already delinquent before the March 15 state of emergency declaration by Haywood County would qualify for an initial 60-day reprieve from disconnection.
As the that deadline draws near, Hites and Turnmire will report back to the board on the fiscal impact of the reprieve, so aldermen can consider extending, modifying or abolishing it in light of circumstances at that time.
Waynesville wasn't the first or the last entity to grant such relief to its customers. The Tuckaseigee Water and Sewer Authority (TWSA) suspended all disconnections as of March 17 and also allowed customers who'd been disconnected to ask for restoration of service without paying deposits, fees or past due balances.
Bryson City halted sewer and water disconnections and will no longer assess late fees until the pandemic ends. The Eastern Band of Cherokee Indians adopted a similar policy on March 26.
The Haywood Electric Membership Corporation (HEMC) won't disconnect customers who can't pay their bills due to coronavirus-related circumstances so long as customers contact HEMC to let them know. HEMC will also consider reconnecting previously disconnected users on a case-by-case basis. Duke Energy announced a policy similar to HEMC on March 13.
Waynesville Gas Services (as well as all AmeriGas affiliates) will no longer disconnect customers or lock tanks. Customers facing hardships due to coronavirus can also contact Waynesville Gas to ask about payment plans.
PSNC — also known as Dominion Energy — won't shut off power or gas, and said it will work with customers who have been disconnected to restore service.