Archived News
Memphis restaurant delivers meals to Cherokee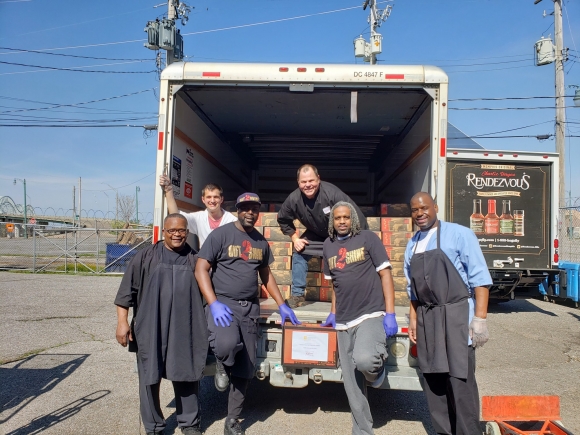 DreamCatcher Hotels, the Memphis-based hotel developer that brought Memphis the Guest House at Graceland hotel concept, is sending a large, delicious care package to a customer in Cherokee as a way to support their community during the Covid-19 quarantine and scare.
The Eastern Band of Cherokee Indians, with whom DreamCatcher is building a new convention center hotel on the Cherokee's Qualla Boundary reservation, is under self-imposed quarantine and has closed its roads to prevent the virus from entering and spreading through the community. The tribe has 9,600 people living on the Qualla Boundary, many of whom are part of the at-risk older population and students who are no longer receiving school meals.
One of Memphis' world-famous BBQ restaurants, Charlie Vergos Rendezvous, partnered with DreamCatcher to supply 300 family meal packages to feed an average of 1,500 people. The meals are being transported via moving truck across the 500 miles from Memphis to Cherokee today by two contract drivers, who were out of work until DreamCatcher hired them for this job. The delicious arrival has been approved and welcomed by tribal officials, who will distribute the meals on Friday as a way to augment their existing efforts to provide meals to their confined families.
The meal packages, prepared in the Rendezvous' USDA-inspected kitchen under strict sanitary guidelines, contain the Rendezvous' famous BBQ pulled pork plus all the fixings: beans, slaw, sauce and Rendezvous popcorn. John Vergos, owner of the Rendezvous, says this care package is the largest take-out order the restaurant has ever received — at a time that is crucial for Memphis' restaurant employees. Vergos, who has always paid for employee healthcare, has paid his employees' healthcare through April and hopes to be able to pay it through May. This large DreamCatcher order is critical income for that goal.
"I am so happy that Greg Hnedak and DreamCatcher Hotels thought of the Rendezvous to help them fulfill this care package for those in need residing on the Cherokee Reservation," said Vergos. "We want them to know that their meals have been made by a Memphis team who is grateful to have this sizable order to prepare during this trying time for the restaurant industry. It is being sent to the Eastern Band of Cherokee Indians from Memphis, with love."
"Our goal is to provide some much-needed comfort to people in North Carolina who mean a lot to us," said DreamCatcher Hotels founder Greg Hnedak. "We know the families on the Cherokee reservation are growing weary of coping with these challenging times, as are local restaurant employees. We hope to give both of them a boost of kindness and connection through the meals we've purchased and are donating."
"The Eastern Band of Cherokee Indians has taken significant steps to protect the health and welfare of our Tribal Citizens," said Principal Chief Richard Sneed of the Eastern Band of Cherokee Indians. "One area that we were particularly concerned about was our student population who may not have access to nutritious meals during the day with our school system closure as a result of the Covid-19 outbreak. As Principal Chief, I am extremely grateful to both Dreamcatcher Hotels and The Rendezvous for providing meals to vulnerable segments of our community. This action demonstrates the highest level of caring and compassion by members of the business community and I am both humbled and inspired."