Archived News
Dogwood Health Trust responds to COVID-19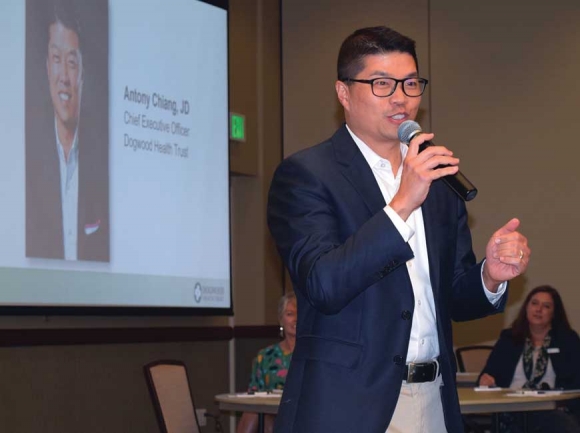 Antony Chiang, CEO of Dogwood Health Trust, recently updated the media on the foundation's efforts to fight the spread of COVID-19 in Western North Carolina. File photo
In a Zoom call Wednesday, Dogwood Health Trust CEO Antony Chiang announced the foundation has committed $10 million to spend on responding to the COVID-19 pandemic that has now hit Western North Carolina.
DHT, which is the steward of the $1.5 billion in proceeds that resulted when HCA Healthcare purchased Mission Health last year, has the mission of drastically improving the health and wellbeing of people in WNC. While most of the foundation's work up until this point has been focused on combating the social determinants of health by awarding grant funding to other organizations, now it's shifting its focus to work on the public health crisis.
Chiang said DHT is putting its efforts to three main things — flattening the curve, preparing for the worst-case scenario and mitigating the social impact this virus will have on WNC communities. As the nation looks to China, Italy and now large U.S. cities to see how the virus is progressing, Chiang says the rural region of WNC has — or perhaps had — a chance to get ahead of it by taking more proactive measures.
"The challenge here — the challenge for our government officials and for businesses and for Dogwood Health Trust is that the way this virus works — there's a data lag," he said. "For every positive case — if you look at the number of people infected that don't show any symptoms or have mild symptoms or never get tested — very roughly for every case reported there's about 10 people in the midst of the virus and transmitting the virus (without knowing it)."
Just because a county hasn't had anyone test positive for the virus doesn't mean no one in the county has it, yet those are often the statistics leaders use when making decisions on what precautions to take. Several counties — including Haywood, Buncombe and Swain — have now ordered some version of a shelter-in-place in an effort to slow the transmission so that our rural health care systems won't be overwhelmed with patients. Chiang said rural hospitals only have so many beds, only so many ventilators and other supplies, and only so many health providers in place to deal with COVID-19.
"We want to keep it under the number of beds and ventilators we have," he said. "Don't stay home because of your lack of symptoms, do it for our first responders and doctors and nurses and seniors who are at the highest risk."
DHT is partnering with local health departments to increase the number of testing kits available or by sourcing new testing capabilities. More tests mean faster results and better data on community spread.
The second big focus is helping the region prepare for a crisis while still hoping a crisis doesn't come to fruition. Chiang said there is a group working to make face shields for hospitals and several other similar efforts.
"We're doing as much as we can to plan for the worst-case scenario," he said.
While $10 million sounds like a lot of money, Chiang said some of these measures could be extremely costly. The foundation is looking into the possibility of bringing in quarantine beds if needed, something he said could easily take $500,000 to operate for a couple of months.
"We're fielding not just dozens but hundreds of these types of issues — it's a challenge," he said. "We could spend that just on K-12 or regional health providers trying to increase their reserve of ventilators, which can cost $35,000 to $50,000 each."
The third focus is to mitigate the social impacts of the virus — something that is already in progress with businesses closed, people out of work and children out of school. DHT has already funded a large-scale food organization to prepare in advance 150,000 meal kits that could be deployed to high risk populations when needed.
DHT has also partnered with the Community Foundation of WNC to put together an emergency fund for those impacted by the virus.
As for more specifics on where the $10 million would be going, Chiang said DHT is "not publicly sharing exactly how we're investing or deploying that but it's in those three categories and varies widely."
Chiang said DHT would be focusing on flattening the curve first before turning to the other issues in hopes it won't come to that. He said by mid-April the spread of the virus in WNC will have slowed down to a level that won't overwhelm the system or our health care system will be in crisis and making hard decisions about who will live and die like they've seen in Italy.
When asked if WNC had any kind of advantages in dealing with this pandemic, Chiang said there was a silver lining.
"Even though we're a popular tourism destination, we're in a low season. It's been very bad for those sectors, but what it means is the likelihood of transmission from other parts of the country and the state are going to be slower than other regions," he said.
WNC's first cases were people traveling here from New York State. The region also isn't as dense in population as cities like New York City and Seattle where the spread has been much quicker.
Chiang also talked about the lack of testing happening in the region and the shortage of testing supplies in the state.
"The main problem is the global shortage of key supplies — a lack of swabs and reagents — most rural counties have very few tests," he said.
He said there are about a dozen companies coming out with their own tests right now, but since COVID-19 is something the world hasn't seen before, it's uncertain whether the tests will work. A few of the companies are working on rapid testing that would decrease the turnaround time for results.
"But then we would need new lab equipment and more staff — it would be very expensive," he said. "DHT has contacted all these companies and we're forming relationships with several of them to see if we can establish local production of these tests."
While DHT has had to shift its priorities to tackle the COVID-19 crisis, Chiang said the foundation still has the goal of allocating $50 million a year to health-related nonprofits and organizations in WNC.
That remains our target, but COVID-19 throws a huge monkey wrench into the effort," he said. "We will have to assess every week that goes by."
For more information about DHT and its efforts in WNC, visit www.dogwoodhealthtrust.org.