Archived News
Distillery pivots to produce hand sanitizer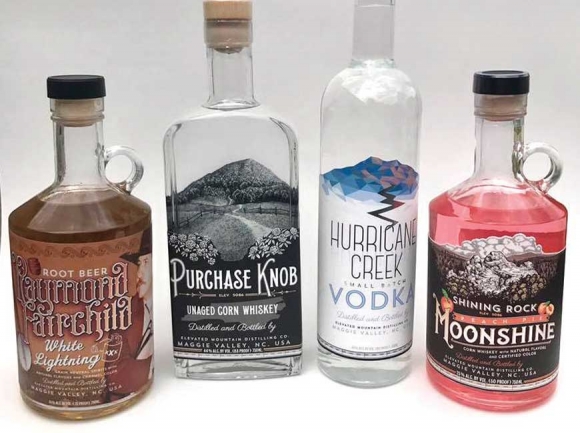 Tuesday, March 17 started like almost any other day for Dave Angel, owner of Elevated Mountain Distilling Company in Maggie Valley.
"We were here. I was doing our normal day," Angel said. "Your world sort of stops when you hear something like that."
What he heard, like millions of other North Carolinians, was Gov. Roy Cooper's order closing bars and restaurants except for to-go service. Angel manufactures a variety of spirits, and he instantly knew what that order would do for his now three-year-old company.
"That would be a huge part of any distillery's business," he said. "We got into liquor stores, ABC stores here in North Carolina, but most of that will end up in a restaurant."
Angel said he got some pretty quick assurances from his bank that they could be "creative" in offering his business the help it might need to carry on through the Coronavirus Pandemic, but he also knew he'd need to do something more to ensure the continued existence of Elevated Mountain.
"The federal government sent out a note to all distilleries in America saying, 'This is how you make hand sanitizer. There will be no penalty for doing that. There'll be no tax implication or negative consequences for doing this. We need hand sanitizer.' That was a wake up call that there's a bigger thing we can do right now," said Angel.
Basically, there are two types of permits for distilleries; one, like Angel's, is for beverage alcohol, but the other is for the production of industrial alcohol.
"As of Wednesday, that was waived that they said anyone that could make alcohol is free to make hand sanitizer," he said. "The tax implications I normally face, which are really steep, will be waived to make hand sanitizer. They're encouraging every distillery to do what they can to contribute."
The transition from making whisky and vodka to hand sanitizer isn't a severe one, according to Angel — he already has the equipment, the space and many of the ingredients needed.
"The biggest hurdle for me was getting my head around the whole recipe. There's chemicals I'm not used to dealing with and I've had to understand what they are, why they're used and how to work with them," he said. "But I've gotta say there's a network of people out here that are helping. There are several distilleries besides myself in North Carolina that are stepping up. H & H in Asheville, they've been a great resource to us. Durham distillery on the other end of the state is also stepping up. They were one of the first ones to do it. We're all sharing with each other what we're learning. We're all in this together to make a difference."
Sanitizer starts out as 96 percent ethanol, which Angel said was basically 192 proof vodka. Angel happens to make an award-winning vodka called Hurricane Creek.
"We have that on hand. We have beverage grade vodka, and that's the first batch we're gonna make," he said. "The rest of our ingredients should be here by Monday or Tuesday and by end of next week we're hoping to have 200 or 250 gallons of hand sanitizer and it will be Hurricane Creek vodka that's going into it."
Those additional ingredients — including glycerin and hydrogen peroxide — are what complete the recipe for hand sanitizer, which ends up being about 160 proof.
"That's where it needs to be to make sure that it truly kills and sanitizes," Angel said. "What people are used to drinking is 80 proof vodka or spirits and while that may help, it's not at the potency it needs to be to truly sanitize."
Angel has hundreds upon hundreds of empty vodka bottles, so that's where his sanitizer will end up, for now.
"Our number one customer would be the healthcare industry and the first line responders that are out in the field protecting us," he said. "We're working directly with Haywood County Emergency Services. The easiest way to get it to them is to actually work through a distributor to make sure that gets out to those priority customers. What we have left over we'll make some available here to the public."
More than just a distiller, Angel has been a big part of Haywood County's business community and sees a silver lining in all of this.
"Yeah, it's neat to see the resiliency that people are finding, the courage people are finding to do things different than they're comfortable with," he said. "I've seen other restaurants quite busy with people who are coming in and staying in their cars, making orders and you know, hopefully, they're figuring out a way to weather this."