Summer Camp Guide
Waynesville Art School offers year round, summer instructional opportunities
Wednesday, March 18, 2020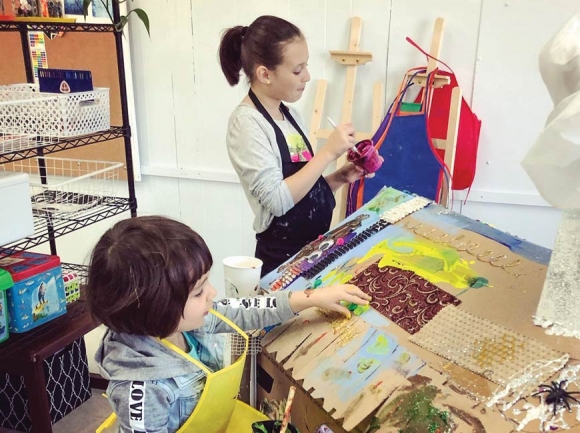 As a professional multimedia artist and photographer living in Western North Carolina since 2002, Luba Petrova still remembers the first piece of art she ever created.
"I was 4," said Petrova, founder and director of the Waynesville Art School. "There's a very famous Russian fairy tale about a golden fish and if you catch it, it can make all your wishes come true. So I had a golden fish and a very deep, dark blue sea."
That was a very different time, in a very different place, in a very different kind of educational system; Petrova is a native of St. Petersburg, Russia, and at the time she'd made her golden fish painting, the Soviet system was renowned for identifying and cultivating talented youngsters in the arts and sciences as well as Olympic sports like hockey and wrestling.
"If we were to embark or sign up for any of the classes, be it music or figure skating or ballet, we were treated basically as professionals," she said. "We were expected to train and study for many hours. My cousin who is a professional violinist from age 4, she was expected to play five hours a day, and she was not an exception."
Petrova studied at the prestigious St. Petersburg Academy of Painting, Sculpture and Architecture, which was founded in 1757 by Russia's first Education Minister Ivan Shuvalov as The Academy of the Three Noblest Arts.
Although this educational system did produce world-class talent in a number of fields — most of Russia's greatest painters, especially during the 1800s, are alumni of the Academy — today the rigorous methodology and strict standards are looked back upon as somewhat stifling.
"I'm very grateful to the system because in a way, whatever doesn't kill you makes you stronger. You can look at this this way. And we were really given very serious, very professional training," she said. "From my perspective now, and some of my friends may disagree with me, the downside of this approach is that pretty much you are expected to be very serious, to follow a certain path and the measuring stick is very, very high. So you either you are a genius and you can play like Mozart, or they are going throw away your drawing because it's not up to certain standards."
That actually happened to Petrova when she was 10 years old.
"We were supposed to paint some landscape and I remember that mine had horses in my landscape," she said. "When the instructor saw my landscape, he said, 'This is absolutely unacceptable, go and throw it away.' I was paraded in front of the entire group."
Petrova persevered, and came to the United States in 1992. In 1997, she was awarded a scholarship to attend The Cooper Union for the Advancement of Science and Art, a private college in Manhattan founded in 1859 and modeled after the École Polytechnique in France. She earned a bachelor's degree in Fine Arts in 2001.
Given her broad range of experience at some of the world's most important centers for arts and arts education, Petrova has given a lot of thought not only to making art, but to how to teach people to make art.
"Not every single person will become an artist or musician or a dancer or figure skater," she said. "It doesn't mean that you cannot explore it, you know, just participate in the activity without having the pressure to perform."
That's the mission at Petrova's Waynesville Art School, which offers year-round programs for aspiring artists of all ages and abilities. There's a young artists program, a paint night of the type now seen at bars and restaurants across the country and a family art hour, as well as classes for adults.
Of course, those offerings also include an assortment of summer camp programs for kids; Petrova is joined in her instructional duties by former Haywood County Schools art teacher and Western Carolina University alum Julie Buchanan, a 20-year veteran of elementary arts education and wife to Sylva newspaperman Jim Buchanan.
Weekly camps run from June through mid-August and offer a varying lineup of projects that explore different materials and techniques, including drawing, painting, sculpting, collages and construction, both individually and in group settings.
Themes this summer include a fantastical array of subjects from Baby Yoda to bookmaking, fairies to robots, unicorns to dinosaurs, pirates, princesses and puppets.
The way the classes are taught, according to Petrova, is reflective of her own journey through two very different methods of instruction.
"What I walked away with is that we're all at different places in life and we need different things and we all need to be allowed to experiment and explore," she said. "Even if we never ever sing again in our life or dance again in our life or paint again in our life, it does give us some experience. We benefit from it and we grow from it."
Summer camps
at Waynesville

Art School

Beginning Monday, June 1, summer at camps at the Waynesville Art School will take place on a weekly basis through the week of Aug. 10. All camps begin at 10 a.m., but end at different times based on the camper's age. Pricing also varies based on the camper's age. This year's weekly camp themes include:

• Fairies and robots

• Printmaking and bookmaking

• Unicorns and dinosaurs

• Landscape painting

• Dragons, baby Yoda and princess warriors

• Self-expression in drawing, painting and printmaking

• Pirates and mermaids

• Mixed media and the art of collage

• Shadow puppetry

For more information, visit www.waynesvilleartschool.com, call 828.246.9869 or email This email address is being protected from spambots. You need JavaScript enabled to view it.. The school is located at 303 N. Haywood Street in Waynesville.