Archived News
Organizations step up the fight against COVID-19
Wednesday, March 18, 2020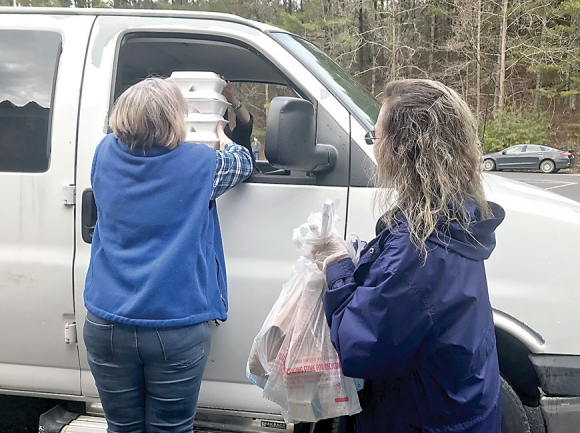 Workers at Junaluska Elementary school had handed out more than 160 to-go meals for students by 1 p.m. on March 17. Cory Vaillancourt photo
Of all the socioeconomic and educational weaknesses lain bare by the coronavirus pandemic of 2020 perhaps none is more disturbing than the fact that the closure of public schools has resulted for many children not just in a loss of education, but also a loss of nutrition.
Each day, 30 million American schoolchildren — some 60 percent of all students — rely on free or reduced-price lunches. That number is likely higher in rural Western North Carolina, where more than 20 percent of children under 18 are already food insecure anyway.
Thankfully, a number of public and private organizations have stepped up to ensure that the community's most overlooked populations don't become the community's most underserved populations in this time of social distancing and self-imposed isolation.
"I started the group because it was what I could do in the middle of the night other than worry," said Nicole Conner, founder of the Haywood County Coronavirus Community Assistance group on Facebook. "We live in an amazing community where people always want to help. I am well aware of all the community agencies we have that offer assistance. This is not meant to replace that but to be more of a community when face-to-face community is limited, where people don't feel alone and we can offer our small services and goods on a personal level."
Although Conner's Facebook group was only three days old as of press time, it had already accumulated more than 2,400 members.
Aside from sharing critical information on the local availability of resources like milk, bottled water and yes, toilet paper, dozens upon dozens of people have made posts in the group offering to help in a number of different ways.
Some are teachers, offering specific instructional assistance to students — and parents — hoping to minimize disruption to the school year.
Others are medical professionals, offering surplus equipment like test strips and needles for diabetics and diapers and formula for infants.
Still others are ordinary citizens, offering to cook, clean or shop for those who can't perform such activities themselves.
"I know our county cares, but I'm beyond overwhelmed with the response," Conner said. "My heart is full of hope."
That's not to say that Haywood's schools haven't done their part — as a critical source of nutrition for more than 7,000 children, school officials knew the difficulty Gov. Roy Cooper's order closing K-12 public schools across the state would have on some families and sprang into action.
"The decision came from the administration," said Chuck Francis, chairman of the Haywood County Schools board. "We know a lot of kids go home and don't have food available, and that has been a big concern of our board in the past. The decision was really about concern for kids who don't have food at home."
Starting on Tuesday, March 17, HCS began a food distribution operation designed to alleviate hunger in children under 18.
Right now, parents can pick up meals at many of the county's public school buildings, including Bethel Elementary, Clyde Elementary, Hazelwood Elementary, Jonathan Valley Elementary, Junaluska Elementary, Meadowbrook Elementary, North Canton Elementary and Waynesville Middle School.
Meal service includes breakfast and lunch, and it will take place in a drive-thru fashion to avoid gathering large groups of people in the school's buildings. Children need not be Haywood County Schools students nor need they be present for meal pick-up, which will take place from 11 a.m. through 1 p.m. for the rest of this week.
Children also need not necessarily be a student at the aforementioned schools to take advantage of HCS' meal service.
Dr. Bill Nolte, superintendent of the HCS system, said the meal service could be expanded next week.
"We will continue educational support and food support as long as we're out of school unless directed otherwise," Nolte said.
Crowdsourcing and government support through the public school system aren't the only ways in which Western North Carolina residents are trying to do their part.
A number of private business owners have taken the extraordinary step of offering free food, with the costs coming directly out of their pockets.
Mike Graham, owner of The Jukebox Junction in Bethel, told CNN on Monday that he didn't want people in his community to be worried about feeding their families.
"Right now, we are not charging people when they come in," Graham said. "As long as I get deliveries, I will feed them. I may go bankrupt [but] the people in the community supported me for 17 years. I love them to death, I can adapt."
Graham isn't the only one — more than a half-dozen other restaurants are offering free meals to children and/or seniors.
Although some of the offerings were initially dine-in only, a subsequent March 17 order by Gov. Roy Cooper closing bars and limiting restaurants to take-out services will certainly alter that.
Locations currently offering free meals as of press time on March 17 included Bro's Bowls and Burritos food truck, Fuego food truck, Clyde's, Firefly Taps & Grill, Kornerstone Kafe and Shoney's in Waynesville, as well as Black Bear Cafe and Southern Porch in Canton.
Churches and social service organizations are also reacting to the situation.
Waynesville's Open Door, in Frog Level, has food boxes and will serve bagged lunches from 11:30 a.m. to 1 p.m., Monday through Friday.
The Haywood Pathways Center in Waynesville will provide dinners for pickup to anyone who calls 828.246.0332 before 5 p.m. Waynesville's First United Methodist Church has nonperishables available for pickup on Wednesdays and Sundays from 3 to 5 p.m.
Mountain Projects will also offer cold sandwich meals for those age 60 and up to those who reserve them 24 hours in advance by calling 828.452.7029 in Waynesville, or 828.648.8173 in Canton.
Need help? Want to help?
WNC social service agency Mountain Projects has set up a hotline for vulnerable populations in need of emergency assistance during the coronavirus pandemic. Over the next two weeks, people who need help with the pickup/delivery of supplies and/or medications in Haywood or Jackson counties can call 800.627.1548 between 10 a.m. and 2 p.m. Monday through Thursday. Those wishing to volunteer should also call the same number.