Archived Reading Room
Early spring cleaning turns up some gems
Wednesday, March 11, 2020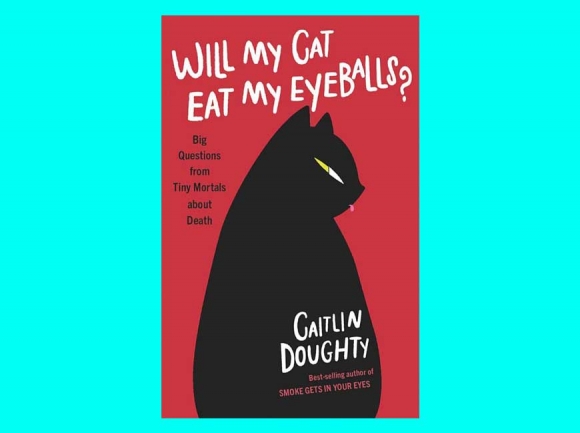 Time to do some early spring cleaning and rid my desk of some books for review.
Caitlin Doughty, mortician and best-selling author of Smoke Gets In Your Eyes and From Here To Eternity, takes us to yet another encounter with the Grim Reaper in Will My Cat Eat My Eyeballs? Big Questions from Tiny Mortals about Death (W.W. Norton & Company, 2019, 222 pages). Dedicated to "To future corpses of all ages," Will My Cat Eat My Eyeballs? is a collection of "the most distinctive, delightful questions I've been asked about death, and then I answered them."
Here the queen of the crematorium addresses a wide range of questions about death: "Can I use human bones from a cremation as jewelry?" "Why do we turn colors when we die?" "Can I preserve my dead body in amber like a prehistoric insect?" "Will my hair keep growing in the coffin after I'm buried?" "What happens when you want to bury someone but the ground is too frozen?"
Doughty is an excellent guide to the bone yard for three reasons: she knows her stuff, she communicates well, and she is sharp-witted and funny. An example: In Doughty's reply to "What happens when a cemetery is full of bodies and you can't add any more?", we learn about Israel's Yarkon Cemetery and its towers built to hold 250,000 bodies, we discover that countries like Germany and Belgium charge rent on graves after a set number of years, and that land-starved Singapore allows burials for 15 years, at which time the corpse is dug up, cremated, and placed in a columbarium to make way for earth's next guest. Doughty ends this chapter with these thoughts:
"But if it's burial you desire, perhaps it's time to join the rest of the world and — gasp! — recycle our graves. Once Grandma has had her time to decompose, her bones need to step aside for a whole new generation of rotting corpses. I wonder if anyone has ever written that exact sentence before? I wonder that a lot."
In The Hero (TLS Books, 2019, 77 pages), Lee Child, creator of the best-selling Jack Reacher crime thrillers, crams a variety of topics into this short meditation on evolution, story-telling, and heroism. We learn, for example, that heroin is derived from the word "hero," and we travel back in time 10,000 generations to the Stone Age and witness our ancestors, "all of them armed, as we know from what we inherited from them, with a ferocious will to live, and a deep love of story."
Near the end of The Hero, Child explains how he invented his main character, Jack Reacher. Subconsciously, Child took his inspiration the legend of Robin Hood. After examining how that legend had changed over time, Child writes that like Robin Hood and other such fictive characters, "… Jack Reacher turned out to be a man of rank (a major, a West Point graduate), now cast out from mainstream society (albeit voluntarily, by his own hand) and dispensing rough justice outside the mainstream rules."
In this same chapter, Child asks "What is the purpose of fiction?" and then replies "I think it can be summed up in a simple phrase: To give people what they don't get in real life." He points out that "… readers need an antidote to an unsatisfactory everyday reality … Instead of a constant real-world buzz of low-level frustration, there will be a beginning, a middle, and an end, by which time order will have been restored."
The Hero reminded me of a circus car, one of those tiny vehicles from which a parade of clowns emerges. This is a tiny book, but instead of clowns idea after idea poured from the pages.
Highly recommended both for Jack Reacher fans and for readers interested in big ideas.
Mark McConville is a clinical psychologist who has spent decades counseling families, adults, and adolescents. In Failure To Launch: Why Your Twentysomething Hasn't Grown Up…and What to Do About It (G.P. Putnam's Sons, 2020, 306 pages), McConville aims to help parents and mentors move those young people who are "twenty-two going on sixteen" into the adult world.
He begins this task by examining why so many of our young have trouble making this transition. Nick performs well in high school, goes off to college, gets academic suspension after two semesters of partying and missing classes, returns home, lives in the basement, and refuses to find employment. Kaylee, a bright young woman, can't bring her spending habits under control and is constantly running up credit card bills. The procrastinator Kyle is terrified of making the leap from high school to college. Birdie moves out of her parents' home seeking independence, but financial self-reliance proves more than she can handle, and soon "she was sleeping fourteen hours a day…and was severely neglecting basic self-care."
McConville believes that these young people and others are failing in three ways to grow up — they lack a sense of purpose, they fail at "administrative responsibility," which means taking charge of their lives, and they are missing the social skills necessary to interact with other adults. Using these case histories and examples from his own experiences as a parent, McConville offers readers wise advice on easing adolescents into adulthood.
Near the end of Failure To Launch is a chapter titled "Dear Twentysomething," in which McConville speaks directly to the young rather than to their parents. Here is a wise letter that might benefit all those in their late teens and twenties, showing them how to take charge of their affairs, how to step into the future, how to follow a dream
An excellent guide for parents of grown children still stuck in adolescence.
(Jeff Minick is a writer and teacher. This email address is being protected from spambots. You need JavaScript enabled to view it.)