Archived News
Haywood Schools still playing catch-up on capital projects
Wednesday, March 11, 2020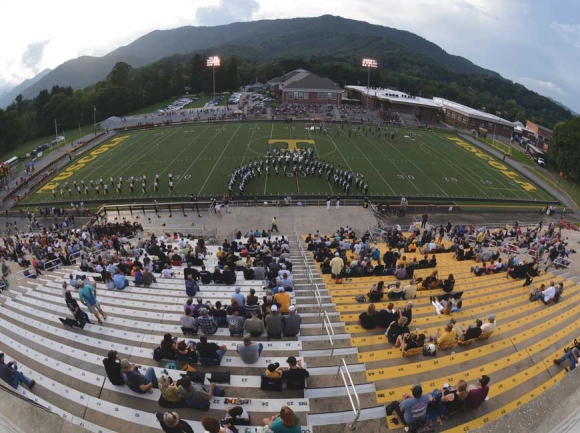 Both Haywood County high schools will likely get new turf this year. Cory Vaillancourt photo
Haywood County Schools board members got their first look at a proposed budget for the next fiscal year last week, which contained few surprises and continued to concentrate on some much-needed capital improvement projects.
"The message of this budget is that we're in a good place, we just have to be careful," said Chuck Francis, chairman of the Haywood County Schools board.
The proposed budget assumes a 2 percent pay increase across all employment categories, a 21.5 percent retirement contributions rate — up from 19.7 percent last year — and an increase in hospitalization costs from $6,306 to $6,647. The total cost of these assumptions is almost $450,000, although the 2 percent figure is highly contingent upon what the General Assembly does.
That's balanced against a projected $270,000 increase in revenue over the 2019-20 fiscal year budget, as well as a $235,000 increase in the county appropriations thanks to a revised funding formula passed by Haywood County Board of Commissioners.
"We did get what we thought was a very fair funding formula from county commissioners," said Superintendent Dr. Bill Nolte.
The proposed capital budget for 2020-21 includes $900,000 in improvements to eight schools, as well as equipment for the maintenance department, gravel for playgrounds and awning repairs and spare HVAC units.
"We have a lot of critical systems that are aging out," said Dr. Trevor Putnam, associate superintendent of HCS.
The $900,000 figure is the same as in the current year's budget, which was itself an increase from the $750,000 in the 2018-19 budget. That, in turn, is a substantial increase from the funding during the Great Recession when only about $200,000 was budgeted for four straight years. HCS is still trying to address needs that were postponed during that period.
Bethel Elementary is slated to receive parking lot lights and replacements for broken lights in the cafeteria stairway and the library, as a cost of more than $17,000.
Bethel and Waynesville middle schools both need HVAC equipment totaling $75,000. Waynesville Middle School also needs $54,000 worth of roof repair, a new gymnasium heater at $16,000, a $12,000 water heater for building A and $28,000 for parking lot patching.
Canton Middle School needs a $30,000 cafeteria water heater as does Jonathan Valley, and Clyde Elementary needs $90,000 of work on an access road.
Meadowbrook Elementary needs $125,000 in air conditioning maintenance.
Upgrades at Pisgah High School include lighting for the softball field ($165,000), new air conditioning for the dining room ($40,000), a new dryer for the gym ($5,000) and some parking lot patching ($5,000).
Tuscola High School also needs parking lot repairs, to the tune of $7,500.
Both high schools will get new turf, to be paid for by lottery fund balance. The cost could be as high as $1.57 million, and HCS has $1.74 million available.
On the personnel side, requests for additional months of employment and up to 6 additional employees would have cost HCS a maximum of $355,000 but only one position, a social worker, was approved.
Requested positions were half of a full-time equivalent ESL (English as a Second Language) teacher ($25,121), a part-time clerical worker in Clyde ($11,711), an additional month of employment for a lead teacher at Pisgah ($7,132) and the same for Tuscola, and an EC teacher assistant or part time EC teacher at Riverbend Elementary ($25,000-$31,000).
Small supplement increases are also proposed for athletic coaches.
No increase in school lunch pricing is anticipated.
All in all, the proposed expenditures total $18,715,199 and would require $1.55 million in fund balance appropriation in the 2020-2021 budget.
All proposed changes to the current year budget remain just that — proposed. A public hearing will be held on April 2, and then the budget will be presented to Haywood County commissioners for inclusion as part of the county's overall 2020-21 budget.