Archived News
Meadows move leaves his district hanging
Wednesday, March 11, 2020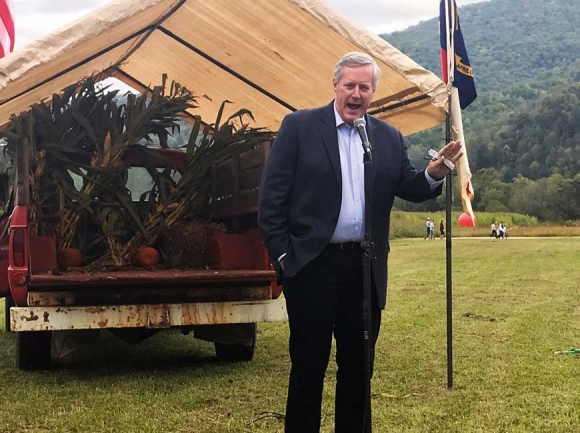 President Donald Trump's next Chief of Staff, Mark Meadows, speaks to Swain County Republicans last fall. Cory Vaillancourt photo
A tweet issued by President Donald Trump on the evening of March 6 made Rep. Mark Meadows' next move pretty clear, but clarity's in short supply when it comes to who will represent the 16 counties of Western North Carolina in Congress for the rest of the year.
"I am pleased to announce that Congressman Mark Meadows will become White House Chief of Staff. I have long known and worked with Mark and the relationship is a very good one," Trump tweeted just after 8 p.m. last Friday, ending more than two months of speculation as to Meadows' intentions after he announced he wouldn't seek re-election back in late December.
Meadows still hasn't resigned from his congressional seat, but once he does, he'll become Trump's fourth chief of staff in three years, and North Carolinians will have to figure out who — if anyone — will step into that role until the Nov. 3 General Election winner is sworn in next January.
North Carolina General Statute 163-13 isn't clear on what happens now; section (a) says that "If at any time after expiration of any Congress and before another election, or if at any time after an election, there shall be a vacancy in this State's representation in the House of Representatives of the United States Congress, the Governor shall issue a writ of election, and by proclamation fix the date on which an election to fill the vacancy shall be held in the appropriate congressional district."
That leaves open the possibility that the election could happen at any time between now and the Nov. 3 General Election between Democrat Moe Davis and whoever wins the May 12 Republican runoff between Lynda Bennett and Madison Cawthorn.
The statute is also ambiguous as to whether candidates seeking to fill the vacancy would be nominated by party leadership in the district, or if there would have to be a special primary to nominate candidates for the vacancy election.
The longer it takes to determine the timing of the special election, the longer Western North Carolina will go without a voice in Congress. Until Gov. Roy Cooper weighs in on the matter, speculation will continue as to which route he might take, and who might serve in advance of the new 11th Congressional District representative takes the seat in 2021.