Archived Arts & Entertainment
This must be the place: Ode to Nashville, ode to rebuilding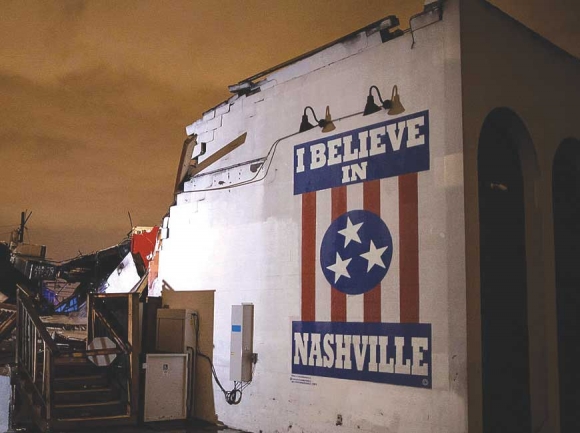 Being the nighthawk that I am, it was around 3 a.m. on March 3 when I found myself listening to some music and scrolling through Instagram.
Suddenly, I kept coming across images of a massive storm in Nashville and of a pile of rubble that was once The Basement East music venue in the city.
I couldn't comprehend what I was reading and seeing when reports started flooding social media about this F3 tornado ravaging through East Nashville — epicenter to not only the music and art community of the metropolis, but also home to countless musicians who I call dear friends.
It startled me to realize how many cronies of mine were playing that stage at The Basement East less than an hour before the tornado tore off the roof and collapsed the walls. Thankfully, the dozens of beloved musicians and hundreds of patrons had already left and the venue had just closed. But, the same couldn't be said for those who fell victim to this horrendous force of nature.
By morning, the internet was filled with images of East Nashville, reminiscent of some war zone with smashed homes, infrastructure hanging everywhere and folks walking around in some sort of daze. By that afternoon, you started to see everyone coming together — to pick up the pieces, but, more importantly, to pick up each other.
This past Saturday, I received a text from my friend, Allen Thompson, a prolific figure in the East Nashville scene. He's a musician who's literally played with every known (and unknown) singer and picker in Music City over the last decade or so in his wide array of bands and projects. In essence, he's a salt-of-the-earth artist and human being.
Anyhow, Allen and his girlfriend, Paige, were rolling through Asheville last Saturday. It was a trip planned weeks ago. But, leaving Nashville to decompress and get some perspective took a different tone with recent events. Meeting at Green Man Brewing in the South Slope neighborhood, it was craft ales held high in the unseasonably warm afternoon sunshine.
After some small talk and pleasantries, I had to ask, "So, how are y'all doing after last week?" The conversation slid into a somber tone when the couple spoke of how their neighborhood and scene — their home — will never be the same after the chaos and destruction cast upon East Nashville.
Less than an hour before The Basement East was blown to pieces, Allen was onstage singing. Like any normal night in Music City, he and his friends were playing together and having a good ole time, celebrating a life of long-held dreams chased after with a reckless abandon in the bright lights of Nashville and beyond.
And then he spoke of how the city has come together so quickly to rebuild and start from scratch. The attitude seems to be the residents and natives alike setting up the new foundation before any outside interest can get ahead of them in a place where land is at a premium and the future uncertain — especially for hardscrabble musicians and generational families slowly being squeezed out.
Eventually, the mood of the conversation transitioned into one of gratitude and recollection. We began swapping stories of rollicking times in Nashville, many of which with mutual friends, the same folks who connected the dots that led to he and I becoming friends. Amongst the banter, I thought of my first time coming into Nashville.
It was June 2009 and I was 24 years old. Leaving the Wakarusa Music Festival in the Ozark Mountains of Arkansas, my photographer and I headed towards Knoxville and Asheville to possibly catch Phish on tour before hightailing it back to the North Country of Upstate New York via Interstate 81.
I remember sitting in some dive bar near Broadway in Nashville and thinking to myself, "I want to live here someday." Low and behold, just a few years later, I found myself calling the South home, but in the mountains of Western North Carolina — all within orbiting distance of Nashville.
Amid my almost eight years living and writing in Southern Appalachia, I make a trek to Nashville every few months — to see friends, catch shows or simply jump into the melodic madness in whatever direction it takes me in this mecca for music freaks like myself.
I think of fleeting nights running around East Nashville, beers and chatter in Five Points somewhere, perhaps a burger at 3 a.m. at Dino's, waking up in some guest room or couch just around the corner from The Nashville Biscuit House filled with endless cups of coffee and a greasy spoon breakfast. All of that live music, all of those memories, tucked away on the shelves of my memory.
And I think of all my Nashville friends (and their friends, too) trying to rebuild their lives and careers as we speak. My heart goes out to them, so does my continued support of their dreams in the face of this new obstacle. Nashville will rebuild, just as any headstrong community of movers and shakers will do.
It's a sentiment found on a mural on the side of The Basement East, a part of the wall that miraculously didn't collapse. It simply states, "I Believe in Nashville." And I do — we all do.
Life is beautiful, grasp for it, y'all.
Hot picks
1 Rising Americana/indie act EmiSunshine & The Rain will perform at 7:30 p.m. Saturday, March 14, at The Strand at 38 Main in Waynesville.
2 Celtic/folk act Bean Sidhe will perform at 7 p.m. Friday, March 13, at the Smoky Mountain Community Theatre in Bryson City.
3 Americana/bluegrass group Ol' Dirty Bathtub will perform at 7 p.m. Thursday, March 19, in the Community Room of the Jackson County Public Library in Sylva.
4 Boojum Brewing Company (Waynesville) will host Gold Rose (Americana/indie) during its "St. Patrick's Day Celebration" at 9 p.m. Saturday, March 14.
5 Nantahala Brewing (Sylva) will host Humps & The Blackouts at 7:30 p.m. Friday, March 13.