Archived News
Smoky Mountain News again recognized for journalistic excellence
Wednesday, March 04, 2020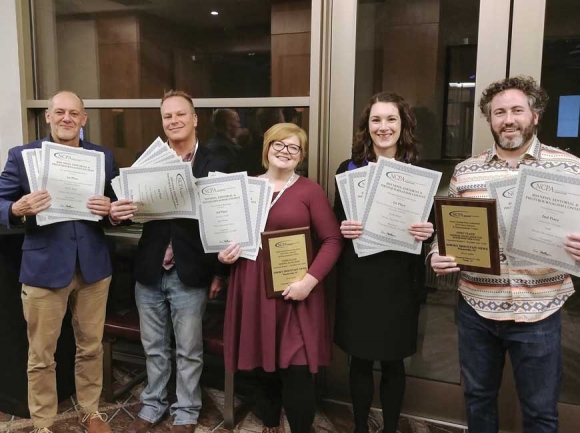 Smoky Mountain News staff (from left) Scott McLeod, Cory Vaillancourt, Jessi Stone, Holly Kays and Garrett K. Woodward stop for a photo at the NCPA awards ceremony in Raleigh on Feb. 27. Donated photo
It was another good year for community journalism in Western North Carolina, and writers from The Smoky Mountain News were a big part of it, taking home more editorial awards — 21 — than any other newspaper in its class.
"We always strive for editorial excellence. Our mission is to provide our readers with journalism as good as you could get anywhere in the country, including metro areas," said SMN Publisher and Editor Scott McLeod. "Awards aren't the end-all, but they do show that our reporters and writers are accomplished, that they are good at what they do.
"What is particularly gratifying is that our current editorial staff has shown a sustained excellence," said McLeod. "They have been recognized as among the state's best journalists many years in a row. I'm happy for them, appreciative of the support we get from readers and advertisers, and proud that we are able to produce this kind of newspaper for Western North Carolina."
The awards, announced at the North Carolina Press Association's annual conference in Raleigh, are bestowed yearly after judges from another state's press association evaluate the more than 4,000 entries submitted.
SMN designer Travis Bumgardner's work on the SMN website earned him another first-place award in the "general excellence for websites" category.
The newspaper as a whole also took home the third-place award for general excellence.
Individual SMN writers also earned a host of awards, led by Staff Writer Cory Vaillancourt's seven. Vaillancourt picked up first-place awards in the categories of city/county government reporting, election/political reporting and education reporting, as well as second-place finishes for beat feature reporting, news feature writing and religion and faith reporting, along with an additional third-place award in the election/political reporting category.
Outdoors Editor Holly Kays earned two first-place awards, one for news feature writing and one for Arts & Entertainment reporting. She also picked up second- and third-place awards for investigative reporting, and an additional third-place award for news feature writing.
Kays' news feature awards, along with Vaillancourt's gave SMN a sweep of that category.
News Editor Jessi Stone earned a second-place award in city/county government reporting, second and third place in business reporting, and third-place awards in beat feature reporting and news enterprise reporting.
Arts & Entertainment Editor Garret K. Woodward brought home a third-place award for arts and entertainment reporting, and Susanna Shetley won her first-ever NCPA award, earning first place in the lighter columns category.
Shetley's victory keeps the lighter columns first-place award in-house; since 2015, only SMN writers have won it — Chris Cox in 2018, and Woodward in 2017 and 2016.
SMN staff also took home a second-place award for community coverage.