Archived News
Catamounts hope to continue basketball turnaround
Wednesday, March 04, 2020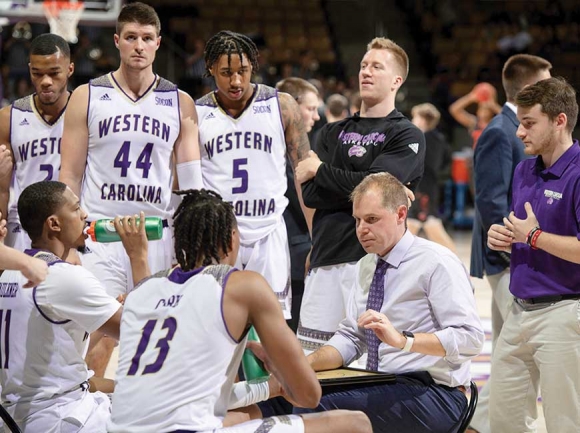 WCU men's basketball coach Mark Prosser (center-right) counsels players during a recent game. Ashley Evans/WCU photo
By Todd Vinyard • Contributing Writer | Western Carolina University basketball has been using the hashtag #ItsComing on social media this season to describe year two under head coach Mark Prosser. After a Catamount season featuring an improvement of eleven wins from seven to 18, maybe they might want to prepare for #ItsHere.
The number of victories turnaround by the Cats from last season equals the best jump in the country; however, Prosser says his team and program keep building toward the goals of Southern Conference championships and NCAA Tournament appearances. The Catamounts have moved up on the Southern Conference ladder and now know the next step is climbing into the elite part of the league with the top four teams. Last year, four teams — ETSU, Furman, UNCG, and Wofford — earned postseason invites the previous season to mark the 11th consecutive year multiple league teams received postseason bids.
Prosser says the year two progress in the program has come as players feel more comfortable.
"We have a great group of kids who play the game very unselfishly," Prosser said. "I think this year you have seen their comfort level improve with what we do and what we want to do. Last year, we were putting in our system of how we wanted to play, and you see that take shape now. Coaches often say they have great kids, but it is a genuine thing here. Our players have been ready to work from day one."
Prosser learned a work ethic from his father Skip Prosser, who area college basketball fans will remember as the head coach at Wake Forest, where he had a 126-68 coaching record over six years. Skip knew about turnarounds like his son has led at Western Carolina this year, having taken three separate schools to the NCAA Tournament in his first year of coaching them. He was also famous for never taking credit himself and always giving it to the players and staff, something Mark Prosser does as well.
"I was fortunate to see how my dad did things and the way he ran a program, made recruiting calls, and how that all worked," Prosser said. "The importance of the people around you and importance of relationships was obvious watching him."
Compared to last season, the turnaround of Mark Prosser's Catamount squad is among the best in the nation. Noah Sautter/WCU photo
Skip Prosser died suddenly from an apparent heart attack at age 56 in 2007. There has been time since the tragedy, yet it was clear from a Tweet at @MarkProsser15 sent by Mark Prosser following the recent death of basketball star Kobe Bryant, his daughter, and others in a helicopter crash that he knows what that pain of loss. The Prosser tweet read — "I know that call, that feeling that comes when your world changes in an instant. I know the titles that matter to those who receive it in that moment are Dad, Mom, Sister, Brother, Husband, Wife, etc. Not Player. Not Coach. Pray for those in California and all that get that call!"
Mark Prosser was beginning his basketball coaching journey when that devasting call came, so the father and son never had the chance to share his time as a head coach. The impact a coach can have on others is something Mark Prosser learned for his dad and continues to see even after his father passed away.
During the Catamounts visit to Wake Forest last year, where they came back from 18 points down before losing 71-64, Demon Deacon point guard Brandon Childress took time to tell Mark Prosser that while he didn't know him, it was an honor to play against his team.
Childress told the Winston-Salem Journal afterward: "I can remember, I was in the passenger seat leaving camp or school at the time, my mom told me Skip Prosser passed away, and I was hurt. To this day, I feel like if he were still here on this earth, he would be the head coach. And it wouldn't have changed. If I would have got the opportunity to come to Wake Forest to play for Skip Prosser, I would. I wouldn't even hesitate, just because of the history that he has here and the relationships he built. … I just told (Mark Prosser), 'Hey, it's an honor to play against you and your team."
The Catamounts (18-11, 10-8 SoCon) have earned the respect of plenty of opponents this year with a team that plays fast on offense and can score with multiple options.
The duo of Carlos Dotson — one of Prosser's first recruiting calls — and Mason Faulker have put up impressive stats. Dotson entered the season's final game as one of six players to have at least 18 double-doubles on the year, and Mason Faulker is one of two players to have at least two triple-doubles on the year. Faulker and Dotson led a balanced attack as evidence in the 109-78 win over Samford this year when Catamount senior Onno Steger led five WCU players in double figures with a career-high 31 points.
The Cats have also shown grit, including coming back to win 96-94 in two overtimes at Jacksonville (Fla.) University on Nov. 22 after trailing by 22 points with 6:16 left in the second half.
"We trust each other as a team," Faulkner said earlier this year. "We try to stay consistent and keep attacking. We keep playing hard. We've got a good mix of young guys and veteran guys."
Fans have noticed. Catamount home average attendance has increased from the previous year, and WCU has a 10-4 record at home.
"The players understand Coach Prosser's system well," said Jake Robinson, chief executive officer of Champion Credit Union, based in Canton, who scored in double figures 59 times during a career at WCU from 2006-10. "You can see this year they are playing much more freely knowing what to do. The community support has been there, and our home record is solid. Adding a true point guard like Mason Faulkner certainly helps. That makes players like Carlos (Dotson), Onno Stegar, and Matt (Halvorsen) all better, and the freshmen are contributing. It has all been a perfect storm for this team. I'm a proud Catamount looking forward to the tournament in Asheville."
#ItsHere for now means the Southern Conference Tournament in Asheville. The Catamounts will be the No. 5 seed and take on No. 4 Mercer (17-14, 11-7 SoCon) in the quarterfinal of the 2020 Ingles Southern Conference Tournament presented by General Shale Saturday at 2:30 p.m. Mercer and WCU split two games in the regular season. WCU will attempt to win a SoCon Tournament game for the first time since 2016.
"This is a tough league, no doubt about it," Mark Prosser said. "We will go into the tournament ready to play and knowing nothing will be easy. This team has been ready to face each challenge, and we will keep working on getting where we want to be as a program."