Archived Mountain Voices
Geronimo's brush with WNC
Wednesday, February 26, 2020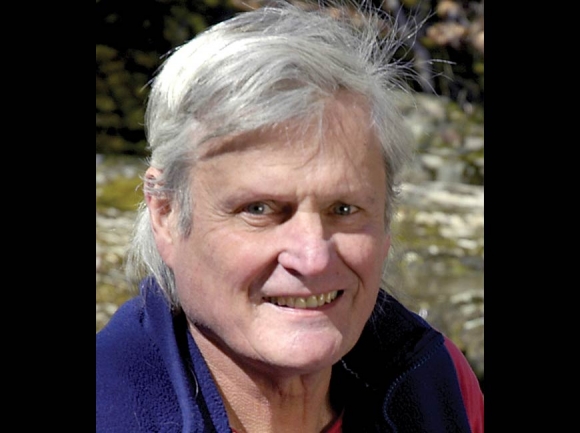 George Ellison.
Editor's note: This article first appeared in a February 2012 edition of The Smoky Mountain News | The names Geronimo and Gen. George Crook are interwoven in the lore of northern Mexico, southeastern Arizona, western New Mexico and the Indian territories in Oklahoma. An association with the Smokies region and the remnant Eastern Band of Cherokees in Western North Carolina is less well known.
An essay I included in Mountain Passages: Natural and Cultural History of Western North Carolina and the Great Smoky Mountains (Charleston SC: History Press, 2005) described Geronimo's role in that episode. This time around, I want to take a little closer look at Gen. Crook.
My renewed interest in him was rekindled by an appearance "he" (played in gruff yet regal fashion by actor Peter Coyote) makes in the HBO-DVD 36-episode docudrama titled "Deadwood," which takes place in 1876 in the Black Hills of South Dakota during the gold-rush era. In a previous film incarnation, Gen. Crook was played by Gene Hackman, which gives you some idea of the real-life general's disposition.
Be forewarned, if you decide to take a peek at "Deadwood" for the first time, it would be a serious understatement to describe the language employed throughout as "potty-mouthed." The four-letter word for intercourse, for instance, is said to occur 2,980 times, which averages out to 1.56 utterances per minute of footage ... and other obscenities abound. Nevertheless, there are redeeming features, including some fine acting, excellent scenery, and structured language that is Shakespearian, biblical, and Wild Wild West.
Numerous improbable episodes dot Western North Carolina's historical landscape, none more so than when the federal government came very close to moving the Indian warrior Geronimo and other captive members of his renegade Apache band from a prison in Alabama onto Eastern Band of Cherokee lands. The story unfolds in articles that appeared in the Swain County Herald from mid-1889 through late 1890. (These bound issues were at one time in my keeping, but perhaps 20 years ago I donated them to Hunter Library at Western Carolina University in Cullowhee)
In 1889, Geronimo's band was being held at the Mount Vernon Barracks about 40 miles north of Mobile. Members of the Chiricahua tribe, they numbered 75 men and about 250 women and children. Geronimo, then 60 years old, was a tribal leader … not a chief. As a young man, he had exhibited courage and skill in successive raids of vengeance upon Mexicans, who killed his mother, wife, and children in 1858. After the Civil War, an effort was made to limit the territory of the Apaches. Savage retaliatory raids by the Indians brought action by the U.S. Army under the command of Gen. Crook. Apaches implicated in the raids were impounded on reservations, but Geronimo's band fled to Mexico. From 1876 until 1886, he led raids against settlers in the United States, gaining recognition as "the most cunning" of all the Indian warriors faced by the American military. During the final 18 months of this campaign, the U.S. Army employed 5,000 troops and 500 Indian auxiliaries. Operating in two countries from hidden supply bases in some of the most desolate and/or rugged terrain in North America, the Apache opposition was comprised of 35 men, 8 boys, and 101 women. When the Chiricahua finally surrendered in 1886, they were promised reunion with their families on "a large, well-stocked reservation." Instead, they — along with 17 Indian scouts who had assisted the U.S. Army in their capture — were shipped in boxcars to Florida and incarcerated. The men were sent to Fort Pickens, the women to Fort Marion.
In April 1887, President Grover Cleveland, responding to reports that malaria was rampant among the Apache prisoners in Florida, agreed to have them moved to Alabama. The Indians requested that they "be allowed a fresh start somewhere near a river and in a place where it snowed (and) where they could see long distances. It was determined that Eastern Band lands in WNC suited Apache needs. WNC residents learned of this plan in July 1889 when the Swain County Herald reprinted an article from a newspaper in Charleston. This article reported that a tract of about 10,000 acres had been located "in Swain County, N.C., which is at present occupied by about 2,000 Cherokees. The Cherokees are willing to sell (and) Geronimo is delighted with the prospect of removal, but is disappointed at not getting back to Arizona.
The land in WNC was not exactly what Gen. Crook had in mind. He decided he wanted the Apaches removed to a land which more closely approximated conditions as the Chiricahuas had known them before their captivity. In September 1894, the War Department ordered their removal from Alabama to Fort Sill, Oklahoma. By orders from President Cleveland that ran counter to the terms agreed upon by the Apaches, Geronimo and 14 other male members of the Chiricahua band were placed under military confinement. Until his death in 1909, Geronimo was allowed to farm and raise stock.
(George Ellison is a writer and naturalist who lives in Bryson City. This email address is being protected from spambots. You need JavaScript enabled to view it.)