Archived Reading Room
Rest in peace, Mary Higgins Clark
Wednesday, February 26, 2020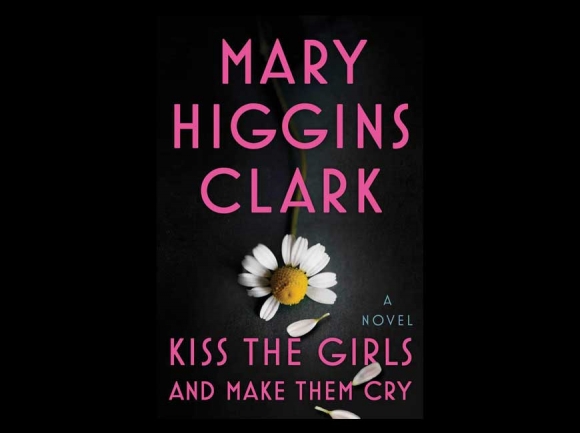 She died at the age of 92 in January 2020 in Naples, Florida. Renowned for her beauty when young, she worked as a secretary and an airlines stewardess, married and had five children, and was a devout Christian. Those who personally knew her describe her as generous, kind, warm-hearted, and fun.
She was also one of the most popular suspense novelists of the last half century.
Mary Higgins Clark wrote 51 such novels, all of which were best-sellers. In the United States alone, her books have sold more than 100 million copies. After weak sales from a debut novel about the life of George Washington, Clark turned to the genre for which she seemed destined and wrote Where Are The Children? That suspense novel was an immediate hit, and she struck gold in every book she wrote after that one.
Long ago, I read several of Clark's novels, but for whatever reason never returned to her stories. When I learned that she had died, I decided to see what I was missing and picked up her latest book, Kiss The Girls And Make Them Cry (Simon & Schuster, 2019, 385 pages).
The story opens when investigative journalist Gina Kane tries to discover the identity of a "CRyan," who has sent her an email claiming that something "terrible" had happened to her while working at REL, a major television news network. When Kane finally manages to identify and run to ground "CRyan," she discovers Cathy Ryan has died in a boating accident in Aruba, possibly under suspicious circumstances.
We then meet an attorney, Michael Carter, who works for Human Resources at REL. Several young female employees approach Carter to accuse one of the network's most popular broadcasters of sexual misconduct. Sensing an opportunity for personal gain, Carter contacts Richard Sherman, the company's CEO, and convinces Sherman that he can buy the women's silence by offering them large amounts of cash. He hopes to worm his way into Sherman's good graces, and make a killing on the stock market when REL goes public.
But the killing comes not from Wall Street. Another young woman dies in suspicious circumstances. An accountant goes missing. And Gina Kane soon finds herself embroiled in the investigation and eventually in a fight for her life.
To say more would be to reveal too much of the plot and spoil the story. Suffice it to say that Kiss The Girls And Make Them Cry reminded me of what I knew so long ago: Mary Higgins Clark could keep the reader turning the pages.
Here are a few stylistic reasons for that success.
Clark wastes no words in her writing. She keeps descriptions, particularly of place, to a minimum. Here, for example, is the barebones description of Gina Kane's apartment:
"Gina's apartment was on 82nd Street and West End Avenue. Her mother and father had given it to her after they retired and moved to Florida. Spacious, with two bedrooms and a decent-sized kitchen, it was the envy of her friends, many of whom were crammed into tiny one-bedrooms and studios."
Conversation drives the action. Again, we find no extraneous words. When the characters speak to one another in Kiss The Girls And Make Them Cry, their dialogue is always pushing the storyline forward.
In all good suspense fiction, the author tries to end each chapter in such a way that it practically demands the reader begin the next chapter. Clarke was a master of this cliff-hanger technique.
And unlike some characters in other suspense novels — Lee Child's Jack Reacher comes to mind — Gina Kane has few eccentricities. We sympathize with her as she struggles to make a decision regarding her boyfriend, Ted, who wants to marry her. Meanwhile, her widowed father is dating a woman whom Gina suspects is taking advantage of him. And like any good writer of suspense, Clark leaves readers up in the air as to how these relationships will turn out until the very end of the novel.
In other words, Gina is authentic, someone we might know, a neighbor or a friend. In their obituary of Clark, the New York Times sub-header is "She became a world-renowned author writing about 'nice people whose lives are invaded.'"
Given the news regarding sexual misconduct and harassment coming out of Hollywood and the federal government, and the response of the Me Too Movement, the topic of Kiss The Girls And Make Them Cry is timely. The situation in the novel comes straight out of today's headlines.
Finally, Clark understood her readers. On her home page, maryhigginsclark.com, her editor, the well-known Michael Korda, offered some remarks on their long friendship and then pays Clark this tribute: "Nobody ever bonded more completely with her readers than Mary did; she understood them as if they were members of her own family. She was always absolutely sure of what they wanted to read — and perhaps, more important, what they didn't want to read — and yet she managed to surprise them with every book."
For many years, Mary Higgins Clark deservedly wore the accolade "Queen of Suspense."
Rest in peace, Your Majesty.
(Jeff Minick is a writer and teacher. This email address is being protected from spambots. You need JavaScript enabled to view it..)