Archived News
A new chapter: Other options explored for Marianna Black Library
Wednesday, February 26, 2020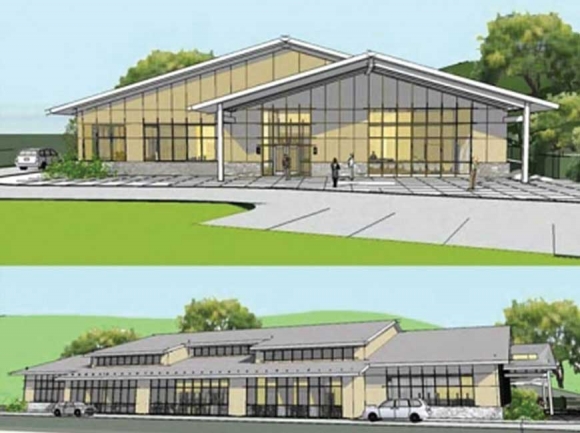 A concept design shows what a new Marianna Black Library could look like if it's constructed on donated land off Fontana Road. Donated graphic
No one is thrilled about the idea of having Swain County's only public library located in a strip mall, but it may come down to that unless residents want to pay higher taxes.
Even though the committee for a new Marianna Black Library has been working toward its plan to construct a brand-new facility on a piece of land donated specifically for the library, the county commissioners have made it clear the $7 million price tag is an issue.
"I — and everyone else on my board — wants a new library there on Fontana Road, but the county government is signaling against that because it would require a tax increase," said Jeff Delfield, Swain County librarian.
Roger Parsons, vice chairman of the Swain County Board of Commissioners, said the shopping center location may not be the No. 1 option, but it is a viable option.
"This isn't a matter of commissioners not wanting a new library, but it's an issue of how do we fund it?" he said. "Not even just the initial cost but also the continued cost to operate it. How do we finance it within our $17 million budget? It would be a big payment for us. I think it would have to be a tax increase and I'm not sure that is on the table for a majority of taxpayers."
Fontana Regional Library staff has been talking about the need for a new Marianna Black Library to replace the 50-year-old building on Fryemont Street for at least 10 years, but no real movement happened until 2014 when Don and Toni Davidson purchased 9 acres on Fontana Road for $350,000 and gifted it for the sole purpose of building new library.
The Davidsons also put a timeline on the land donation in hopes it would prompt the county to begin construction sooner than later. The January 2021 deadline is looming yet the county still hasn't earmarked any funds for construction.
The library committee has committed to raising $1.5 million toward the project to furnish and equip the new facility, bringing the total cost for the county down to $5.75 million. Commissioners have said they're willing to work with the committee to apply for grants, but without a real financial commitment from the county, fundraising and looking for grants is challenging. So far, the committee has raised over $250,000 toward it's $1.5 million goal.
"We struggle with fundraising because we don't have a project to raise it for. It's been more about advocacy and getting the word out, but last time we did a fundraiser the Fontana Road property was still in our vision," Delfield said.
Other options
It appears that vision has changed after the committee presented commissioners in January with alternative options for an expanded library that doesn't include utilizing the donated property. Of course the first option is still to build an 18,382-square-foot library on Fontana Road, but the other two options put forth were to renovate the current building on Fryemont Street to add on an additional 8,700 square feet or move the library over to the Valley Village Shopping Center on U.S. 19 where the former Fred's was located.
These alternatives were put forth after the committee hired Sims & Steele, Asheville-based nonprofit consultants, in 2019 to conduct the feasibility study to determine how much money the committee should be looking to raise to be able to pay for furniture, furnishings and equipment for a new library.
The study included 33 in-person or phone interviews and 79 surveys for a total of 112 responses. Group presentations with surveys were conducted in multiple locations in Bryson City, Tow String, Alarka and Whittier. Members of the committee also had preliminary discussions with five grant-giving organizations.
Based on the results of the study, Sims & Steele concluded that the committee should raise $1.5 million to pay for FF&E costs — the amounts are broken down to raising $1 million from individuals, $150,000 from businesses and $350,000 from foundations. As of Feb. 6, the committee had raised $254,195 from individuals.
Are these other two options truly viable ideas? Delfield said there's pros and cons to both as well as hurdles that would need to be cleared. Renovating the current facility from 9,100 square feet to 17,900 square feet would keep the library in its convenient location downtown on property the county already owns, but additional land purchases or leases would be needed to make room for the additional parking that would be needed.
"There's nothing for sale around the library right now, but we did identify two places — one on each side of the library — where parking could be added, but it wouldn't make sense to do anything to this building if we didn't have parking guaranteed first," Delfield said. "There are different pros to keeping it here if it could be expanded, but other than parking the other big concern is a disruption of services during construction. I'm not sure what we'd be able to do."
Parsons said a less expensive renovation project was more doable for a county of Swain's size and could be done in phases, but parking is still an issue.
The Valley Village Shopping Center option would mean having a 15,970-square-foot library, but the county wouldn't own the building. It would be a 30-year lease option for $4,000 a month. The county would still need to take out a loan for about $1 million to pay for renovations and design work while the total project would cost $2.5 million. The county could then sell or lease the Fryemont Street property to offset expenses.
According to the feasibility study, the location would offer greater visibility and awareness of the library in a highly trafficked area that could prove beneficial for all the businesses in the shopping center. Owners of the shopping center — Wells & West — would upgrade the facades and signage for the entire plaza if the library moves into that space. The location would also provide plenty of parking and a covered rear deck could be constructed to give patrons an overlook of the river.
While it seems unusual to have a library in a strip mall, Delfield said it's a common placement where he came from in Florida. He's also seen it happen in other North Carolina counties. "I've seen multiple libraries inside a mall or in a strip mall, but the main difference in my mind is those were branches but here it would be the main library of Swain County," he said. "We looked at what Asheville did when they did a total expansion — they had to close for two and a half years but they also have other branches and we don't."
Parsons said he, County Manager Kevin King and Commissioner Danny Burns met with the owners of Wells & West to talk about what improvements they were willing to make if the library leases the former Fred's property.
"My concern now is whether it's something the committee really wants to do," Parsons said. "I feel like maybe the library committee is not 100 percent united on what they want to do."
Community concerns
Jim and Don Casada grew up in Swain County and have been long-time supporters of the Marianna Black Library. They've been looking forward to someday seeing a new building constructed on the land the Davidsons were so gracious to donate and were extremely disappointed to learn the commissioners were unwilling to fund the project. They were even more disapproving of the idea of moving the library to a shopping center and wrote a long letter to commissioners explaining their feelings.
"Libraries are, by nature, places for quiet contemplation in an environment characterized by comforting surroundings. This would place the library in a situation where the hurly-burly of the commercial world, with business enterprises as neighbors, goes against that ambiance in a distressing manner," Jim Casada wrote. "The ideal setting for libraries is a warm and welcoming entrance, frequently characterized by lovely landscaping, some type of plaques or statues, blooming flowers in season, or other things pleasing to the eye and soothing to the mind. Acres of asphalt form as distant a remove from this as one could possibly envision."
While a view of the Tuckasegee River might be nice aesthetically, Casada pointed out that the moisture of the river would not be ideal conditions for a building full of books. The problem could be mitigated with humidity control devices, but that would also drive up the cost of the project. Locating the library close to the river would put it in danger of flood damage. According to FEMA, the site has a 0.2 percent annual chance flood hazard. Moving the library to another building that is just as old doesn't improve the situation, Casada continued.
"At best, this would seem to be a stopgap move rather than a step into the future; at worst the county would be investing in a money-absorbing white elephant. Rent payment provides no return, no ownership, and no benefits for the future," he wrote.
Jim and Don Casada had plans to make large donations — both monetary and book collections — to support the new library project because of the many connections they have to Marianna Black Library, but they will not support the alternative plans put forth.
"We had plans to donate a significant amount of money — up to six figures combined — because we have substantial collections of books to donate. We were looking to get a room named for mama, but neither one of us is going to put a nickel into the Fred's project," Don said.
Marianna Black Library on Fryemont Street in Downtown Bryson City is in desperate need of more space and more parking. File photo
Casada's mother served as the librarian at Marianna Black Library for many years beginning in the 1960s and for several years after the library moved from the old community building on Main Street to the Fryemont Street location. The Casadas were also neighbors with Marianna Black and her husband growing up in Bryson City.
"They were great neighbors to us and they were just absolutely dedicated to literacy and learning," Don said. "Mr. Black was chairman of the board of education and Mrs. Black made the library to lift the community up in terms of literacy. That's the way they were and they set the standards for the community."
Don was a teenager when Mrs. Black passed away. Mr. Black's health was deteriorating and Don would stay at his house at night to keep an eye on him. After dinner, he said Mr. Black would watch the news before heading upstairs to his bedroom. Hours later, Don said the light under his door would still be on because he was lying in bed reading a book.
"Even in his final years, he was still reading and learning," Don said. "I think we've lost sight of the importance of that. It's extremely depressing."
Don agreed that perhaps more vocal community support could make a difference in the commissioners' decision. Afterall, the board has been willing to make other investments in other needed infrastructure — why wouldn't a world-class library be a top priority?
"We understand there's a lot of money to invest and we're a poor county, but we've spent money on buying the (event park) property off Hyatt Creek — $350,000 for something that may be used twice a year," he said. "The county also owns buildings on three of the four sides of downtown Bryson City that are worth a considerable amount of money. I know they're trying to sell the old community building, which is a good move but all that county ownership takes away from potential property tax revenue."
Don said he didn't think the letter they sent to commissioners would change much, but they did want to be a voice for those who support a new library because he felt the library board members couldn't stick their necks out to say what needed to be said.
"There were two things we wanted to make point on — one is that we are completely disappointed with the concept of using Fred's and, two, we wanted to air the fact that there are real problems with county management."
There's a famous quote that comes to mind when Don Casada thinks about the idea of building a new library — "Don't allow the immediate to get in the way of the important." To many people in the community, the idea of having a library means a focus on lifetime literacy and learning.
Jim Casada said it's also a slap to Toni and Don Davidson and the many others who have put so much time, effort and money into pursuit of a new library.
"Far from fulfilling a dream, taking a meaningful step into a bright future, and giving Swain County a source of pride and a model place for pursuit of knowledge, this structure would bespeak drab dullness, cultural backwardness on the part of both the county and its commissioners, and an atmosphere of intellectual indifference," Jim wrote in his letter to commissioners.
Again, Parsons said the commissioners aren't arguing about the need for a new library — they just need the library committee to help them come up with a way to fund it and they would need to know it's a priority for a majority of taxpayers in order to raise taxes.
"I'm not sure it's a priority. The quarter cent sales tax referendum failed the first time and that was for our school kids," Parsons said. "More public support is what it will take. We need to know what the public wants and we need ideas of how to fund it."
Funding libraries
The challenges counties have had with trying to fund new libraries is nothing new, but Jackson, Macon and Haywood counties have all made it happen one way or another.
Jackson County's library in downtown Sylva — a massive renovation of the historic courthouse on the hill — is a shining example of what can be accomplished when all stakeholders are on board with the project. It didn't come without controversy though. It took over a decade of debating to get it off the ground — a point that gives Delfield hope that Swain's new library could still be possible. By the time it was completed in 2011, it won the Outstanding Facility Award for new libraries larger than 26,000 square feet presented by the N.C. Public Libraries Directors Association.
The Friends of the Library group in Jackson raised $1.8 million to furnish and equip the new library within two years. The county took out a $10.295 million loan in 2009 — $7 million to pay for the new library and renovate the historic courthouse and $3.2 million for construction at Southwestern Community College. Jackson County allocates more than $1.1 million a year to Fontana Regional Library System to help fund the Sylva and Cashiers libraries.
In Macon County, a new library was completed in Franklin in 2007 on Siler Road, which is now located next door to Southwestern Community College's Macon Campus and Macon Early College. Once again, Friends of the Library raised over $1.2 million to furbish the new library and the county funded construction. Each year, the county government contributes over $1 million to the Fontana Regional Library System to support the library branches in Franklin, Highlands and Nantahala. The county's annual budget is over $50 million.
While Haywood County isn't part of the Fontana Regional system, the county government is in the process of discussing a major renovation to the Waynesville Public Library, which was constructed nearly 40 years ago, as well as the Canton branch. The renovation work has been put off for years, but commissioners are considering dipping into the fund balance to pay for the projects.
Swain County's library is more than 50 years old. It's only 9,100 square feet and doesn't have enough parking spots on the property. The county typically budgets about $200,000 a year to support Marianna Black's annual budget.
What Swain would gain with new library on Fontana Road
• Separate computer lab for group software training to improve job-related skills and for life-long learning. Library users may also use the space when classes are not in session.
• Separate space for teen materials, activities and group work.
• Small, private rooms for tutoring, proctoring, business meetings, quiet study, tax prep assistance.
• Mid-size conference room for meetings.
• Ample parking and safe, attractive entrances and exits.
• Accessible facility design.
• Separate after-hours access for community programs, workshops and movies.
• Carolina Room for research and displaying local history, maps, memorabilia, Swain authors, etc. Work to complement the SCGHS.
Options presented
for Marianna Black
Build a new library on Fontana Road
• 18,382 square feet building
• $6.1 million for construction; $800,000 for furnishings; $500,000 contingency; $7.4 million total cost; county loan amount of $5.75 million.
Pros:
• Sale or lease of current library building will provide offsetting revenue
• A brand-new facility
• Land donated to the county
• Location midway between downtown and Swain County High School
• Dedicated parking
• Outdoor plaza and campus like setting
Cons:
• Lack of funding for the project and ability to fundraise
Expansion of current facility
• 17,900 square feet (9,100 plus additional 8,700)
• $3.1 million construction; $0.7 million for furnishings; $0.3 million in contingency; $0.3 million purchase and construct parking; $4.4 million total cost; $3.63 million loan.
Pros:
• Consistent location for over 50 years
• Property already owned by county
• Giving new life to an aging, outdated facility
• Walkable from downtown
• Technology infrastructure in place
Cons:
• Periods of diminished service during renovation, no additional parking without purchase or lease of parking lots.
Valley Village Shopping Center
• $1.6 million design-build; $0.8 million furnishings and outdoor deck; $100,000 contingency; $2.5 million total project; $4,000 a month lease for 30 months; $995,000 loan.
Pros:
• Sale or lease of current library will provide offsetting revenue
• Greater visibility and awareness of the library. High volume road traffic
• Mutual beneficial relationship with other businesses in the center
• Economic development driver; Wells & West will upgrade facades and signage for the entire shopping center
• Parking provided; drive-up book drop off
• Covered rear deck possible overlooking the river for general enjoyment and programming
Cons:
• Leasing vs. owning